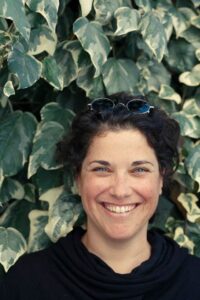 Photo: Courtesy of Meytal Ofer / Photo Credit: Dan Peretz
Tell us a little bit about yourself and your background.
My name is Meytal Ofer. I'm an artist, creating paper cuts for about 20 years. I live in Kfar Yona, not far from the Mediterranean Sea. I live in a relationship and I am a mother of nearly 4-year-old twins Tamar and Hillel.
I have presented my paper cut works in several exhibitions in Israel and abroad, including at Yad Vashem in Jerusalem which was based on my grandmother's Shoah experience.
I have a B.A. in Art History from the Hebrew University of Jerusalem, and I studied visual communication and illustration at Ascola College in Tel Aviv. I also attended a special course of children theatre in the artists' greenhouse at the 'Karon' Theatre in Jerusalem. I am also a professional cook. I have been fortunate to work in some of the top restaurants in Israel and had an independent catering business. Nowadays I fully concentrate on my art, developing my paper cut specialty in diverse directions, actually fulfilling my life's dream.
What inspired you to become an artist?

Since I was a child, I was attracted to art, harmony and aesthetics. As long as I can remember, I have been drawn to different types of art – whether it is music and choir singing, theater or visual arts.
I have always been involved in a variety of artistic fields but only in recent years have I realized that the multiplicity of these disciplines is a blessing.
I think the home and family I grew up with were the most inspiring for me to become an artist. My mother comes from a very educated home and art was an integral part of it. My great-grandfather, who perished in the Shoah, was a physicist but he made wonderful woodcuts. My grandmother, his daughter, was a dentist but she also practiced pottery. My aunt is a wonderful artist and my mother is artistically gifted, sculpting in bronze, stone and wood.
Another source of inspiration for me is pain, grieve and concern which form an integral part of my Jewish-Israeli identity – my family's Shoah experience, my uncle who was a pilot and got killed in the 1973 war and my dear father who was a high rank combat officer, assassinated by two Palestinians in 2013.
This is my happy and sad family, my main inspiration.
What is your specialty?
Paper cuts. I started with this technique in 2002 when I was working on my final project at Ascola college. It was a silhouette installation I created around my grandmother's memories of her childhood in Nazi Germany in the 1930s, just before the war. This work was exhibited at Yad Vashem in Jerusalem a few years ago as part of an art exhibition on childhood in the Holocaust.
This is a technique that I have taught myself. Each and every day I learn something new about me and my art.
How and where do you work?
I work in my home studio in Kfar-Yona. From my large window, I can see the fields and orchards of Emek Hefer – the place where I grew up.
When I start creating a Ketubah or paper cutting I always start with my sketchbook. I make very detailed sketches because in paper cut art basically every line and contour have to be connected. Through the sketch I can understand whether the work will hold to its own or whether the weight of the paper will cause it to warp.
After the sketching phase I move on to the paper. I work with acid-free papers,
sketching my image on paper with a pencil, drawing everything upside down, like a mirror.
I cut the image with a scalpel or with other fine knives. It can be painstaking. Sometimes it takes me a few hours and sometimes a few days to cut a particular job, depending on its complexity.
Cutting paper is like meditation. It requires breathing and finetuning. When I cut, I am totally focused and do not hear any of the things going on around me. Sometimes when I work on a cut, a result is obtained that I did not foresee. Sometimes, even if I drew more details, I stop cutting because I understand that the work is done and it does not require anything else. Like Hazal said: "Kol Hamosif Gorea" – You don't need to gild the lily.
What is the most indispensable item in your studio?
Of course, cutting knives. Without the knives I have no job.
I mainly work with a scalpel and a decoupage knife
Where do you take your inspiration? Are you pursuing any themes?
I can get my inspiration from a visit to the museum – I really like the Israel Museum in Jerusalem, nature walks, ancient inscriptions, old New Year cards, family, local and national history. In general, I really like old books and old things and I get a lot of inspiration from them.
I really like both modern art and experimental theater which inspire my art.
Do you do bespoke work?
Certainly!
Whether it is an order of a special ketubah for marriage or any other tailor-made piece.

For example, a few weeks ago, a client asked me to create a gift for the neurologist who operated on her. It was an operation on the hand nerves and she requested that the work be related to the nervous system. I asked her to send me the MRI scan and from that photo I created a work of art in paper cuts.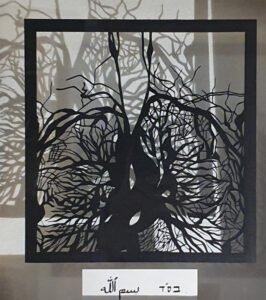 Photo: Courtesy of Meytal Ofer
I also create works in paper cuts on the basis of family photos like I did for my grandfather's family.
What projects are you currently working on?
I am currently working on a special ketubah for a couple dear to my heart. This is a ketubah that will have motifs from ancient Jewish inscriptions like pomegranates and birds and in addition, because the woman is a musician, I also incorporate musical instruments within the ketubah. I combined elements from ancient inscriptions and paintings found in ancient synagogues in Europe, which I researched as part of my studies at the Hebrew University.

This is going to be a Ketubah made from a black paper cut, so all the elements that will be portrayed will appear as black silhouettes. The caption will be on white paper and the calligraphy ink will be black. This may sound gloomy, but the ketubah is already beautiful and delicate.

In this case, the couple wrote the text themselves and I hope that soon they will be able to hold their wedding ceremony. In other cases, the inscription is accustomed to the Rabbi and to the couples' tradition.
What are your favourite items in your current collection?
There are some items I particularly like
A series of light boxes and paper cuts which I created for exhibitions that were held in Krakow, Poland, and in Israel – these are light boxes with figures of my grandfather's family according to pictures sent to Eretz Israel before World War II. Except for my grandfather no one survived the Shoah. The figures inside the light boxes appear as if they are hovering in a black void. The light that illuminates them is warm and breathes life into them.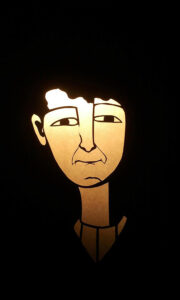 Photo: Courtesy of Meytal Ofer
The Ketubah I created for myself and my husband. We got married a year and a week after I buried my beloved father. Our ceremony was very intimate but we did not have an artistic ketubah; the shoemaker definitely goes here barefoot. A few months ago, we decided that we wanted to renew our ketubah in an artistic form. We sat down and wrote a mutual text and I created our Ketubah all over again. This ketubah is decorated with pomegranates illustrated with watercolors and delicate paper cuts.
How do you know when a piece is finished?
There is something about cutting paper that is not always predictable. It's a matter of millimeters and it's all about the relation between what's there and what's gone, the matter left and the void in the cut. It's a feeling I do not always know how to explain even to myself, but there's something that just tells me inside this is it! Even if there are other elements which I designed and sketched, sometimes I just have to let go.
What was the first artwork you ever sold?
The first artwork I sold was a portrait with a fish skeleton which replaced the mouth.
This is a paper cut created when I was feeling very low. I gave this figure a reflection of another figure in the eyes and instead of the mouth I put a fish skeleton – the bones, the head and the tail.
The work was bought by an art curator from Jerusalem who saw my works and came to my studio to choose a work of art. I did not know how to price the work, and since she was very much in my favour, she just drew her check book and wrote a figure.
That was in 2011.
Which project have you enjoyed working on the most so far?
Almost two years ago, when my children were two years old, I wrote them a story as a gift for their birthday. Instead of illustrating the story as a book, I created a shadow theater for them. To this day we tell this story before bed, and sometimes we use these characters and other characters I have created over time since, creating new stories. They really like to hear a story through these shadows projected on the wall and ceiling.
What do you want to achieve with your work and what are your wishes for the future?
I want to reach wide and diverse audiences and have my works reach many homes.
My wishes for the future are first and foremost good health and that I will continue to create. May I continue to be inspired and continue to look at the world with curiosity and create new works.
That I will continue to search and find new ways in which I can renew my artistic expression. I wish good health, peace and prosperity to all who live in this country and in the world.
Where can we find your work?
My website: www.tullikpaperart.com
Etsy: https://www.etsy.com/shop/TullikPaperArt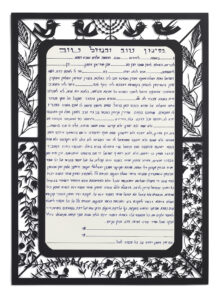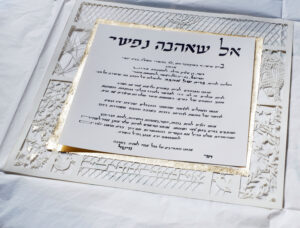 Photos: Courtesy of Meytal Ofer