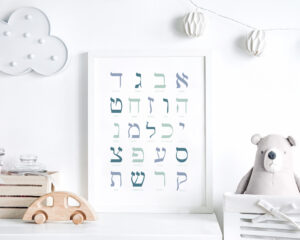 Photo: Courtesy of Modern Mitzvah
Tell us a little bit about yourself and your background.
My name is Laura Bercovich. I'm from Scottsdale, Arizona. I'm a mom to my 2-year-old daughter and mischievous rescue puppy who both keep me on my toes. I have an MFA in graphic design and have worked in branding for most of my career—I got my start at Lucasfilm, Old Navy, and Minted.com. Recently, I lost my full-time job due to Coronavirus. It's been a blessing in disguise because it's given me the time I need to build my online shop, and pursue the work that I'm most passionate about.
What inspired you to become an artist?
I had a summer marketing internship at the JCC when I was in college. I was asked to design a flyer for an event we were hosting even though that wasn't something I'd ever done before. I had no idea what I was doing, but I had so much fun designing that flyer! I started asking to design more—flyers, logos, the summer newsletter, or anything they'd let me touch. At the end of that internship, I knew I wanted to be a graphic designer.
It's actually very fitting that Judaism was at the center of what sparked my career in graphic design, and Judaism is also at the center of my design focus today.
What is your specialty?
My specialty is unique and custom design for Jewish celebrations like Baby Namings, Bar Mitzvahs, and weddings. Right now, I sell art prints, blessings, baby naming certificates, and greeting cards. I'm working toward adding bar mitzvah invitations, wedding invitations, and holiday photo cards.
How and where do you work?
I work out of my small home office, usually with a cup of coffee in my hand and a podcast on in the background.
What is the most indispensable item in your studio environment?
My iPad Pro! I'm learning all about Procreate and loving it.
Where do you take your inspiration? Are you pursuing any themes?
I gather inspiration from all over—from nature, the internet, and often from customer requests. I love learning about what my customers need and want. Oftentimes it's something I never would have thought of.
Do you do bespoke work?
I do some bespoke work, as my time allows, but I've found more success with semi-custom design. My customers can customize the designs I sell online with their child's name, a different color to match their nursery, a special quote that's meaningful to them, etc. This has been a less time consuming and more affordable model for my customers.
What projects are you currently working on?
I'm working on blessings for the home and office. It seems like we could all use a little peace and blessing in our homes and places of business, which in many cases are one in the same these days. I'm also working on Bar and Bat Mitzvah invitations in preparation for the inevitable surge of events once COVID is under control.
What is your favourite item in your current collection?
I really love the Alef Bet children's art print. I am a typography nerd, and just love how beautiful the Hebrew letters are.
How do you know when a piece is finished?
There is a point in my design process where I think "Ok, this is nice enough that I would buy it myself." It's far from a flawless system, but as the pickiest person I know, it's the best gauge I have to go by. But even then, I will probably go back and redesign it 10 more times.
What was the first artwork you ever sold?
My first Modern Mitzvah sale was a starry baby naming certificate. I love selling the naming certificates, sometimes referred to as baby ketubahs, because I know it's a special keepsake for the parents.
Which project have you enjoyed working on the most so far?
I would have to say the baby naming certificates because they were the first products in the shop. I was pregnant at the time, and a friend in my prenatal class asked me to design a naming certificate for her. I had the idea to throw a handful of designs online and see where it went. The naming certificates were the gateway to reaching and interacting with customers, learning about this market, and identifying other opportunities.
What do you want to achieve with your work and what are your wishes for the future?
I want to create unique and modern designs, one-of-a-kind keepsakes for special events, and spread a little joy through beautiful art. In the future I'm hoping to partner with Jewish organizations and temples and give back to the community.
Where can we find your work?
https://www.etsy.com/shop/ModernMitzvah
Coming soon: Shopmodernmitzvah.com
Also, laurabercovich.com and pineandlark.com
Photos: Courtesy of Modern Mitzvah