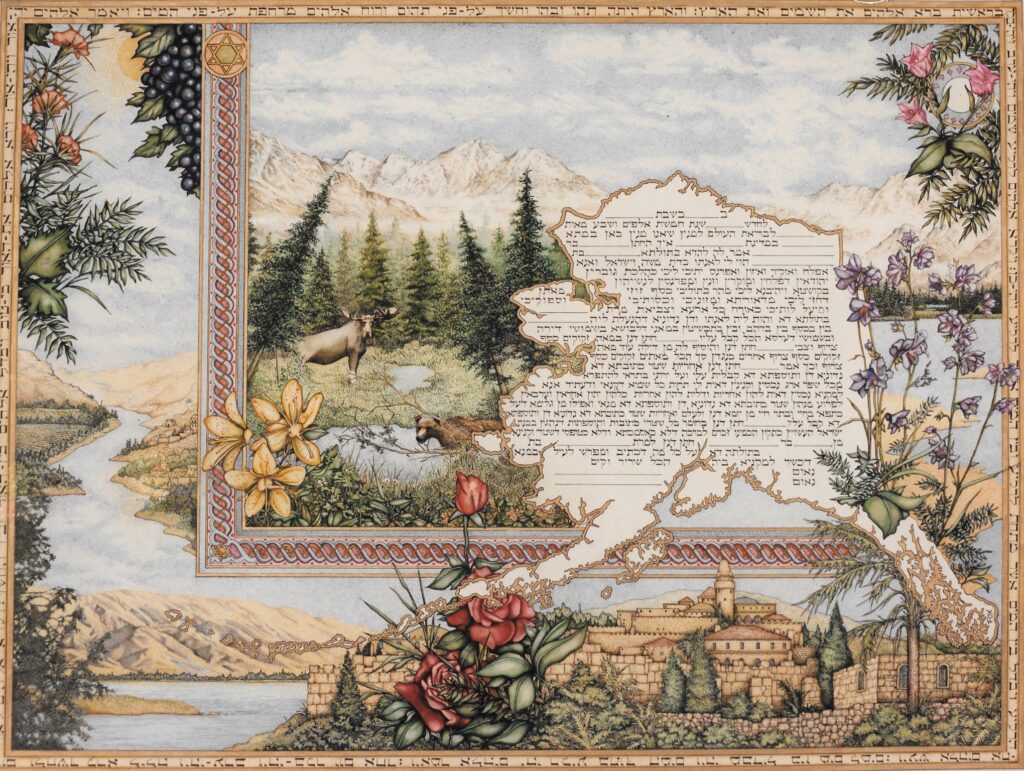 Image: Courtesy of Howard Fox
Tell us a little bit about yourself and your background.
I am an artist living in Israel. Originally from Canada I have been creating both original and Giclée print ketubot since the early 1980's. I split my creative endeavors between ketubah making and fine art oil painting of a series of works entitled "Hotel Utopia" and music.
What inspired you to become an artist?
I have always painted and drawn. My earliest recollections are of me lying on my family room floor, filling in lines with crayons and creating works of imagination.
What is your speciality?
My speciality is working in oils on canvas, for both my Fine Art works and ketubot. My muse is my imagination, which leads me to create ketubot that are new and reflect my ambition, to widen the depths of what we call the ketubah while honoring our traditions. The art of the ketubah melds together my spiritual and intellectual bond with my people and Judaism.
Where do you take your inspiration from? Are you pursuing any themes?
I take my inspirations from all that has come before me, and where my imagination endeavors to guide me. I find myself creating imaginary cities placed in a nature of my own creation – whether they inhabit floating islands or sit in a lush valley by a waterfall and informed by the symbolism and the grand cities of history. The wedding is a time for imagination: The couple imagine their lives together, their love continuing and growing. It is a time for dream, when one is free to delight in all of creation.
Do you take on commissions and create bespoke designs?
I have been creating commissioned ketubot for thirty years for lovers of art in places as far ranging as Los Angeles, Toronto, Europe and Israel. I have enjoyed the pleasure of sitting with couples of all ages and getting deep with them. It is amazing what people will tell their ketubah maker.
Together we come up with a design, colors, symbols and objects, all created personally for the couple and for that moment under the chuppah when time stops.
Which project have you enjoyed working on the most so far?
It is difficult to choose one project over the many others, but one that I am very proud of happens to be one of the first ketubot that I created. I was still teaching myself to draw Hebrew letters, and was painting in water colors on Arches paper.
I received a commission to create a ketubah for a Jewish couple from Anchorage Alaska. They were delightful, and while putting this project together long distance from Toronto, pre internet days, we cobbled together an idea.
The design revolves around the text, which I inscribed within a map of Alaska. The text is accompanied by two decorated borders. Within one border elements of Alaska's the natural environment including animals who inhabit the forest and the grazing lands. Indigenous flowers brought color to the predominantly green and brown location.
Next to it is another bordered area depicting the landscape and the history of Israel. The sepia tones of the desert and buildings, the vegetation, flowers and fruits of the Jewish land mingle in the scene. The couple loved their home in Alaska, while loving and feeling a very close bond with their Jewish homeland.
It is a rather large piece for a ketubah, 30 inches wide (75 centimeters). I am proud of the work, and it satisfied my need to create an objet d'art that was beautiful, took hold of the spiritual, and stimulated curiosity in the intellect.
What do you want to achieve with your work and what are your wishes for the future?
My achievement is in the happiness and joy felt by a couple who has chosen me to create an illuminated Jewish manuscript for the most important moment in their lives. My ketubot have been exhibited in a number of museums. For now, I enjoy being an artist and creating Judaica for the sake of beauty and tradition.
Where can we find your work?
My website: www.howardfox.com
Facebook: www.facebook.com/wawifox/
Facebook: Howard Fox Ketubot | Facebook
Instagram: howardfox.art
Images: Courtesy of Howard Fox