Photos: Courtesy for Frame Love Art
Tell us a little bit about yourself and your background.
I grew up in Monsey, New York, and was inspired to make Aliyah after spending two tears in Israel post-high school. I love it here! I drafted to the IDF, and after I was released, I began to study musicology in Bar Ilan University.
What inspired you to become an artist?
I started papercutting after a friend introduced me in seminary, found I had a knack for it, and began to design small cuts during my free time. It's a great creative outlet for me, and very therapeutic! After a few years of designing and creating paper cuts for friends and family, I decided to branch out and work on building my own line of artwork.
What is your specialty?
I don't yet have a particular specialty, but I would say that I work on making my pieces unique, both in their concept (like designing triptychs, or adding different mediums to my backings, such as glitter and glitter paper) and to the customer, by integrating their ideas and inspiration into the commission.
How and where do you work?
I work and live in Jerusalem. I am slowly but surely building my own home studio!
What is the most indispensable item in your workspace?
My blades, cutting mat, and sketch pads. Other than that, my speakers. I love working to music.
Where do you take your inspiration? Are you pursuing any themes?
I take my inspiration from nature, art that I love, Jerusalem, Torah quotes and concepts, and of course, the client! I am working at the moment on papercut Ketubot, and hope to start a Judaica line including different pieces like Blessing of the Home or Business, Woman of Valor designs, and hopefully some Jerusalem-themed ones as well.
Do you do a lot of bespoke work?
Almost exclusively. I have a few set designs up on my Etsy shop that you can order with personalizations and plan on adding to the collection, but I'm mostly working with custom commissions.
What projects are you currently working on?
I am working on streamlining the creation process for my Eishet Chayil (Woman of Valor) so I can add it to my Judaica collection on Etsy. I also have a few Ketubah sketches that could use my attention.
What are your favourite items in your current collection?
I really enjoy working with letters and fonts, in Hebrew as well as English, so my Morris Font Letters on my Etsy shop are super fun to make. That and my newest Ketubah, which came out really beautiful!
How do you know when a piece is finished?
When it's dry and wrapped and neatly packaged for shipping.
What was the first artwork you ever sold?
Two letter art designs, one for a sweet little girl (a flowery M for Mindy) and a new baby boy (an S decorated with a bicycle for Shaya). They make lovely baby gifts, and definitely spruce up a child's bedroom.
Which project have you enjoyed working on the most so far?
I enjoy working on all my projects, but working with a laser-cut printer and graphic designer for my newest Ketubah was very cool, and a great learning experience.
What do you want to achieve with your work and what are your wishes for the future?
I hope to design Ketubot that bring new couples joy on their special day, reflect the beauty of the momentous occasion, as well as a work of art that they can be proud to hang on their wall.
Where can we find your work?
My work can be found on Instagram, @frameloveart, as well as Etsy at frameloveisrael.etsy.com. New website is in the works, so keep an eye out!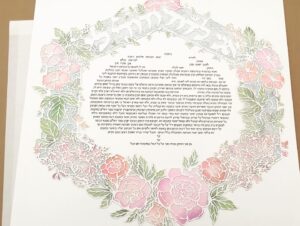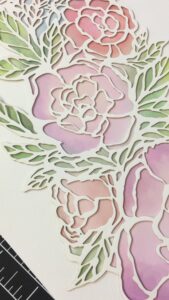 Photos: Courtesy for Frame Love Art
Photo: Courtesy for Frame Love Art