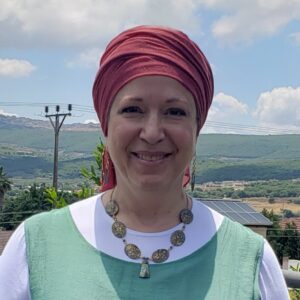 Photo: Courtesy of Rachel Alpert
Tell us a little bit about yourself and your background.
I have always loved art and design since I was a child. My parents enrolled my brother and I in summer art and science programs offered at a local museum back home. When I was about 13 years old, I was placed in art classes for adults. I earned a Bachelor of Fine Arts degree concentrating in art, including jewelry design, and ballet. where I received an Honorable Mention for a graphic design piece which I presented at a student art show. I also used my "right brain qualities working as an X-ray and cardiac ultrasound technician. When I am not busy making jewelry, I love to volunteer and make stretchy bracelets for hospitalized girls, as well as gardening and feeding, and talking to, the feral cats on our back porch in Israel. We made Aliya last year, and I am extremely excited to now be an Israeli jewelry designer!
What inspired you to become a jewellery designer?
For four years, I ran a successful business designing sinar (apron) style mitpachot (head coverings) for women, which were all the rage then, as well as pretty head scarf pins. Creating these pins inspired me to branch out and design beautiful jewelry as I did in university. I discovered that I absolutely love working with metals and other natural elements from the earth.
When you start to design a new collection, what is the process like? Where do you take your inspiration? How do you keep up with the current trends?
I continuously monitor current trends in fashion design and popular colors, such as Pantone's colors of the year. This helps me to understand the clothing colors and designs that women might wear with their jewelry. I feel that it is important to offer my customers choices to appeal to various tastes, from ethnic Israeli – which is always a huge hit – to classic and trendy artisan styles. I get my inspiration from Israel's, nature, flowers, and trees, as well as the juxtaposition of modern and ancient architectural nuances.
What do you enjoy the most about the design process?
It is definitely the satisfaction of beholding the finished design. And when is that? It is when I can look at the design and see an exciting, beautiful, piece of jewelry, in which all the parts synergize as an appealing piece at a single glance, in contrast to the confusing jumble of interesting parts that do not come together.
What are your favourite materials to work with?
I love working with many different metals and applying hammering and wire wrapping processes to them.
What is or are your favourite designs in your current collection?
I am very excited about the patina finish on metals that are an intrinsic to my ethnic Israeli collection. Hammered metal pieces and porcelain pendants are currently a hot trend and are present in a variety of my artisan pieces.
What are your wishes for the future?
I plan to continue to grow my Etsy shop to reach many more customers around the world. I have already sold to customers in Sweden, France, Spain, Germany, the island of Mauritius, Poland, Croatia, Canada, Israel, and the United States.
Where can we find your designs?
You can find my jewelry on my Etsy shop at: ohrlevjewelry.etsy.com   You can also keep up with my latest designs on my Instagram page, ohrlevjewelry.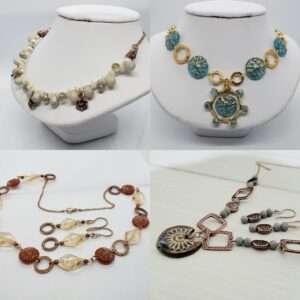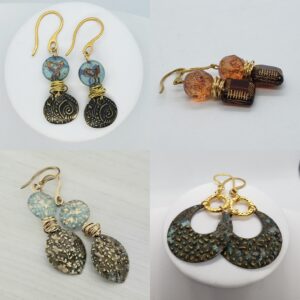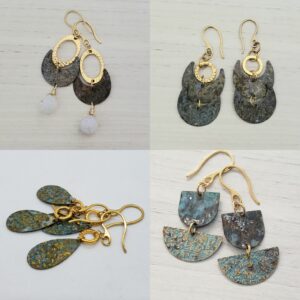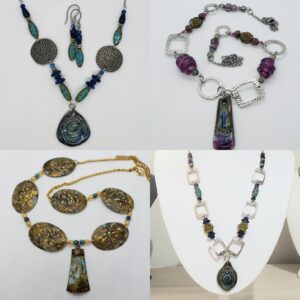 Photos: Courtesy of Rachel Alpert