Photo: Courtesy of Elaan Greenfield
Tell us a little bit about yourself and your background.
My name is Elaan and I began making jewelry in 2007 after the birth of my son. I wanted to have a piece of jewelry that would symbolize my new-mom status. As soon as I picked up a jeweler's saw I was hooked! I design and hand make each piece in my studio in Ithaca, NY. In addition to my jewelry business, I have a metalsmith school, The Metal Smithery, where I teach others how to make jewelry. Just as hard as it was for me to find jewelry to symbolize being a mom that was my style, I had a hard time finding Judaica to wear and to have around the home that fit my style. I have been adding Jewish themed and inspired jewelry since I began my jewelry business but launched a full line this year called, Chasia Judaica, named after my grandmother.
What inspired you to become a jewellery designer?
I wanted to learn how to make jewelry and work with metal to express myself and the world around me.
When you start to design a new collection, what is the process like? Where do you take your inspiration? How do you keep up with the current trends?
I love experimenting and learning how to do anything and everything when it comes to metalsmithing. My creative process is pretty much flying by the seat of my pants and seeing where the day takes me! I have tried to sketch designs or draw out ideas before but the only thing that works for me is to just do it and see how it looks and feels. I am inspired every day by many things both on the world stage and my own life, and am able to add new work all the time. I create temporary lines that are inspired by current trends but since the jewelry market is fairly oversaturated, I aim to create unique pieces. I experiment and if something does not speak to my customers, then I move on to something else until I find something that does. My process is pretty non-traditional and changes all the time!
What do you enjoy the most about the design process?
I enjoy the fact that I can think of something and then try to make it happen in physical form. Sometimes I am successful and sometimes I am not! I like to constantly challenge myself to grow in my art form and to create work that is thoughtfully created that also speaks to others.
What are your favourite materials to work with?
I really love working with all metals because they all move and interact differently with the tools I use and the people who wear the finished pieces. I also love color so I have added a lot of acrylic to my designs, especially iridescent acrylic, which I use a lot of in my Judaica pieces.
What is or are your favourite designs in your current collection?
My favorite pieces are the earrings I make that are based on drawings my deceased mother drew in the 1970s. I call it a post-mortem collaboration between mother and daughter because I use drawings of hers from her journals. I make templates out of her drawings and use them to guide my jeweler's saw to give her drawings a new life. It is a really sweet process for me and continues my connection and honoring of my mother who died 21 years ago when I was 21. The faces take on a personality of their own and the Sunshine Superwoman collection has been really popular as well. I also really love the L'dor V'dor rings in my new Judaica line which include the names of people and their families as a memorial to so many of us Jews who lost entire generations of family. Our generation can honor those murdered and make sure they will not be forgotten. I very much enjoy creating meaningful jewelry.
What are your wishes for the future?
I would like to expand my Judaica line and help spread the beauty and meaning behind so much of our Jewish ethnicity and religion.
Where can we find your designs?
www.dearelaan.com and Instagram @dearelaan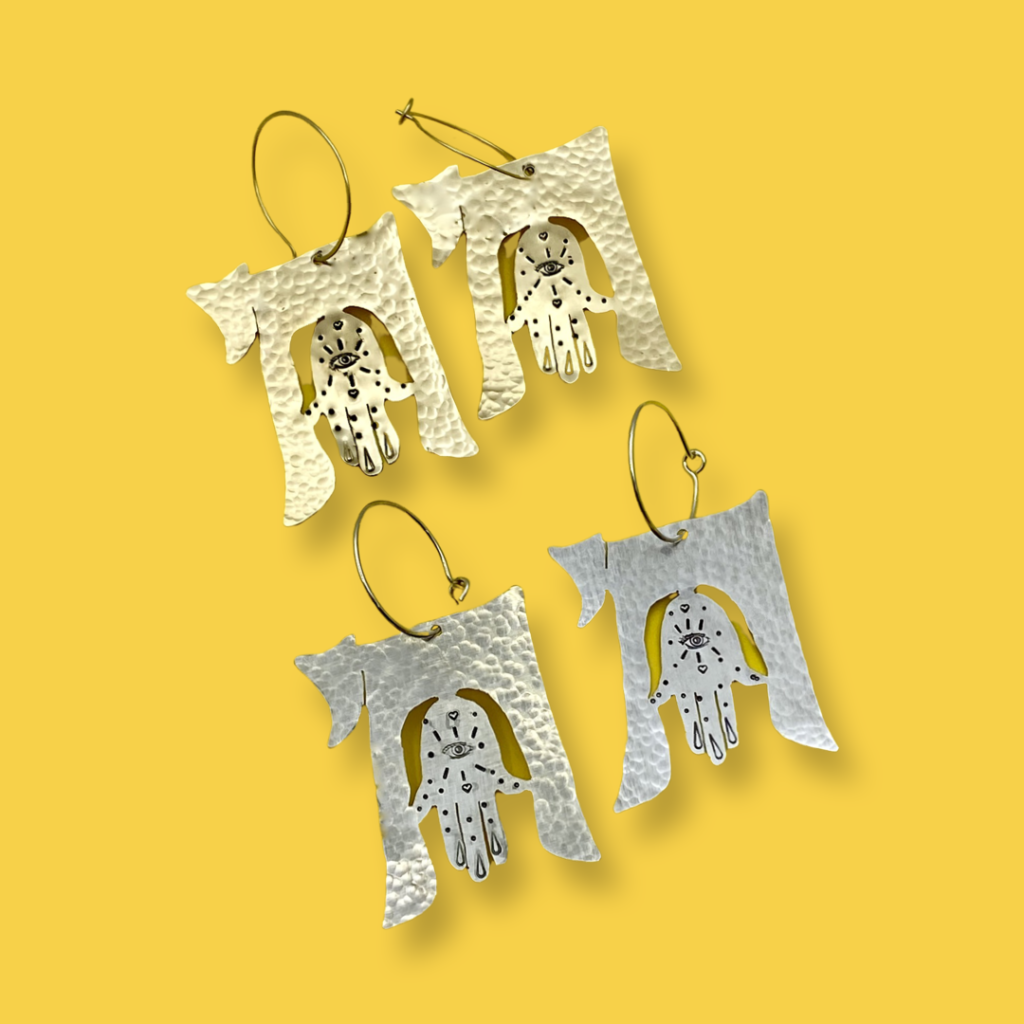 Photos: Courtesy of Elaan Greenfield