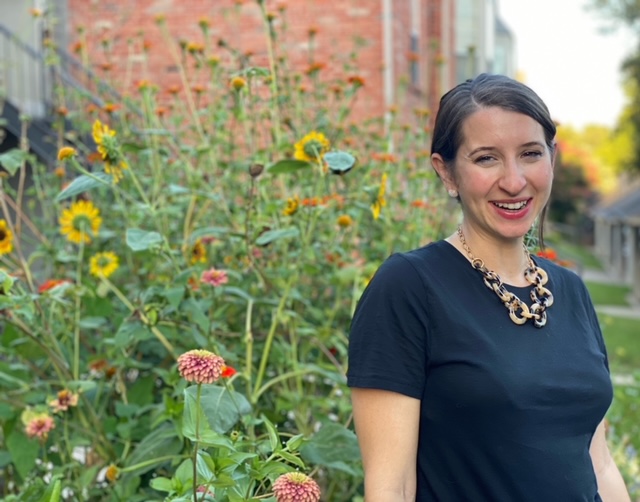 Photo: Courtesy of Ariella Paper Co.
Tell us a little bit about yourself and your background.
One of my favorite places is at the holiday table, after planning and preparations are complete, surrounded by family and friends. For me, playing hostess, dabbling in floral arranging, and curating a menu are part of enjoying the celebration and contribute to making guests feel invited and loved.
Holidays have been a big deal in my family for as long as I can remember, something that was passed down from my grandmother to my mom. And while there is certainly a place for white tablecloths, grandma's crystal and delicate china, some holiday parties call for paper plates and napkins. But those paper items don't have to be boring or worse, tacky!
I'm joyfully married to my husband Travis, and together we enjoy any chance we get to explore G-d's creation; hiking, taking scenic drives, biking along the lake near our house are so refreshing to us.
My education is in advertising and public relations, and my work experience ranges from event planning to interior design, and higher education to freelance writing.
What inspired you to become an artist?
I grew up in a family of artists so creative practice and expression have really been nurtured in me from the beginning. My primary "mediums", if you will, are culinary arts and writing but for years I've made my own Valentine's Day cards and Rosh Hashanah cards for family and friends.
I'm especially fond of cards and other paper goods that are beautiful, classy and modern, but I haven't always been able to find something that quite fits the bill for Jewish holidays. So, I've coupled a penchant for fine paper goods, love of my Jewish heritage and upbringing in a family of creatives, and launched Ariella Paper Co.
What is your specialty?
All our designs at Ariella Paper Co. begin with watercolor paintings that I've made.
Right now, that's cards for Jewish holidays, and we have a vision to see paper plates, paper napkins and paper table runners in the marketplace as well. We hope to become a resource for planning beautiful and cheerful Jewish holiday party planning.
How and where do you work?
They say the kitchen table is the heart of the home and that's certainly true in our house. The kitchen table is often where I work, partly because of light and partly because my husband and I are in a one-bedroom condo right now!
What is the most indispensable item in your work space?
Some people might not consider this exactly indispensable, but I love to work with a little fresh flower arrangement on my table. It's a bit of substitute for a magnificent garden view from my window, but it gets the job done!
Where do you take your inspiration? Are you pursuing any themes?
In preparation for working on new designs for a particular holiday, I start by collecting my thoughts. I jot down my own memories connected to that holiday, think about specific themes and motifs that are evocative of that holiday and consider what I would like to see on a card myself. Often certain foods are part of this brainstorming, but that shouldn't be too much of a surprise when it comes to Jewish holiday traditions!
It's been said that art begets art, so certainly I take note of what catches my eye, whether that be designs in nature, visiting a museum or gallery, etc.
Do you do bespoke work?
Not at this time, but it's something we are open to in the future.
What projects are you currently working on?
With Rosh Hashanah underway, it's time to dive into Chanukah. I'm playing around with the themes of fire, miracles and of course, latkes.
What is your favourite item in your current collection?
The pomegranate painting captured my heart from the beginning. I especially love the "crown" of the pomegranate and the beautiful symbolism of fruitfulness, blessing and prosperity; all worthy things to desire for the New Year.
How do you know when a piece is finished?
I've always struggled with this! Inevitably, I have to walk away from a piece and see it with fresh eyes a couple of days later to evaluate it. I've also come to more fully understand why da Vinci said that "art is never finished, only abandoned."
What was the first artwork you ever sold?
This is a little ironic, but in college I created a ceramic piglet as part of an animal series and to my surprise, that piglet was one of the pieces in the show that sold!
Which project have you enjoyed working on the most so far?
I really enjoyed the challenge of thinking through what color might represent each of the memories, traditions and foods portrayed on the Rosh Hashanah Palette Card. Though it was not a technically challenging piece, I wanted a card that was a little outside the norm of what you'd see for the New Year but still playful and meaningful.
What do you want to achieve with your work and what are your wishes for the future?
My hope is to create paper goods that help to make the Jewish holiday realm more beautiful, classy, fun, and modern.
I love our slogan at Ariella Paper Co: "Paper Goods for the Posh Jew in You", meaning that you can be any type of Jewish person, whether celebrating a holiday for the first time or wanting to celebrate in a new way, or you might be a non-Jewish person who wants to send a card or honor a particular Jewish holiday. Ariella Paper Co. is for you!
Where can we find your work?
Ariella Paper Co. is on Instagram @ariellapaperco and our shop is ariellapaperco.square.site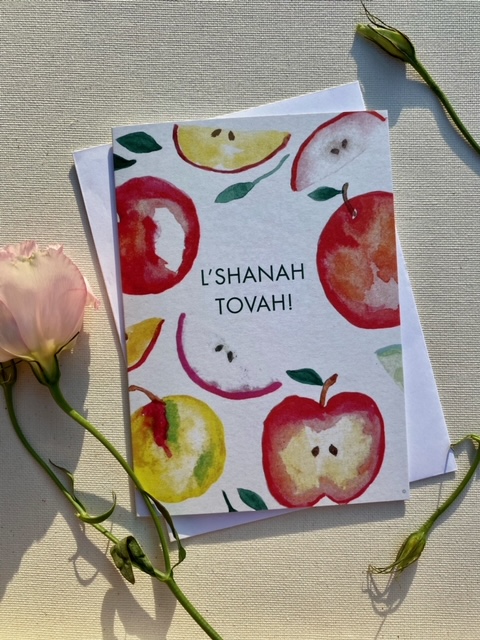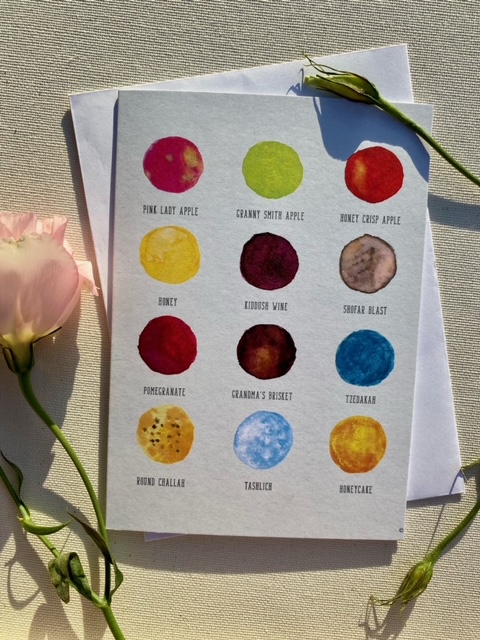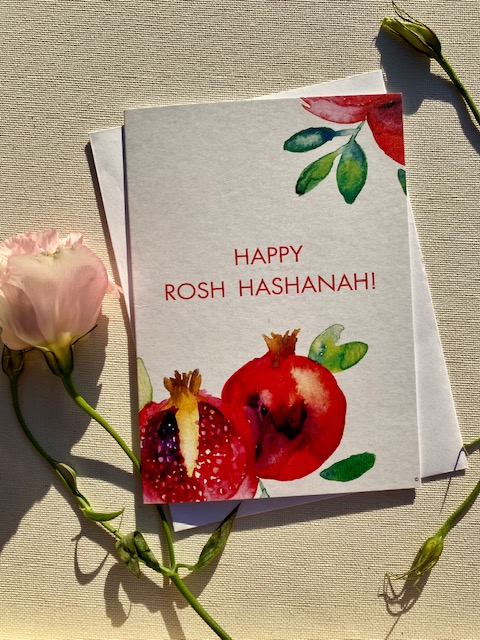 Photos: Courtesy of Ariella Paper Co.