Photos: Courtesy of Amy Rosen Art
Silk painting. The combination of the soft silk and the soft water based colours on the silk give way to very rich and vibrant colours.
I love painting on silk because for the few shades of any colour that I own, I can create many more shades. I paint in layers. My inspiration is nature, and nature too, has so many layers!
I was taught back in 12th grade, from an acclaimed Jerusalem based artist, how to paint in oils, but our focus was not so much on the type of paints that we used, oils, versus silk today, but on how to look at nature. My inspiration was the Impressionist painter Claude Monet (1899 – 1926) who is still my favourite artist. I love how he captured colour in nature.
The artist, who was my teacher, explained that the Impressionists worked in layers. We would meet on Fridays for a few months, and go sit in a chosen spot outside to look, study and paint a particular picture. We painted two different spots at the gardens on the campus of Hebrew University, Mount Scopus in French hill, Jerusalem, and a third spot was atop a high hill overlooking French hill, from which we could see the Dead Sea on a clear day.
The two paintings painted on Mt. Scopus were of flowers, rocks, and grass. Plenty of colours! My teacher explained how in each blade of grass there aren't only shades of green, but also delicate touches of pinks and yellows and other colours. When you look at the painting from afar, you see the grass, but when you get close up to observe, you notice many different colours and shades.
The third painting on top of the hill was more browns and greens with some blue sky.
We would meet once a week, on my day off from school, to make more progress. The reason was two-fold. One, I had classes during the other weekdays, and the university semester was in session, with Fridays off. The second reason was that with oil paints, the paints needed at least a few days to dry between layers of painting.
Fast forward to the present, like mentioned above, I now paint on silk. Silk is very different from painting on canvas. I can use a blow dryer and dry what I just painted, or wait just a few minutes and the paint will dry on its own. My style today, for the majority of my work, is also very different from Claude Monet's as I usually use very defined shapes in my paintings. I paint flowers, but many of them are more abstract. I use what I have observed about flowers in my paintings. If I study a flower, sure, I see little lines in the petals, and a few or even many shades of a colour, but I paint from memory and add my personal touch to the subject. I use a lot of flowing lines in my paintings.
I was commissioned to make a Tallit for a groom a number of years back, and so for him I used many hues of blue and wave-like shapes in the design, feeling that this style was more relevant to a man's Tallit than flowers.
I was also commissioned by someone else to design a Tallit bag for her husband. I painted archways for the design with some sky blue showing through.
I love seeing how an idea develops. I start with an initial idea of what the end product will look like, but things have a way of evolving on their own too. Sometimes a painting will take a few hours and sometimes a few days.
Amy Rosen Lutnick is a Canadian-born Israeli artist and designer. She has been designing for close to two decades. All of her work is hand-painted on Habotai silk and a one-of-a-kind creation. Amy is particularly well known for her silk scarves, Tallitot, and Chuppot. Visit her website for more information.
Photos: Courtesy of Amy Rosen Art
Photos: Courtesy of Amy Rosen Art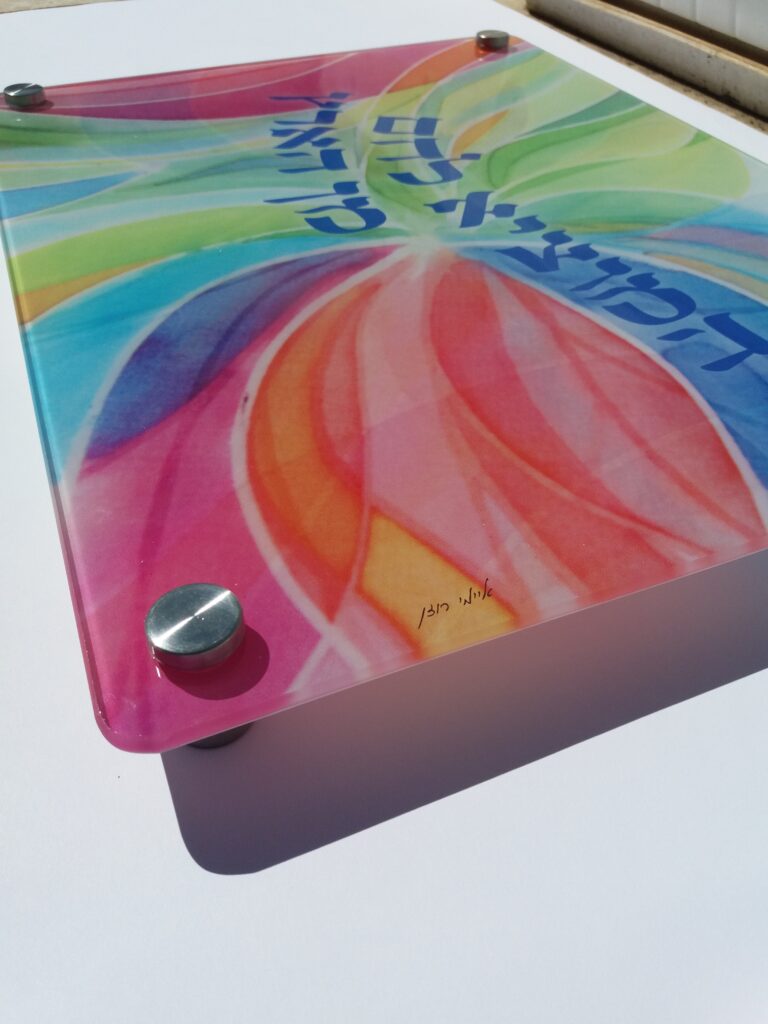 Photos: Courtesy of Amy Rosen Art