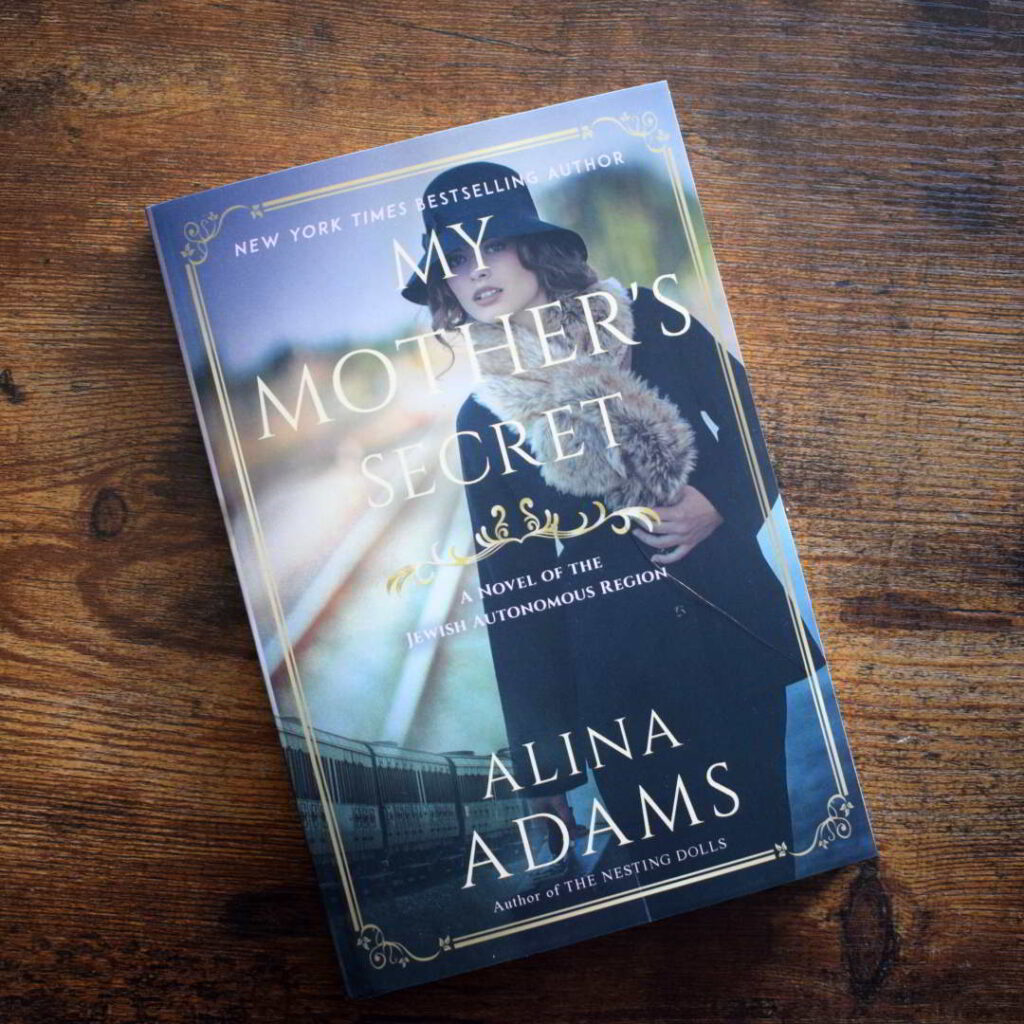 Image: Courtesy of Judaica in the Spotlight
Reviewed by Miriam P.
First and foremost, I would like to thank Alina Adams and her publisher, History Through Fiction, for sending us a complimentary copy of My Mother's Secret – A Novel of the Jewish Autonomous Region in exchange for an honest book review.
As always, you can rest assured that I will not give away any spoilers.
Book Description:
With his dying breath, Lena's father asks his family a cryptic question: "You couldn't tell, could you?" After his passing, Lena stumbles upon the answer that changes her life forever.
As her revolutionary neighbor mysteriously disappears during Josef Stalin's Great Terror purges, 18-year-old Regina suspects that she's the Kremlin's next target. Under cover of the night, she flees from her parents' communal apartment in 1930s Moscow to the 20th century's first Jewish state, Birobidzhan, on the border between Russia and China. Once there, Regina has to grapple with her preconceived notions of socialism and Judaism while asking herself the eternal question: What do we owe each other? How can we best help one another? While she contends with these queries and struggles to help Birobidzhan establish itself, love and war are on the horizon.
Review:
Do we ever really know our parents and what motivates their behaviour? Are we even capable of taking a step back to just listen to their life story with the compassion it deserves? This would be the first step to understand where they came from, what they went through, and how they got to the place they are in today.
Seeing Lena meeting her mother Regina's true self for the first time, and being finally able to understand her mother's behaviour towards her, was truly interesting to follow. I would go as far as to suggest that it may help some readers to consider that there is much more behind their parents' silence than they can possibly imagine. Especially, if they have lived through similar experiences as Regina Solomonovna has, whom you will get to know and grow fond of throughout this novel.
My Mother's Secret – A Novel of the Jewish Autonomous Region by Alina Adams is a wonderful book that doesn't only teach the reader about Soviet Jewish history, but also takes us on a fascinating journey through Regina's life and how her experiences have shaped her.
Alina is a talented author whose captivating writing style will catapult you back in time and invite you into a world so foreign to many. I'm not a native English speaker and managed to read My Mother's Secret without any problem within a day. It's a quick and easy read you simply have to add to your to-be-read list this autumn.
My Mother's Secret has it all: plenty of history, quite the mystery, some hidden identities, and a dash of love. Don't worry, this historical novel is much more than a love story between a man and a woman. So much more.
The plot of this novel will stay with you long after you finished reading the book. My Mother's Secret is a truly heartfelt story about one woman's fierce determination to fight for what she believes is right and the life she wants to live. Regina's character development is second-to-none, truly impressive.
My Mother's Secret is a book about strong women confronted with hard choices who eventually find their way. Something I personally enjoyed a lot about this book was that the storyline was not as straight-forward as expected, but rather shows how complicated life can get when confronted with tough choices. Reading this novel, you will stop multiple times and ask yourself what you would have done if you were in Regina's shoes. Seeing how far she is willed to go will make you wonder what your own priorities would have been.
Regina is a character you will quickly be able to connect with. You will discover and learn the unwritten rules of society with her, you will love with her, you will long with her, you will grieve with her, you will be brave with her, and you will hope with her. I have enjoyed the book as much as I expected when first hearing about it and can recommend it to anyone who enjoys reading historical fiction.
This well-researched book is a true page turner with an enthralling story and makes a wonderful introduction to Birobidzhan. In my opinion, anyone should know about this place and its history. Sadly, I was under the wrong impression that everyone would have learned about this place in school when learning about Soviet history. After speaking with a few friends and acquaintances of mine, who were educated outside of Europe, I was rather surprised none of them had ever heard of Birobidzhan. This is also one of the many reasons why I believe My Mother's Secret is such an important novel and fantastic introduction to this place. It certainly is an inspiration to pick up more books about the region and to learn more about Birobidzhan and its history.
If this part of the world is unfamiliar to you, you can rest assured that My Mother's Secret will be easy to follow as well as spark your curiosity. In any case, you should never feel discouraged to read a book simply because you are unfamiliar with the history or the place the story is set in. This should be even more of a reason for you to pick up a title!
We recently had the pleasure of interviewing Alina Adams for our website. You can read it here.
My Mother's Secret – A Novel of the Jewish Autonomous Region will be available as of November 15th, 2022. You can always pre-order it on Amazon!