Photo: Courtesy of Cheri Rose Katz
We are thrilled to be able to interview you for our magazine, Cheri. Could you please tell us a little bit about yourself and your background?
Thank you so much! I am thrilled to be here and be interviewed by you! I grew up in New Jersey, and as a young child, I was always singing jazz, musical theater, and pop music. I would also write original music. Opera found me late in life when I auditioned for music school at the University of Miami School of Music and was offered a scholarship for opera (vocal performance). That summer, I traveled on scholarship to Salzburg, Austria, where I fell in love with opera. After my undergraduate degree, I moved to NYC and participated in vocal competitions and young artist programs around the USA and Europe. I trained in Italy as well with the great soprano, Antonietta Stella. My big break came when I won a competition which resulted in joining the ensemble at the Deutsche Oper Berlin! I then moved to Berlin, remained singing at the house for a few years, and then began freelancing around the globe. I am now refining my music business skills at the outstanding Berklee College of Music/SNHU for my MBA. My Music Production Company, Weltfarben Musik (World Colors of Music), centers around a strong Corporate Social Responsibility of Healing and Hope. Our Recording Projects are full of meaningful messages and help to give back to society. For example, the Momeleh Soundtrack centers around a mother's love for her children and my family's rich Jewish Heritage to remember those lost in the Holocaust. It is such a joy to incorporate producing, directing, and combining world music into the entire entertainment realm. Music is for everyone to enjoy and love. Here is my professional biography:
Dramatic mezzo-soprano Cheri Rose Katz has distinguished herself for her "beauty of tone and stylish musicality." Her outstanding talent captured the attention of the Deutsche Oper Berlin, which engaged her for two seasons in over one hundred performances of the great Verdi and Wagner roles. Her repertoire includes Azucena, Amneris, Ulrica, Maddalena, Eboli, Preziosilla, Enrichetta, Frugola, Carmen, Delilah Waltraute, Fricka, Venus, Ortrud, Kundry, Rossweiße, Flosshilde, and Erda. Additional engagements include the world premiere of Anton Coppola's La Coupe et les lèvres (for which the New York press hailed her as "the polished mezzo-soprano"); Giovanna in Ernani at the Berlin Philharmonie with Renato Palumbo; Rossweiße in Die Walküre at the Festspielhaus Baden-Baden under Christian Thielemann; Amneris in Aida for Opera Internationale on tour throughout Europe; Maddalena in Rigoletto in South America; Handel's Messiah in Israel, which was internationally televised in Manger Square in Bethlehem; excerpts from Carmen, Cavalleria Rusticana, and Don Carlo in Italy; Prokofiev's Alexander Nevsky Cantata with the Sinfonica de Puerto Rico in San Juan, in which El Vocero wrote, "Cheri Rose Katz displayed a rich voice of dark, majestic timbre and deep sonority. The long musical phrases, constructed with great skill and excellent articulation, were very organic". Ms. Katz can be heard on the Naxos Label on the International World Premiere recording of Lorenzo Palomo's Dulcinea at the Konzerthaus Berlin, for which Ms. Katz received much acclaim. In addition, Ms. Katz is an international prize-winner of various international competitions, a five-time recipient of grants from the Gerda Lissner Foundation, and a winner of the prestigious Altamura/Caruso International Voice Competition. The mezzo is of Austrian, German, Czech, and Italian descent and holds both Austrian and American citizenship. Ms. Katz resides in Berlin, Germany, and New Jersey. Recent engagements include Erda in Das Rheingold and Siegfried and Waltraute in Götterdämmerung through Paris, Porto and performances at the beautiful Teatro Reggio Emilia in Italy. She collaborated with the conductor, Scott Speck, and the Mobile Symphony to sing Prokofiev's Alexander Nevsky Cantata. As well as the alto soloist in a World Premiere Requiem with the New Jersey Symphony and a Verdi Requiem in London. She premiered as Erda, Fricka, and Flosshilde in the world premiere of Der Ring in 100 Minuten with the Rundfunk-Sinfonieorchester Berlin, which was broadcast on Deutschlandradio Kultur and recorded on CD. More recent engagements include Preziosilla in La Forza Del Destino in Germany, and Mahler's Das lied von der Erde in Miami at Gusman Hall. Fenena in Nabucco in Frankfurt and Versailles. Verdi Requiems in London. Cheri Rose Katz was also seen in March 2021 on The CBS Sunday Morning Show. She performed in NJ, with the Somerset Symphony Orchestra selections from Carmen and Samson and Delilah. She is now pursuing her MBA in Music Business at the prestigious Berklee College of Music/SNHU. Ms. Katz is a very active recitalist, producer, recording artist, singer songwriter (member of ASCAP). Her Album, "Momeleh," will be released May 1, 2022!
Who or what inspired you to become an opera singer and what do you enjoy the most about your chosen profession?
I did not grow up around classical music or opera and had a late start learning music. I was performing musical theater, jazz, and pop music. I started singing opera at 18 years old. Professionals would hear me sing and say I had an operatic voice. I fell in love with opera when I traveled to Europe to study and perform. Maria Callas and Giulietta Simionato have always inspired me. Both are my favorite opera singers. Callas is an inspiration in every way as an overall phenomenal artist! She breathed life into every role and made it her own. When I was in college, my coach, Dr. Russell Young (may he RIP), introduced me to Simionato's voice and artistry. He and others found many similarities between Simionato's and my instrument. My voice is a dramatic mezzo-soprano, and it is a rare voice type that needs to mature and grow into all these beautiful roles, which I eventually have had the pleasure to sing.
I have always seen myself as an artist who will not be "put into a box." I enjoy learning and collaborating with others in all genres of music. Opera is a great art form. It incorporates everything: singing, acting, different languages, and sometimes dancing. I am blessed to travel, live, and work worldwide as an opera singer.
Being a polyglot performer, which language do you enjoy singing in the most and how many hours do you practice in an average week?
I have had to sing in many languages: English, Italian, German, French, Russian, Czech, Spanish, Hebrew, and Yiddish. I am fluent in English, German, and Italian. The other languages I must study for a specific repertoire. Truthfully, it is too difficult for me to pick a favorite language to sing in. For the most part, my operatic repertoire is Verdi and Wagner roles. I love singing in Italian (Verdi) and German (Wagner). I don't sing in French too much except for parts like Carmen and Delilah. My new album, "Momeleh," mainly comprises Yiddish and Hebrew music and many other linguistic treats. If I am practicing for an upcoming performance, it is many hours in the day with rehearsals. On average, between singing, teaching, and consulting, I would say about 40 hours in the week is dedicated to singing.
Of all the venues, Jewish and non-Jewish alike, which ones are your three favorite ones? Is there a place in this world you have not had the chance to perform in just yet, but would love to have the opportunity to?
This is another difficult question to answer, but I appreciate you allowing me to narrow it down to three! I started my professional career in Germany at the Deutsche Oper Berlin, Berlin Philharmonic, and the Baden Baden Festival. All beautiful places to perform, so I am grouping them together. Another gorgeous theater, in Italy that was a fantastic treat to perform in is the Teatro Municipale Reggio Emilia. It is the same theater where the Great Pavarotti made his career debut! I have also toured around Israel doing concerts, and the venues/ Temples were magnificent and spiritually very fulfilling. Finally, I have not traveled and performed in Australia and would love to!
Which performance or recording are you most proud of?
I am most proud of my new album, "Momeleh," which will be released on May 1, 2022! It took over five years to put together and produce. It is dedicated to my family tree. Here are the liner notes, Smart Link, and an in-depth interview about the project.
A mother's love for her children is everything and forever. Mezzo-soprano, Cheri Rose Katz, (Deutsche Oper Berlin, Baden Baden Festival, Teatro Reggio Emilia, Berliner Philharmoniker) takes us on a journey of her family's rich history of Jewish tradition through this remarkable collection, lovingly called "Momeleh." The music encompasses a Jewish section featuring both classics and lesser-known treasures. Some beautiful lullabies in different languages complete the theme of a mother's love for her children. Katz has also contributed some heartfelt original pieces. While the inspiration for this project was first and foremost the birth of Katz's daughter, the album is dedicated to her mother, Margaret Erle Katz, referred to by many as the 'American Philomena'. Margaret's life story is documented in the book American Baby by Gabrielle Glaser. Katz comes from a line of Holocaust survivors and victims of the Holocaust, and it was important to her to honor them and the Jewish community. Ira Siff (acclaimed performer, master teacher, Commentator: Metropolitan Opera) is the artistic advisor of the album. Siff was instrumental in putting this treasure of a project together. Scholar, and author, Alan Mallach, is the pianist. Gifted violinist, Evelyn Estava, completes the trio by offering this musical soundtrack that takes us on a journey of a mother's love and the healing power of music. (The Cape Robyn)
What type of music do you enjoy listening to when you want to relax after a long day?
I love to listen to jazz music to relax. Ella Fitzgerald, Billie Holiday, Nina Simone, and Frank Sinatra.
Where can our readers learn more about you as well as follow your work?
Here are some links to follow my work, and soon you can experience the Momeleh Soundtrack!
Website: www.cherirosekatz.com
Momeleh Soundtrack Smart link: https://cherirosekatz.hearnow.com/momeleh
YouTube: https://youtu.be/u429QIHOT4c
Instagram: https://www.instagram.com/cherirosekatz
Spotify: https://open.spotify.com/artist/0J4BSJkmoOGaXsCvZ0rxGF
LinkedIn: https://www.linkedin.com/in/cheri-rose-katz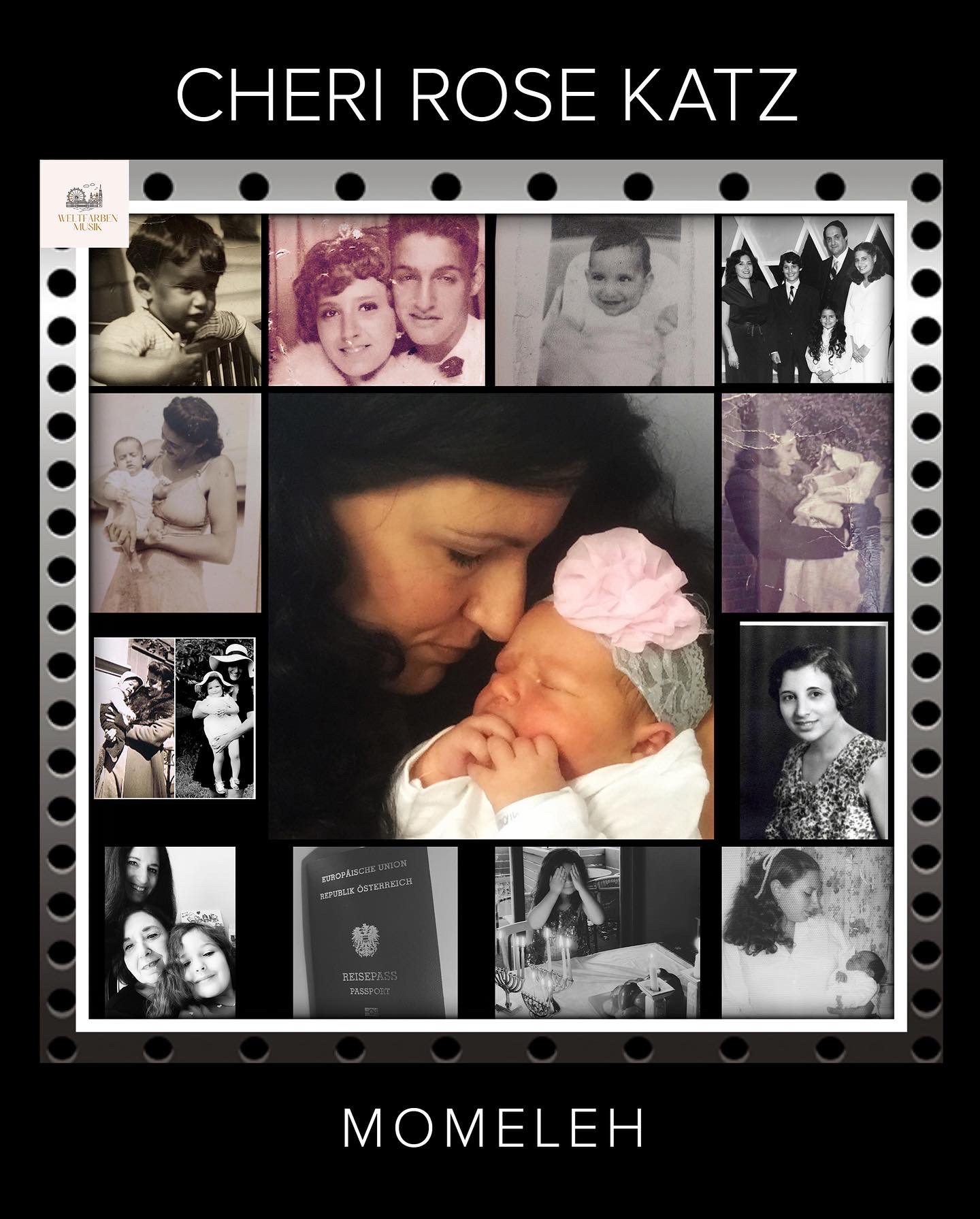 Photos: Courtesy of Cheri Rose Katz