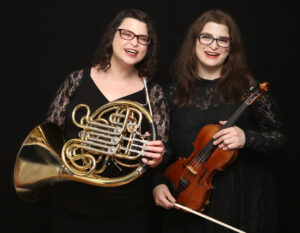 Photo: Courtesy of Ortal & Gavriella Goldman
Tell us a little bit about yourself and your background.
I'm Gavriella Goldman and I play the Horn. Together with my sister Ortal, we perform music comedy shows as the Goldman Sisters. We also play standard classical music concerts in collaboration with other musicians. I have been playing Horn since I was 10 years old and creating music for as long as I can remember. I was born in Israel and together with my family we moved to Australia when I was 9 years old. At the age of 17, I won the Nelly Apt Opera and Singers Trust Award, which is one of the highest prizes awarded in the country. Following that we all returned to Israel where I completed a B.Mus (Hons) degree at the Rubin Academy of Music in Tel Aviv. I was later awarded the Sir Jack Lyons Millennium Scholarship to do an MA degree in performance at the University of York in the UK. Since then I have played in numerous countries, as a soloist, chamber musician and in orchestras and Ortal and I won further awards. Never being one to take myself seriously and sharing a similar sense of humour with Ortal, we decided to take our music in a comedic direction. We started creating shows where the music is taken very seriously and is played to the highest standard and which is then fused with theatre and humour. Our first music comedy, Piano Recital (Piano Not Included), enjoyed a hugely successful premier at the Brighton Fringe Festival and for the past ten years we have been performing our shows to great acclaim. One of the most satisfying aspects of what we do is that we are able to introduce music to a whole new audience. Our performances are extremely accessible so both experienced concert goers and those who have never been to classical music performances thoroughly enjoy the experience. We also do performances for children, which combine music with storytelling and theatre. Most recently we created an effective anti-bullying programme for children aged five to seven, which we are looking for sponsors to work with. I also teach in our family's music school. I have a special interest in helping wind and brass players with breathing issues, especially breathlessness and lack of stamina when playing. I simply love teaching and in the age of the internet, I enjoy connecting with students around the UK and abroad. In my spare time I write humorous poetry and have recently rediscovered my childhood joy of pottery.
What inspired you to become a musician?
My mother. She is a musician and educationalist. Music was in my life since before I can remember. My first memory is of my first music lesson. I was about 18 months old and my mother was showing me where middle C was on our piano, which still sits in our teaching studio. For my 10th birthday she bought me a CD of the Mozart Horn Concertos. She asked me what I thought of them and whether I would like to play the Horn. Needless to say, I was hooked from that moment.
What do you enjoy most about your chosen profession?
Entertaining people. There is much I enjoy about being a musician: Being able to perform wonderful music, the challenge of mastering my chosen instrument and its repertoire, even the applause but now, the best part for me, is when I can feel that an audience is fully engaged and is in the moment with us. What we do currently, fusing music and humour, came about precisely because we wanted to have more fun with music and to entertain.
Do you believe a classical training is essential to be successful?
I believe that classical training is essential for any musician, even if they go in a non-classical direction. Classical training ensures mastery of technique and understanding of how music works. It gives a stable basis for all musical activity. There are many classically trained musicians who work in other genres but very few, if any, who are able to go the other way.
What is your favourite piece of music and why?
There are so many, I couldn't possibly name just one.
How was your first performance like?
I can't remember the first one as I have been performing since I was fairly young, but it was probably at a care home. Over the years we performed at many care homes on a voluntary basis, usually with our mother.
How much do you practice in an average week?
At this stage I practise between an hour and two hours, 6 days a week.
Which musician would you like to collaborate with next?
I can't think of anyone specific. I am open to a collaboration with anyone: Musician, comedian, dancer, artist, actor, etc. Our first experiment in music and humour was a collaboration with a dancer for the Brighton Fringe Festival. She was so much fun to work with that ideas flowed and before we knew it, all of us discovered our inner comedic actors. We are constantly pushing ourselves out of our comfort zones, both musically and as actors, all because of the different people we have collaborated with. These inspired us to experiment with other art forms. A few years ago I started writing for children. We now perform a series for children which combines storytelling, music and theatre. Most recently we have created an anti-bullying show for children in their early years. You never know where collaboration will take you.
What advice would you give to an aspiring musician?
Take your classical training seriously, take your music seriously but don't take yourself seriously. There will probably be more downs than ups and this is the best way to keep yourself enjoying what you do. Also, keep an open mind because your music may take you to places you never imagined.
How can our readers book you?
www.youtube.com/user/Goldmanensemble
https://www.facebook.com/Goldman-Sisters-490784575337/?ref=search
This is a link to a video introducing our anti-bullying programme: https://www.youtube.com/watch?v=3up_8S5Cs1A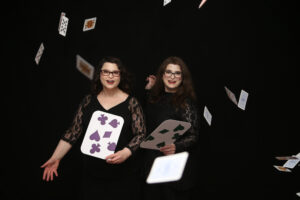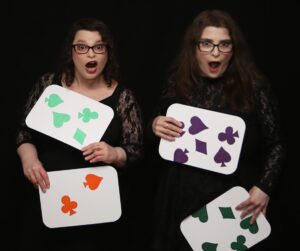 Photos: Courtesy of Ortal & Gavriella Goldman