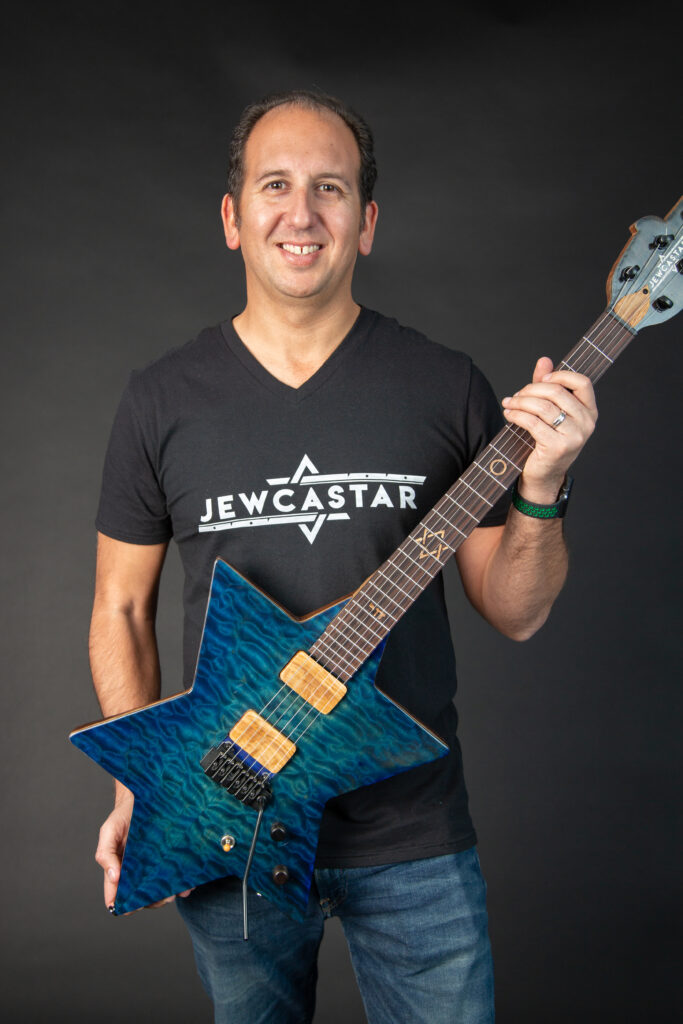 Photo: Courtesy of Josh Friedman
Tell us a little bit about yourself and your background.
I have always worked in creative fields and as an educator and entrepreneur. I am a musician, videographer, photographer, and composer, and I have taught all of those subjects at the college level. For the past 12 years, I have been the owner of One Zero Digital Media, a video/photo/audio production house based in Orange County, California. Music is my first passion though! It chose me when I was 5 years old and started learning the piano and now I have a Masters in Music and work as a guitarist, trumpet player, and singer. From 1999-2004 I toured internationally performing Jewish music and that is when I first created a Photoshop design for the Jewcastar Guitar. Once choosing Orange County as a permanent residence I taught at Tarbut V'Torah Community Day School from 2004-2008 and since then I have worked at most of the local temples performing music.
You are both a musician and an entrepreneur. What inspired you to go into music?
Music chose me! From the time I started piano lessons as a 5 year old it was really all that I wanted to do. The entrepreneur bug comes from my Dad. He and my Grandfather were business owners and I learned from them that it is just more exciting to create my own work. I never really thought of myself as an entrepreneur until almost 10 years after being one. I just always followed my passions and turned them into work. Although my company One Zero Digital Media is an entrepreneurial adventure, I just always thought about it as "my work". The Jewcastar Guitar is really the first unique product that I've created and marketed.
In your career as a musician, you have visited many exciting places. Which were your favourite venues to play at?
I've been really lucky with music! I can trace most of my life's major decisions on music pushing me there from summer jobs song leading at summer camps to choosing to go to the Cincinnati Conservatory of Music and The Ohio State University for my undergraduate music degrees. That said, my fondest memories are of performing for the Jewish community in Bulgaria and many Jewish services literally on a lake at Camp Tamarack in Michigan! That said, some of my favourite jobs have been the small house concerts, music at the beach, and around campfires.
Do you believe a classical training is essential to be successful?
I believe that success can come without classical training, but that longevity of a career requires a mastery of your art, and with music that means reading music, understanding music theory, and most importantly understanding how music and sound affect humanity. A huge part of being a successful musician is reputation and the only way to keep a solid reputation is by convincing others that your art has value. I think that the best way to achieve value in music is to truly be the best that you can be, and classical training is an important part of that. Many have reached success without it, but that success is either limited or the career is cut short. Without classical training you will never know your full potential as a musician.
How much do you practice in an average week?
Consistent and trained practice is really the only way to improve. I've found that it's not about how much one practices as much as it is about what one does while practicing. There were days in my undergrad that I practiced for six hours and only retained 30 minutes of information, and then there were times I practiced an hour and for 50 of those minutes I was focused and improving. I call this trained practice. As for a number of hours, this has changed depending on my situation. I can say, that at this point in my life as a father of two boys and a business owner that primarily focuses on video production and photography I wish I had more time to practice! But, I get time in almost every day and even if I'm just maintaining some days I consider it a win!
Which are your favourite pieces to perform in front of an audience?
I love performing all types of music, and for me it's not as much about the song or piece as it is about the musicians that I get to work with. Looking back I have performed thousands of songs in dozens of styles but the memories are largely about who was with me to share the experience in the band and in the audience. But, I do prefer songs that are in 6/8 time and I have a theory that the melody of Greensleeves is deeply engrained in most songs that are in 6/8 an in minor modes. That silly melody is always in my head and comes out in a lot of my performances!
What advice would you give to an aspiring musician?
Your self-worth shouldn't be determined by your level of musicianship or ability to play an instrument or write great songs. Find a way to separate the two! So many musicians that I know are so hard on themselves that a less than productive practice session or single wrong note on a gig can ruin their day or their week. You are much more than your music or your performance and you have a lot more to share with the world than just your music. Let music be part of what identifies you, but don't let it take over your entire identity! And remember, a guitar is just a block of wood, a trumpet just a bunch of plumbing. Music is way to communicate and share joy with people! This is easier do to with simple music and at the end of the day people will remember you for the joy your music brought them, not a killer lick over a ii-v-I progression!
You are also the owner and designer of the Jewcastar Guitar. What inspired you to launch your brand?
This is kind of one of those bucket list dream come true things for me. As far back as 1999, when I was touring performing Jewish music internationally, I wanted to own a guitar shaped like a Jewish star, but that played really really well! I loved the idea of having a professional instrument that was created with Jewish intent. This is a tradition in custom weaponry. Swords were named and had carvings and attributes that were created with the intent of its owner and purpose. I like knowing that a guitar can possess the same types of symbolism and intent. And, when researching if anyone had ever made one, I couldn't find any guitars that had been made with this shape. 20 years ago, I created a photoshop rendering of it, and had discussed it a few times with friends over the years. In early 2019 I met a guitar maker named Alexander Halverson and shared the idea with him. He really loved the concept and the design and we created it together! The guitar really is a combination of my original design with some enhancements of his that was created with his amazing woodwork, handy work, and deep understanding of how to build amazing guitars!! One of his ideas was to put Ezi pickups made of Olive Wood from Jerusalem into it. They sent us extra wood for the inlays and the truss rod cover. This olive wood not only makes up the center of the aesthetic of the instrument but also gives it its warm and powerful voice! I find that the timing of it is really important as well! In America and Israel it is an amazing time to be able to use Jewish symbolism in art and music and instruments to create joy in the world! The Jewcastar does that! Almost everyone's initial reaction when they first see it has been to smile.
How does the Jewcastar compare to other guitars in terms of design and what sets you apart from other manufacturers in the market?
The intent of the Jewcastar was to create something unique and beautiful in its aesthetic, but far more importantly we wanted to create a versatile guitar that sounds professional and plays comfortably. Most people won't look past the Star of David shape, but when one holds it, the shape is very practical and comfortable for guitar playing. The top of the star allows for easy access to the 24th fret, and the top left part of the face sits really comfortable on ones chest while the bottom left corner positions the strumming hand perfectly for play! The stretched star (non-symmetrical on all six sides) also balanced the guitar really well. It's not heavy because of the cut-outs and the center of the weight is in the center of the instrument. There is also a unique combination of hardware including the use of Steinberger tuners, which sit in the back of the guitar to allow for the Hamsa shape. It also has a six-switch to allow for three humbucking and three single coil tones, strap locks, and a tremolo bar that can do a dive bomb down to a fifth from the original note! It's truly a reflection of what my dream guitar would be with Jewish symbolism.
How can our readers find out more about your company and where can they purchase the Jewcastar Guitar?
Now that the prototype for the Jewcastar guitar has been completed we would love to sell more and expand the brand to other unique designs with intent. The Jewcastar guitar can be pre-ordered on Indiegogo by going to igg.me/at/Jewcastar. We understand that a hand made custom guitar is a bit out of reach for most, but we have many ways that people can support the campaign with stickers, keychains, hats, awesome t-shirts, a hand made miniature of the Jewcastar guitar and more!
You can also hear demonstrations by three different artists on the page or you can go to my YouTube channel.
And, you can see all of my other digital art as a videographer and photographer at my company's page www.OneZeroDM.com.
Photos: Courtesy of Josh Friedman