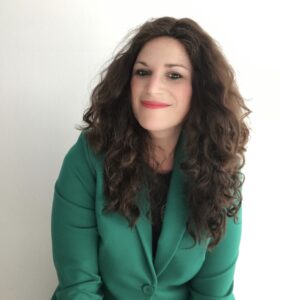 Photo: Courtesy of Chanale Fellig-Harrel
Tell us a little bit about yourself and your background.
My name is Chanale Fellig-Harrel and I am a professional songwriter and performer of Jewish music. I was raised in a Chabad home, a grandchild of holocaust survivors and Russian immigrants. Although I never received any formal musical training, I inherited strong musical and creative genes from my maternal great-grandmother who was a published Yiddish poet, and my paternal great-aunt who was the first Jewish woman to produce a series of educational music records and cassettes for young children (Stories Under The Mitzvah Tree was released in 1965). My childhood was all sunshine and birthday parties celebrated in the warm Florida climate where I received an Orthodox Jewish education until I turned thirteen. My high school years were spent in Montreal where I studied French at the local Chabad Girls' school while boarding at my aunt's home along with her 14 children. After a year in seminary in Israel, I taught in a small school in Waikiki Hawaii for 6 months and finally returned home at the age of 19 when I first began my musical career.
What inspired you to become a musician?
Living away from home at an early age, I had much more freedom than most teenagers and I found myself drawn to the music stores in the mall where I purchased a rather sizeable and impressive collection of compact discs. While my aunt forbade secular music in her home, listening to these records covertly on headphones, gave me the advantage of truly listening to and analysing the winning combination of a great mix, creative arrangement and brilliant lyrics that makes a great song. I taught myself how to play guitar in my bedroom and piano in my aunt's living room amidst the cacophony of noise my many cousins produced and this provided the stepping stool for me to begin a career in songwriting and musical production.
What do you enjoy most about your chosen profession?
The travel opportunities it has provided me and the incredibly diverse women and girls I have met at my concerts all around the world.
Do you believe a classical training is essential to be successful?
Yes and no. While I personally did not have the opportunity to attend music school, I do believe professional musicians should be practicing regularly so that their performances appear effortless. I regret not taking piano lessons as a child and have spent thousands of hours making up for last time by playing and studying music as much as possible from many wonderful resources online.
What is your favourite piece of music and why?
My favourite piece of music is "In My Room" by Jacob Collier. A musical genius, he plays every instrument and produces his own compositions and videos. The scope of his talent is breathtaking and continues to inspire me that the sky is the limit in my musical endeavours.
How was your first performance like?
My first performance was for a packed audience in the Broward Centre of Performing Arts. I was overdressed and under prepared but the moment I stepped out onto the stage, and felt the energy in the audience, I was certain that I would be in the entertainment business for the rest of my life.
How much do you practice in an average week?
I practise piano at least 2 hours a day and work on musical projects all throughout the week. I am always engaged in playing, performing or writing music in one way or the other.
Which musician would you like to collaborate with next?
I've had the opportunity to collaborate with many talented female singers including Devorah Schwartz, Chaya Kogan, Dobby Baum and most recently Rachel Hunter. I have reached out to Nina (from the popular duo Yonina) and hope to collaborate with her as we have a similar vibe and style. I saw her in concert 3 years ago and have been trying to align our schedules ever since!
What advice would you give to an aspiring musician?
The list is long but for starters practise! Don't obsess about the numbers. You have an audience of one at a time and your music will find the ears and heart that need to hear it. Sing what matters to you and avoid clichés. Be original but not too original that your songs are hard to remember. Trust your instinct, if a song is not giving you the chills it likely needs work. And lastly, play because you enjoy it. Music is a language we can use to connect with out Maker, regardless of whether we have a paying gig or not.
How can our readers book you?
These days I story on Instagram @chanalemusic and can be reached by email for songwriting and arranging opportunities at [email protected].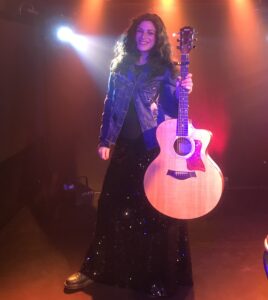 Photo: Courtesy of Chanale Fellig-Harrel