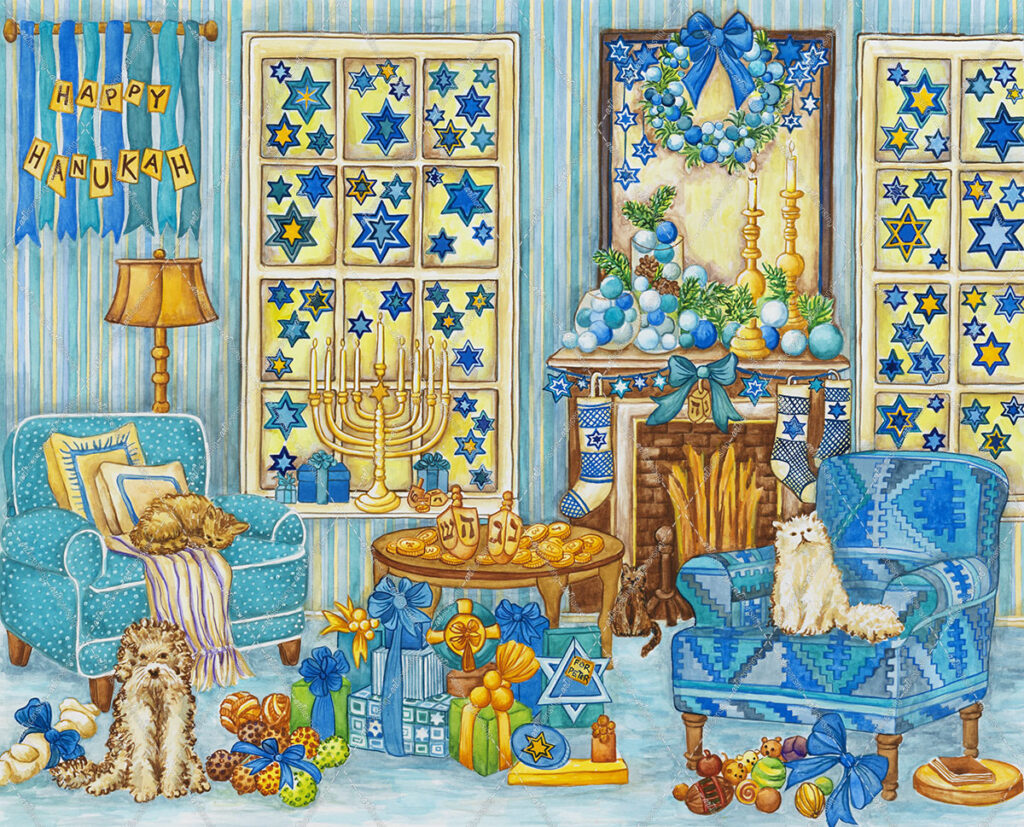 Photo: Courtesy of Andrea Strongwater
Tell us a little bit about yourself and your background.
I was born in New York City – Manhattan – but we lived in New Rochelle, NY on Long Island Sound. You could see the marina from my bedroom window. The building was a lovely, charming 1930's apartment building with slate floors in the hallways, curved archways everywhere, grounds that included rose and rock and wild gardens, a sand box, a place to play kick ball and ride bikes. Other residents included my mother's sister and her family, my grandfather and his second wife when my grandmother passed away, the family doctor, the family lawyer, his mother and sister and brother who was married to an Italian and they had five kids. On Fridays, when my grandmother was alive, we drove to Pelham Parkway in the Bronx for Shabbos. They had the top of a two family house. The adults went home Friday night and the grand-kids stayed over. There was a synagogue at the end of the street but only my grandfather went. Saturdays we got to play, sometimes with the kids across the street who were my cousin's cousins from their father's side. My mother's sister married the boy across the street. A world very much like the Polish shtetl my mother's family left.
What inspired you to become an artist?
I always knew I was an artist. It was just something that was. Whatever else happened I'd still be an artist.
What is your specialty?
My specialty is making things that tell stories. I've always painted but I've added other things into the mix. At the moment I tell stories in pictures sometimes with words added. I make jigsaw puzzles that tell about a moment. I was recently asked to create a picture of a living room decorated for Hanukah. Seemed like a strange idea. Other than putting a menorah in the window, who decorates? But it was for a jigsaw puzzle, so I created a Hanukah living room decorated as if for Christmas but it's all blues and gold and even the stockings have Jewish Stars. It's fun and Wentworth Puzzles is making wooden puzzles and another US company is making regular cardboard puzzles. Cardboard puzzles get to market for the 2022 holiday. Wooden ones I think in time for Hanukah 2021. The image is available in all varieties of prints.
How and where do you work?
I have a two bedroom apartment in Manhattan's Upper West Side in New York. The back bedroom is large, faces the Hudson River and has great light. It's my studio. I work early and late mornings and tend to take a long late lunch and siesta. Then sometimes I work again late afternoon. Sometimes I doodle or embroider or paint rocks or furniture to experiment.
What is the most indispensable item in your studio?
I guess it's my drawing table.
Where do you take your inspiration? Are you pursuing any themes?
I am currently creating a book – 81 synagogue all across Europe that were erased by the Nazis and related parties that are painted and described by me. I paint using archival material, old plans, photos, memoirs to get the exact look. Then I write a bit about each community that built each synagogue. I've been working on the project for about 10 years. I published an overview with an independent publisher a few years ago. The book, "Where We Once Gathered – Lost Synagogues of Europe" – has my paintings and very short descriptions of 20 synagogues and is aimed at the young adult audience. It received two publishing awards and is available on my web site. The comprehensive book of 81 synagogues includes more of everything – more interior views, more exterior views and much more text overseen by the manuscript editor at the Jewish Publication Society.
Do you do bespoke work?
I love taking commissions. I like getting direction and making it work. I just finished a family tree for a Bat Mitzvah girl that includes six generations of her relatives. It is meant to hang in the living room so it's illustrated to show places the family is from. Ketubot are also fun to work on when people have ideas. The round one now in my collection was designed around a client's requests. I also re-create synagogues people have a connection to and illustrate children's books.
What projects are you currently working on?
I'm currently work on my book – 81 Lost Synagogues of Europe. And some more jigsaw puzzle paintings. I love painting for jigsaw puzzles. They leave a lot of room for my imagination to run wild. The wilder the better for puzzles.
What is or are your favourite items in your current collection?
It's hard for me to choose a favorite. I think of my work as something I do. I always always try to make the work beautiful and dense and richly colored. The round ketubah here and the Jewish calendar images are some of my favorites. The Hanukah living room makes me laugh which is a good thing.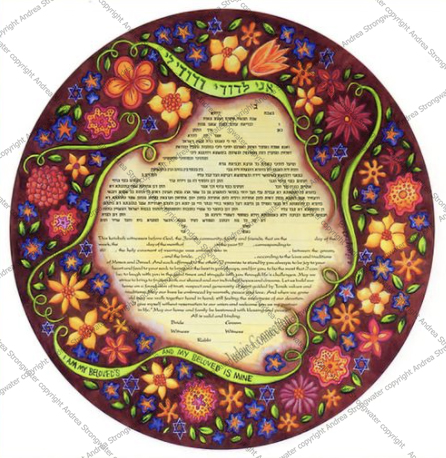 Photo: Courtesy of Andrea Strongwater
How do you know when a piece is finished?
When all the colors equalize and everything blends together
What was the first artwork you ever sold?
I don't remember about selling but the first collected piece was a painting I did in nursery school illustrating life for children stuck in an orphanage in a third world country with little means of aid. It was saved by a classmate's mother – not mine.
Which project have you enjoyed working on the most so far?
The book of lost synagogues. It has a mission, something to say that needs to be said and it memorializes a Jewish life that's gone and should be remembered. I cried a lot at the beginning at all the destruction but then I realized I was saving something important and making a contribution to my culture. It feels valuable to be doing this. I also enjoy giving very well received lectures on the subject of the synagogues.
What do you want to achieve with your work and what are your wishes for the future?
I hope that my work touches people, brings joy, meaning and beauty. I hope to sell lots more jigsaw puzzles and ketubahs. I hope to see my 81 lost synagogues book out in the world very soon. Putting a book together, especially with an academic publisher, is a long exacting process.
Where can we find your work?
https://www.instagram.com/andrea.strongwater/
www.AndreaStrongwater.com My web site has links to ketubah shop, puzzle shop, link to buy "Where We Once Gathered – Lost Synagogues of Europe" book, email/contact info to request lectures and bespoke projects.
JudaicConnection for ketubot
Email: [email protected].com
You can find some puzzles at Sunny Days NY
Pixels.com For prints, wall décor, cards, phone cases.
RedBubble.com For all kinds of fun products – scarves, laptop covers, bath mats, cards, tees and more.
FulcrumGallery.com For prints of Hanukah living room.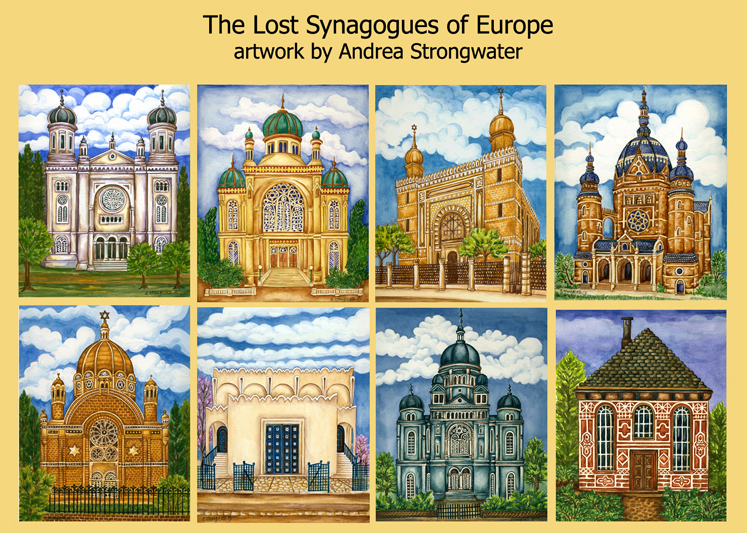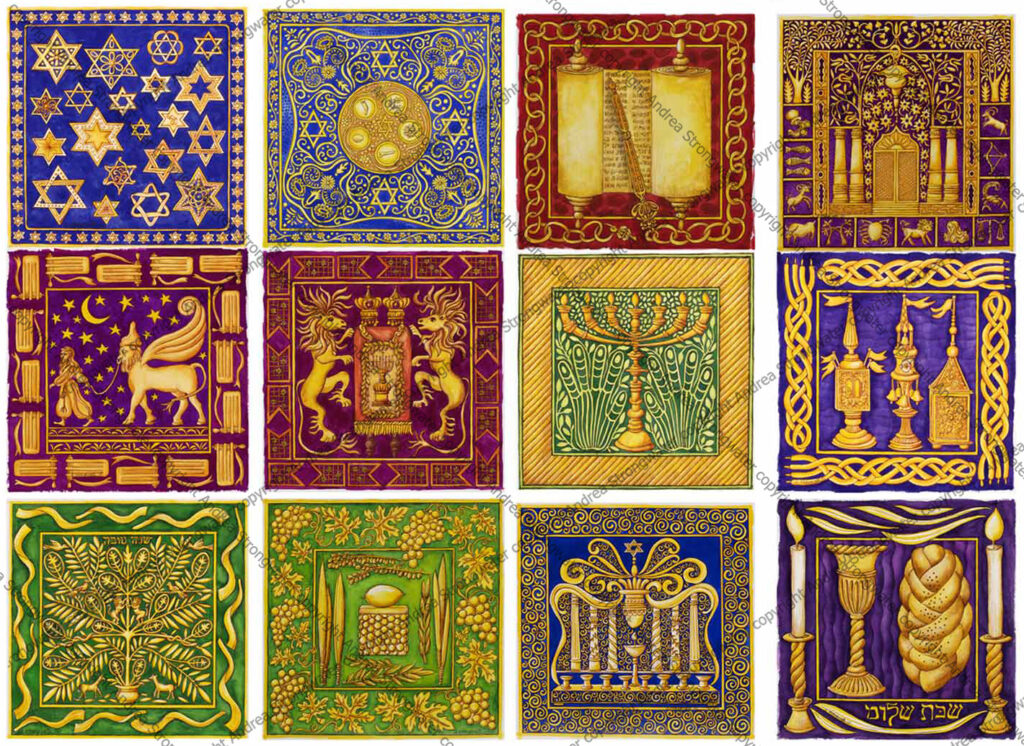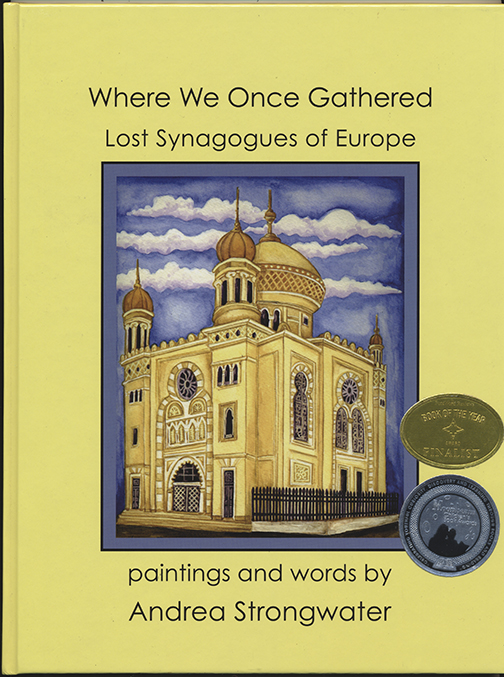 Photos: Courtesy of Andrea Strongwater