Reviewed by Sarah S.
First and foremost, I would like to thank David de Wolf for sending me a complimentary copy of his latest novel, Ephraim's Bones.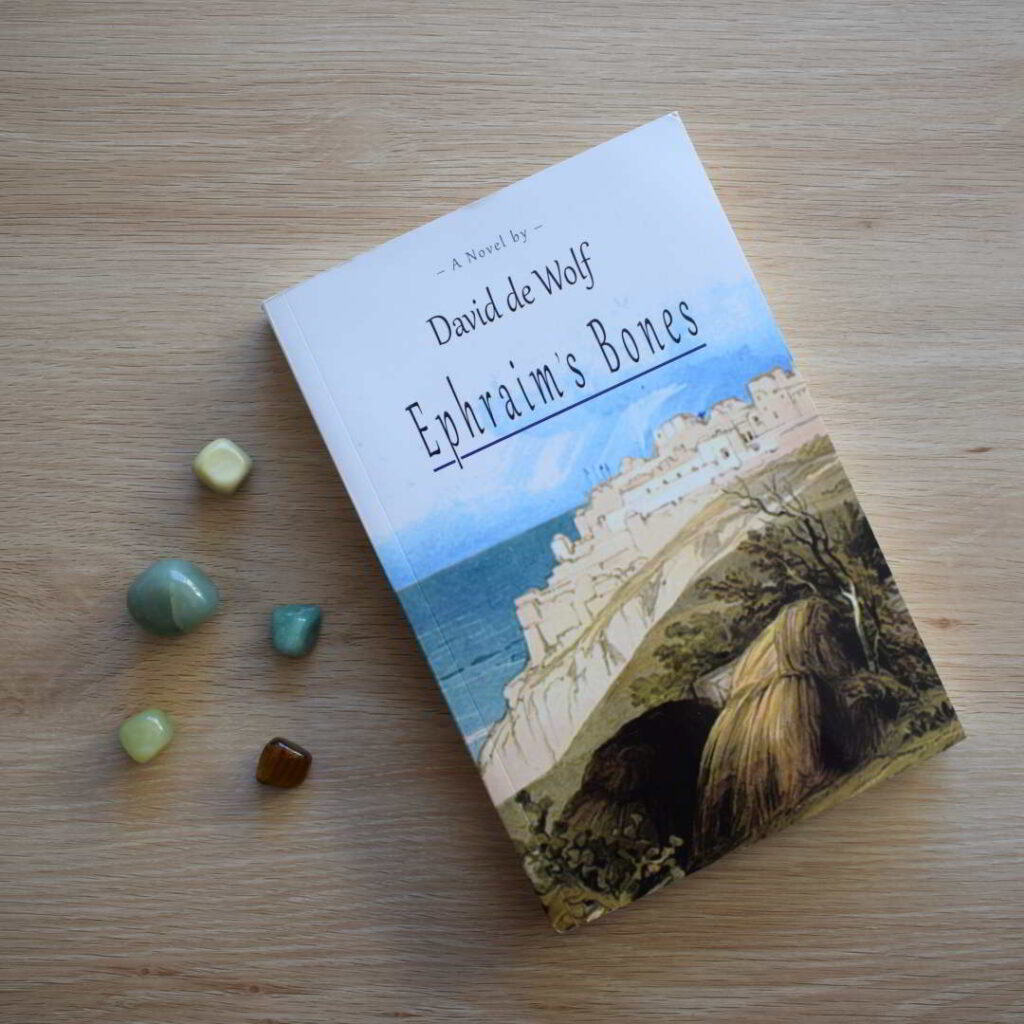 Image: Courtesy of Judaica in the Spotlight
Book Description:
Joseph Lichtman, a young man from Frankfurt, is determined to escape the culture of the ghetto, still dominant fifty years after Napoleon. Dramatically, he not only leaves his family, but also steps back from his faith.

Reaching Cologne, he successfully climbs the cultural and social ladder as a journalist. But the higher he gets – losing himself in the rich life of the enlightened circles of European culture – the more he experiences his own limitations and ultimately, emptiness. In the end, his detachment and loose liberal views land him in a Venetian prison.

Joseph's search for light and spiritual freedom, against the background of the ongoing enmity against Jews in Europe, eventually brings him to Palestine. There, he faces the challenges of this new land with his wife and son in a complex blend of cultures and religions. He eventually witnesses the courageous, but unsuccessful attempt to start a new agricultural settlement, Petach Tikva. Joseph endures the harsh conditions of his new land with emotional consequences. In time, these experiences lead him to recognize a good greater than his own well-being.
Review:
Before I begin, I would like to assure you that, as always when our magazine publishes a book review, there won't be any spoilers. We are fully aware of how frustrating it can be when someone accidentally gives the entire plot away. There is no need to worry that this might happen here.
"Ephraim's Bones" is a masterpiece. There is no other word to describe it. A true gem.
David de Wolf is one of the most talented authors I have read in the past five years, if not ever. His descriptive style is exquisite.
There is nothing lovelier in this world than reading a thoroughly researched and well-written historical fiction novel. David's writing is intelligent, elegant, and wonderfully eloquent. I rarely read more beautiful writing in English. His style reminds me a lot of my favourite French, German, and Russian authors I grew up with. As you can imagine, I am already looking forward to his next project!
I simply couldn't put Ephraim's Bones away. Or as a dear friend of mine would say, it was "u-n-p-u-t-d-o-w-n-a-b-l-e". You cannot help put continue turning pages. Needless to say, I read it in one go.
Born in 1834, Joseph's story is spanning from 1852 to 1881. It was refreshing to read a historical Jewish fiction novel that is not set shortly before or during World War II.
Many of us who were raised and educated in continental Europe will be more familiar with Europe's history and will appreciate how Ephraim's Bones gripping storyline successfully transports the reader back to the 19th century. I enjoyed how neutral and pragmatic David described the time period itself and how it affected Jewish life in Europe. As a matter of fact, he did not dramatise the events.
Joseph's character development is superb. Being caught between so many different identities, cultures, and lifestyles is something many of us experience, or have experienced, at some point in life. It is not hard to identify with the main protagonist and the important people who surround him. The sheer depth of Joseph's and the supporting characters is outstanding!
David's descriptive way of writing ensures that you can feel with the characters as well as visualise each and every element. Reading Ephraim's Bones, I constantly had the feeling I was there with Joseph. I found myself captivated from the first chapter to the last and I am certain you will, too. It wouldn't surprise me if this novel would be turned into an ARTE or a Netflix mini-series.
Something, I have enjoyed tremendously was to find all the familiar historical figures in this novel. Their description was on point. It becomes apparent very quickly how much heart and soul went into the research of this book. The historical facts are accurate and the storyline realistic.
Should you be familiar with the cities mentioned in the book, you will find yourself smiling once in a while. There is just something special about reading a historical fiction novel that is set in places familiar to you.
Lastly, I cannot recommend Ephraim's Bones highly enough and believe that it deserves a prominent spot in every bookshelf.
This book makes a fantastic read for anyone and especially bookworms who do not know much about Jewish emigration to Palestine before the establishment of the state of Israel and are actively looking for a historical fiction novel to learn a little more about it. Ephraim's Bones will certainly inspire you to pick up more books about the various regions and their rich history.
In my opinion, Ephraim's Bones should constantly be found on global bestseller lists as well as translated into different languages. If you haven't read it yet, it's time to purchase a copy! It also makes a wonderful birthday present.
I would like to point out here that David has added a superb glossary at the end so you don't have to know religious Jewish terms, be Jewish, or need to be familiar with any of the historical figures mentioned in this book. He ensured that no one reading Ephraim's Bones would ever be lost.
You will be able to purchase a copy of Ephraim's Bones in your favourite bookshop and on Amazon.
We recently had the pleasure of interviewing David for our website. You can find his interview here.