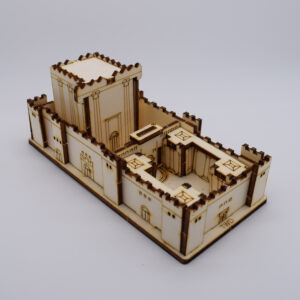 Photo: Courtesy of Judaica in the Spotlight
At Judaica in the Spotlight, we love puzzles. Especially when it comes to puzzles that are both educational as well as decorative, which the 3D model of the Second Temple you can admire here most certainly is. Is there a more fun way to teach young children about history, or any other field for that matter, than through play? We do not think so. This is what makes TouchwooDesign's products perfect.
Teaching, as well as learning, about the history of the Second Temple while putting this model of it together was a very enjoyable experience for everyone involved.
This was our first laser cut wooden 3D puzzle and we have to say it was a truly positive experience. Something we enjoy about this particular design is that it is easy to put together for older children and that they can paint the pieces if they wish to do so.
You can open the kit and put the pieces together the moment it arrives in the post. If you are not planning on painting it, you do not need anything else as putting the pieces together does not require any glue. All you have to do is follow the instructions that come with it.
TouchwooDesign's puzzles make a fantastic presents all year round. Order your kits as soon as possible for them to arrive in time for Christmas and Hanukkah. With TouchwooDesign's large selection, and the variety of designs they offer, you can rest assured that you will be able to find something for everyone. Their products make a wonderful gift for anyone who enjoys puzzles, regardless of the age.
We recently had the opportunity to interview Assaf Goldstein, CEO of the company. You can find out more about what inspires him and his business partner, Ofir Baruochi, here.