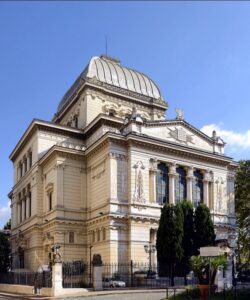 Photo: Courtesy of The Jewish Life Experience
Tell us a little bit about yourself and your background.
I am the daughter of an Israeli couple and was born and raised in Milan. On holidays in Israel, at the age of 23 I met my husband, a Roman Jew. I finished my studies at the Accademia di Comunicazione di Milano graduating in Copywriting and then moved to Rome.
There I started my career and worked for the next 10 years in many advertising agencies.
Already mother of my two beloved children, in 2010 I was offered by the Director of the Jewish Museum of Rome to work for her, being in charge of the Public Relations and Events office: what an eclectic mix of interesting and challenging duties!
After 8 years at the Jewish Museum I felt like creating something unique which would gather my culture, my profession and passion: The Jewish Life Experience. So here I am! In 2018 I decided to put my extensive knowledge and experience in Jewish field to create something unique: The Jewish Life Experience.
So here I am!
What do you enjoy the most about living in Italy?
Italy is not a perfect country but which one is?
With the highest number of Unesco World Heritage sites, the so called Bel Paese is itself almost a work of art. I consider myself lucky to live in such a wonderful country, to breathe art and beauty since my birth and like most of the Italian people, I'm very proud of it! Different landscapes from North to South Italy allow me to choose my vacation style: either skiing or sun bathing at some beautiful beach, both is possible and very enjoyable.
Personally, I love cooking and also eating, which is also a well known plus in this country. By the way I've recently started an on-line cooking classes' program on Zoom with a great Tuscan chef. It has been such a fun that I could not resist sharing it with friends and clients. You can find out more on my Facebook page.
A cultural tasty journey from the North to the South!
What inspired you to start your business?
Working at the Jewish Museum of Rome for so many years made me learn so much about the Jews in Rome and their millennial presence here and all over the country. Did you know that the history of the Jews in Italy spans more than two thousand years to the present?
Furthermore the Jewish Community of Rome is the biggest in Italy. The Jewish quarter offers to all Jewish and non-Jewish travellers a variety of kosher restaurants, cafes, shops, bakeries, shuls, mikvahs, kosher and observant friendly hotels. But at a certain point I realized that kosher travellers did not have a point of reference. Something was missing: me!
Sooo many times I've been asked: "Hey Irit, which are the best Jewish sites to visit? Can you advice an authorized guide!? Hotels!? B&b, Jewish tours for kids, adults, couples?"
Yes! I could give advice and not only in Rome, but also in many other Italian cities. And this is exactly what I offer through Jewish Life Experience
You offer a kosher concierge service for Jewish travellers. What does this entail?
As a kosher travel designer I take care of every single costumer from the very beginning of the trip to the departure. I provide an all-round assistance in all the aspects of daily living in Rome starting with the transportation from and to the airport. I can ensure the best accommodation as well as a reservation in favorite restaurant. Skipping the line tickets under the Italian sun might be helpful as well as finding tickets to a sold-out show, matches, music events and much more. I'm glad to help and my services are tailored to the individual necessities. My main goal is making each trip interesting, exciting, and one-of-a-kind by helping people to immerse themselves in the history, culture, art and experience of the local Jewish heritage not as a tourist, but as a temporary resident. My motto is "Relax, I'm ready to help you whatever your need calls for!".
Can you tell us a bit more about the tours you offer?
The Jewish guides I collaborate with are all licensed and authorized by the Jewish Community of Rome.
I arrange tailored private tours of classic and ancient Rome with a special focus on the Jewish history.
In my opinion the "must have tour" is the former ghetto walking tour: this is an authentic immersion into the history, the culture and the traditions of one of the oldest communities in Europe. This unique walking tour includes visits to the former ghetto of Rome, the Jewish Museum, the Main Synagogue and the Spanish Synagogue.
Others popular tours are those always given from a Jewish perspective: the Vatican Museums and the hidden secrets of the Sistine Chapel with a special focus on Moses life and the Book of Genesis; the Colosseum (built with the spoils of the sack of the Bet Hamikdash in Jerusalem on 70 AD) and the Arch of Titus; Borghese Gallery; the Synagogue of Ancient Ostia; the Jewish Catacombs.
Additionally, I arrange private transfers, kosher services and guided tours and excursions to discover the Jewish heritage and itineraries in Venice, Milan, Tuscany, Naples, Amalfi, Positano, Sorrento, Capri, Puglia, Sicily and many others thanks to my contacts, colleagues and Jewish local guides. All the tours are available in many languages. You can find the entire list on my website.
Upon request, guided tours for blind people and disabled are also available.
What are your favourite places to visit in Italy?
Italy is a constant discovery. The more I visit it the more I love it.
From the Italian Alps to Sicily and Sardinia you find a wide range of landscapes. Good food, beautiful surroundings, the typical Italian lifestyle and the culture of beauty mixed with an impressive Jewish heritage, make it simply an extraordinary country to visit for all, Italians and foreigners, Jewish and non-Jewish travellers. However, if the lockdown is completely over, this summer I'm planning my first trip to Sicily with my family. Can't wait!
You also help organise events. How does the entire process work?
During the past 10 years working as the responsible of the Public Relation and Events Office of the Jewish Museum of Rome I merged my communicative and organizational skills in planning kosher events like Bar/Bat Mizvahs, Jewish weddings and many others Jewish occasions.
I work with my clients from the very beginning to understand what their needs are, the way they imagine their special day, what they are hoping to experience. Step by step I orchestrate every detail to elaborate their dream and create a magical and spectacular event, avoiding stress and anxiety of the behind-the-scenes work. Each event is customized and reflects the personality and the style of each client.
As a partner in planning, I recruit the ideal team of outsourcers, provide the client with expert advice and imaginative ideas and arrange all of the logistical details.
With all-round services and solutions, you can count on me and my collaborators from the mediation with the Rabbinate of the Jewish Community of Rome to selection of the most fascinating and exclusive venues of Rome, accommodation and kosher catering selection, guests activity coordination, music and entertainment recruitment, tailor-made tours and activities and many other details like the photographer, the DJ and the hairdresser.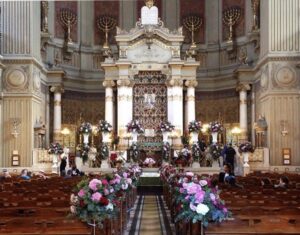 Photo: Courtesy of The Jewish Life Experience
What do you love the most about your job?
The interaction with people from all over the world, there's no doubt! I love being asked for my participation in their holiday plans.
As a travel designer my priority is not to just book a trip for my clients but to design and elevate my costumers' trips to meet and exceed their expectations.
Time away from home and work should be stress free and memorable and my job is to make this experience as smooth and seamless as possible for my clients, saving their time by providing them with the best options they can imagine.
They do not just book and are done! I'm always there at their side whatever their need is.
My clients' happyness gives me a great job satisfaction that significantly outweighs the extra hours and the hard work.
What advice would you give an aspiring tour guide?
Don't worry about being perfect but be personal: get people involved by telling personal stories and curious anecdotes about the sites you're visiting together. And, especially when you're working with families, remember to talk with the kids, not at them.
What are your wishes for the future?
Actually I'm already working to realize my dream that is to create a network of contacts between all the Jewish Communities, sites, itineraries all over the country. That would let me offer to kosher travellers the opportunity of discovering the country from a Jewish perspective by making the most fascinating experiences in total comfort, with a kosher and friendly approach.
Where can our readers find out more about your business and how can they book a tour with you?
You can easily reach me through my website
Instagram: @jewishlifexperience
Facebook: https://www.facebook.com/jewishlifexperience/
Whatsapp: + 39 3476320996
Thank you and see you soon in Rome, Venice, Naples…in Italy!
Photos: Courtesy of The Jewish Life Experience