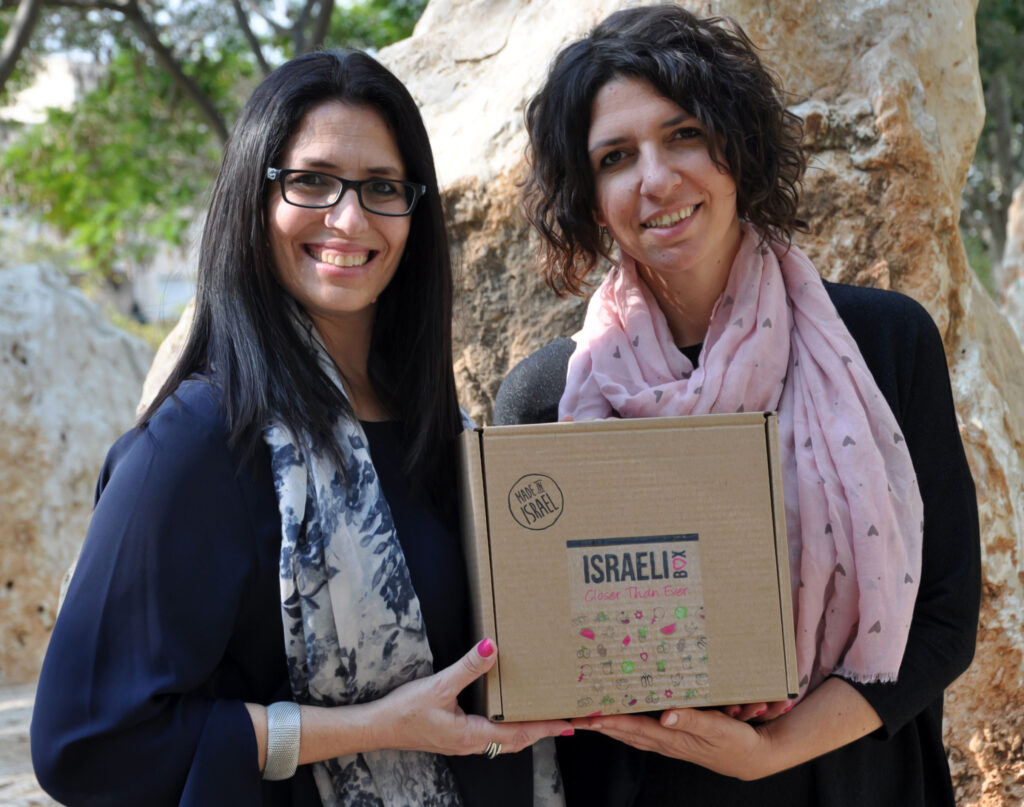 Tell us a little bit about yourself and your background.
We are Sharon and Maya. We are two "mompreneurs" who decided that we wanted to combine both our experiences and expertise and create something new towards what we both love and believe in wholeheartedly – Israel. Sharon is coming from an international career in the non-profit world, fundraising and advocating for Israel all over the world, and Maya brings a leading expertise in marketing strategy in the Israeli FMCG market.
What inspired you to start your business?
We love Israel. We are Israelis. And more than anything, we wanted for the world to hear our story. The story of a beautiful land with creative and passionate people. The story of the small businesses with an endless source of ideas and entrepreneurial spirit. The story of a life well lived, filled with happiness, togetherness and a great lifestyle. We wanted to get to the hearts and minds of people all over the world and get them to hear the Israeli story beyond the conflict. Beyond the news.
How and where do you work?
IsraeliBox is a subscription box that brings Israel closer than ever. Every month we choose a different theme and curate a box full of Israeli magic in it. In every box there are 5-6 items all made or designed in Israel. Each box will always have something edible, something pampering, something artisan & something stationary. We also promise to place each month- one social product inside our box. We choose a different Israeli non-profit every month and through placing an item they make in the box, we give back to our beloved community.
How do you source your artists?
The items placed inside our box are boutique style items one cannot easily find outside of Israel. Our goal with IsraeliBox is to support small Israeli businesses. And also to bring Israel into the home of someone who loves and misses Israel. From what we like to eat, to the boutique and artisan items we get for ourselves from local craftsmen, artists, small family farms, businesses, young designers, and budding studios. The rich Israeli creative life that we enjoy here in Israel.
How do you decide what makes it into the box and how do you know when a box is ready?
The process of creating and curating a box is a creative brainstorming fun. We begin by looking at what is happening in Israel that month. Holidays, festivals, major events, seasons and just life. We bounce off each other ideas and concepts. Once we are hooked on a few leading concepts, we begin to search for products and items that could fit into the concept under the five categories: something yummy, something pampering, something artisan, something stationary, and a social product. We then choose the concept that we find the best ideas for. Once chosen, we start searching for products that'll fit the concept in the different categories. Many businesses and artists approach us with ideas and items, we go to local markets, specialty galleries, and areas with many studios or shops. We choose products that are practical and can be used and yet beautiful, fine quality and unique. Everything placed inside the IsraeliBox is made or designed in Israel!
What was in the first box you ever sold and where did you send it to?
Our first box was the "Women Box" – the items inside were made by Israeli women, tailored for women, and loved by women. We chose to begin IsraeliBox with the "women box" because we are women/moms entrepreneurs and this marked our first step. We actually sold it both in the U.S, and in Europe the very first month we launched.
Do you do "bespoke" themed – boxes for clients?
No
Where can we find out more about your business?
© IsraeliBox