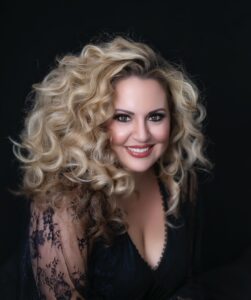 Photo: Courtesy of Melina Schein
We are thrilled to be able to interview you for our magazine, Melina. Could you please tell us a little bit about yourself and your background?
I'm a geographically-misplaced, Argentine-born, Manhattan-raised, immeasurably neurotic Jewish opera singer living in a remote area of Western Canada. I was born in Buenos Aires; my family moved back to NYC, my mother's hometown, when I was a year old. I grew up in Washington Heights on the upper tip of Manhattan. From the age of nine, I studied music, first at the Manhattan School of Music and then at LaGuardia High School of Music & Art. From LaGuardia, I moved (literally) across the street to do my undergraduate training in classical voice at The Juilliard School when I was seventeen. It was there that I would meet my future husband and fellow opera singer, and follow love across the continent to his hometown of Vernon, British Columbia in Western Canada, which is where I find myself living now. The love didn't last, but my appreciation for this part of the world, its natural beauty and slower pace, did. I have spent the last many years in B.C. working as a professional singer, vocal coach, accompanist, director and producer with the two companies I founded: Big Apple Productions and Valley Vocal Arts. Thanks to a "little" virus that's decided to shut down the world, and more specifically, the arts, I find myself without a career, making less than bupkes. I'm still singing…it's just that no one is listening!
Who or what inspired you to become an opera singer and what do you enjoy the most about your chosen profession?
My Bubbie (grandmother) was a singer. She was from Odessa, and she used to sing and play her violin on the trains, which would transport soldiers to the front lines during WWII. My Zaide (grandfather) was a soldier and met her on one of the trains. They fell in love. Bubbie passed away when I was a little girl, but the love of music that she instilled in me in the years I was privileged enough to spend with her has continued to grow throughout my life. She is one of the main reasons I decided to become a singer.
I love telling stories, creating characters and bringing them to life on stage. Being on the stage, for me, is home. As a singer, I never take for granted the great honour is to connect with an audience: to inspire, entertain and challenge people, and to celebrate the essential power of music to illuminate our common humanity.
Being a polyglot performer, which language do you enjoy singing in the most and how many hours do you practice in an average week?
I have always loved languages and find it difficult to pick a favourite! I'd say that in my operatic repertoire, I love singing in Italian the most – it's the language of love, after all! I perform a lot of musical theatre as well, and that's almost all in English, which, for a native English speaker, is one of the more difficult languages to sing in, believe it or not. It's all about excellent diction; otherwise, your audience doesn't understand what you're singing about and then the story is lost. I perform a lot of Spanish and French repertoire, both of which I enjoy, and a fair bit in German, which comes naturally because of the Yiddish I grew up with. Most recently, I've rediscovered my love for Yiddish and Hebrew repertoire, and have been exploring it at length. Pre-pandemic, I was working on a touring production of the lost songs of WWII to honour my grandparents; my Zaide is still alive and kicking at 97 years old!
My practice time depends largely on what engagements I have coming up. Just before COVID hit, I was preparing for a national tour of the music of Andrew Lloyd Webber. For something like that, I'd put in several hours of practice a day, every day of the week. Because the voice is a delicate and temperamental instrument, I let it guide my practice schedule.
Of all the venues, Jewish and non-Jewish alike, which ones are your three favourite ones? Is there a place in this world you have not had the chance performing in just yet, but would love to have the opportunity to?
To list all the places I haven't yet performed but hope to one day would require an entire book! In New York, when I was a little girl, I got to sing in a children's choir for a production of Mefistofele on the stage of the Metropolitan Opera. I'll never forget it! As a young singer-in-training, I spent a summer in Buenos Aires and had the chance to sing at the Teatro Colon, another life-changing experience as a performer. Here in Canada, my small town of Vernon is blessed to have a state-of-the-art, 750-seat theatre modelled after some of the greatest concert spaces in the world, and I get to perform in it quite regularly – it's always a delight.
Which performance or recording are you most proud of?
"You never forget your first time," is how the saying goes, I think! The first opera I performed was The Marriage of Figaro when I was sixteen, and I had the lead role of Susanna. It instilled in me a love for Mozart and cemented my passion for opera. That was many years ago but the memory will always be with me. It was that magical moment when I knew what I wanted my life to be, and nothing else would do! Since then, I've been fortunate to have had countless performance opportunities around the world, but that first one will always hold a very special place in my heart.
What type of music do you enjoy listening to when you want to relax after a long day?
Depends on the day, but I have a surprisingly diverse playlist! Listening to opera and musical theatre stirs up lots of nostalgia for me, so if I need a good cry or the warm fuzzies, I'll choose that. I love listening to Jewish Klezmer music, 80s and 90s, the music of the Golden Age of Hollywood (I'm a huge Judy Garland and Rat Pack fan!), old-time jazz, Mob hits, Latin music (when I want to shake what my mama gave me), and sometimes I just want to rock out to straight-up gangster rap! I told you it was diverse…
Besides music, you are also very passionate about cooking and people know you as "The Saucy Soprano". Can you tell us more about your fantastic cooking blog?
Thanks for asking! I've been spending the last four months trying to re-invent myself, to keep my creative juices flowing and try to come up with other joyful, sustainable ways to make a living. Throughout my life, when little else has made sense, I've cooked. And that's exactly what you'll find me doing now. I've decided that if I can't be the world's greatest entertainer (at least not right now), I'll become the best balabusta I can possibly be. I think I'm already halfway there: I'm a notorious food pusher and have always derived some of my greatest joy from feeding people. I've given myself a project: to cook the 400+ recipes from Leah Koenig's 2019 The Jewish Cookbook, a "celebration of the diversity and breadth of this venerable culinary tradition."While I have never been a particularly religious or regularly practicing Jew (I've always felt most aligned with the "ish" in Jewish), so much of my life is increasingly tied to my Jewish identity. I want to learn more. I want to delve deep into the remembrances of foods past, exploring the tradition which teaches that when Moses descended from Mount Sinai, he gave the waiting Jewish women the code of culinary practice by which they have conducted their kitchens ever since. I also just want to make the world's best bagel! Finally, I have always loved the idea of tikkun olam, the notion of repairing the world and using our time here to leave our earth better than we found it. Well, now I have the time…and the world sure needs the help. And what better way than with good food? So I'm cooking, baking, blogging, making videos, reconnecting with my family through stories and history, and having some fun along the way. My husband is very well-fed!
Where can our readers learn more about you as well as follow your work?
The best way is to subscribe to my blog by visiting www.thesaucysoprano.com, scrolling to the bottom of the home page and clicking "Sign Up." I post one recipe a day. My performer website is www.melinaschein.com. People can also connect with me on Facebook (The Saucy Soprano) and on Instagram (@thesaucysoprano). I'm just discovering YouTube and have two new channels, so I'll be working on putting content there in the weeks to come: Melina Schein Music (YouTube) and The Saucy Soprano (YouTube). Technology scares me a little, but I'm working through it!
Thanks so much for taking the time to interview me! Wishing you Zei Gezunt!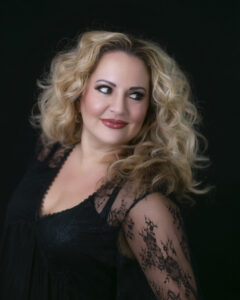 Photo: Courtesy of Melina Schein