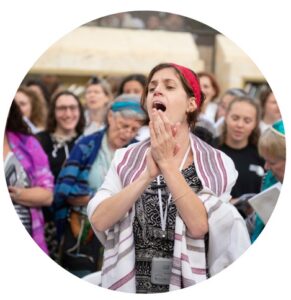 Photo: Courtesy of Women of the Wall
We are delighted to have the opportunity to interview you, Yochi. Can you tell us a little bit about yourself as well as what your organisation, Women of the Wall, stands for?
My name is Yochi Rappeport and I am the Executive Director of Women of the Wall. I was born and raised in Safed, where I received an Orthodox education. After turning 18, I as drafted into the IDF where I served as a commander in the Nativ Military Program, teaching Judaism and Zionism to new immigrants and non-Jewish soldiers.
Following my military service, I've studied Political Science and Middle Eastern Studies at Bat Ilan University. After graduating, I worked as an executive assistant at an Israeli news agency.
In 2016, I've joined Women of the Wall as Director of Education and Community Outreach. I have dedicated myself to educating and inspiring the Israeli public about WOW's mission; namely to achieve gender equality and religious pluralism.
After expanding WOW's educational activities to more than 3,000 people a year, including 2000 students, I was appointed Executive Director of the organisation in 2019.
I see myself as an Orthodox feminist and strive to show that a woman may indeed possess both attributes. My goal is to make Jerusalem, and Israel as a whole, a more tolerant place for my daughter's generation and the many more to come.
Women of the Wall, Neshot HaKotel in Hebrew, is a group of Jewish women from Israel and all around the world who strive to achieve the right to wear prayer shawls, pray and read from the Torah collectively and out loud at the Kotel, the Western Wall, in Jerusalem.
The Western Wall is Judaism's most sacred holy site and the principal symbol of Jewish peoplehood and sovereignty, and Women of the Wall works to make it a holy site where women can pray freely. We are comprised of women from all denominations of Judaism – Orthodox, Reform, Conservative, Masorti, Renewal and Reconstructionist.
As an organisation, we don't only seek empowerment in group prayer and Torah reading at our most sacred site, but also strive for recognition of our prayer service by the legal and religious Israeli authorities, for the sake of all Jewish women. Our group, with a membership that is not only multi-denominational but spans the political spectrum, embodies a message of tolerance and pluralism.
How has WOW changed since you have joined the organisation?
As someone who came from the education field, I managed to double the amount of lectures the organisation provides on an annual basis, especially directed towards the Israeli society.
What inspires you the most about your work at WOW?
The women surrounding me during our Rosh Hodesh services fill me love and hope. To see how many young women join us inspires me to continue my work.
I know that the Kotel is a religious symbol and that if I want to see change, I must fight for it.
What are the biggest challenges your organisation faces?
The Ultra-Orthodox domination in Israel who in the name of religion take away women's rights to be a part of the public sphere.
We often face a lot of opposition, and that comes from the chief rabbinate's fear of change. It is important to us that the people in Israel will realise that Judaism can look different.
What are your wishes for the future?
For every young women to be able to celebrate her Bat Mitzvah at the Kotel, reading out loud from the Torah Scroll, and receiving a blessing on her Tallit for the first time at this holy place.
I want the next generations to ask "What, it wasn't always like this? Women weren't always allowed to sing out loud here?"
Where can our readers find out more about your organisation?
Website: https://www.womenofthewall.org.il/who-we-are/
Facebook: https://www.facebook.com/womenofthewall/
Twitter: https://twitter.com/womenofthewall
Instagram: https://www.instagram.com/womenofthewall/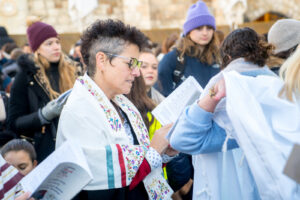 Photo: Courtesy of Women of the Wall / Photo Credit: Hannah Taieb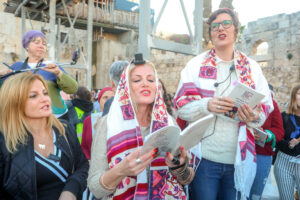 Photo: Courtesy of Women of the Wall / Photo Credit: Hannah Taieb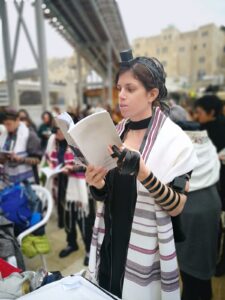 Photo: Courtesy of Women of the Wall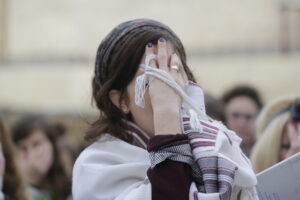 Photo: Courtesy of Women of the Wall