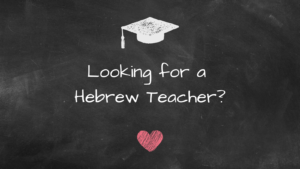 Photo: Courtesy of Judaica in the Spotlight
Are you planning to move to Israel?
Then it is time to learn … Hebrew!
For many people moving to Israel is a dream come true. If you do not want your emigration to turn into an absolute nightmare, we highly recommend you start learning Hebrew well in advance before you board a plane to your new home.
When leaving your country of origin behind to embark on one of the greatest adventures of your lifetime, solid planning is a must if you want your emigration to be a success story. Building a life in Israel does not have to be harder than necessary.
While English is commonly spoken throughout the country, you should not get too comfortable diving into a parallel society because it is easy to do so. Yes, meeting and becoming friends with people who share your background or at least a similar one is the first step for many new immigrants to build a social life but it should never be your end goal when moving to a different place.
The reasons why you should learn Hebrew before moving to Israel are plentiful …
Fast forward a bit and imagine yourself being a somewhat fluent Hebrew speaker when you board your flight to Tel Aviv. Being able to understand and communicate with people on the flight and in the airport in Hebrew and being able to read the signage without requiring the English translations will take a very big stress factor away. It may sound negligible, but it actually is a big first step into your new life. You will feel much more comfortable in your own skin when you realise you can read and understand Hebrew advertisements that pop up all around you after you step out of Ben Gurion airport.
The best part for any new Hebrew speaking immigrant after reaching their final destination and having a valid work permit in hand? Being able to apply for as many jobs in your desired field as possible without having to learn the language first. You will be amazed by how many interviews you will get and how much higher your chances will be landing the job of your dreams in the country of your dreams.
Being able to communicate with people on a business level will open many doors for you and will help you move up in your career much faster than expected Not to forget the better pay you can expect as a multilingual employee. Especially if the company you will work for regularly does business with your country of origin.
One of the most important aspects after learning Hebrew is that you will be able to immerse yourself as well as integrate seamlessly into Israeli society.
By being able to not just understand a few words of Hebrew you may have picked up here and there but to communicate with the people around you, will not just help you make friends easier but also understand Israeli culture, traditions and even certain peculiarities much better than if you would not.
The entire experience of emigrating will be so much more enjoyable when you are able to converse with locals and become friends with people who do not share the same background or mother tongue as you do.
Something you will enjoy doing will be reading Hebrew books. While many book translations are fantastic, you will want to get to a level that you can read a book written by an Israeli author in Hebrew. There are nuances in any languages that simply can never be translated in the way they were intended. As with any other language, there are different ways of conveying different emotions in the written word.
You will enjoy being able to read an Israeli newspaper or magazine in Hebrew, or to listen to the radio being fully able to understand what is being said while driving, and of course not to forget watching movies, comedy acts, cooking shows and other television series without the need for subtitles.
Not planning to move to Israel but want to understand your in-laws or your children's in-laws when they speak Hebrew?
We love when people pick a new hobby and decide it will be learning a new language. Especially, if it is a language that will help them bring them closer to the people they love so dearly. If you have relatives or in-laws in Israel and visit them quite often, we can not recommend learning Hebrew enough. By being able to follow the conversation without anyone having to translate each and every word for you, you will see how the dynamics will change.
Travelling within a country and discovering hidden gems you normally would not be able to find is a big plus as well besides many, many, many other benefits.
We have put together a list of dedicated Hebrew teachers who are killing it on Instagram! Whom will you pick to work with?
For English Speakers …
For Spanish Speakers …
For Russian Speakers …
For French Speakers …
For German Speakers …