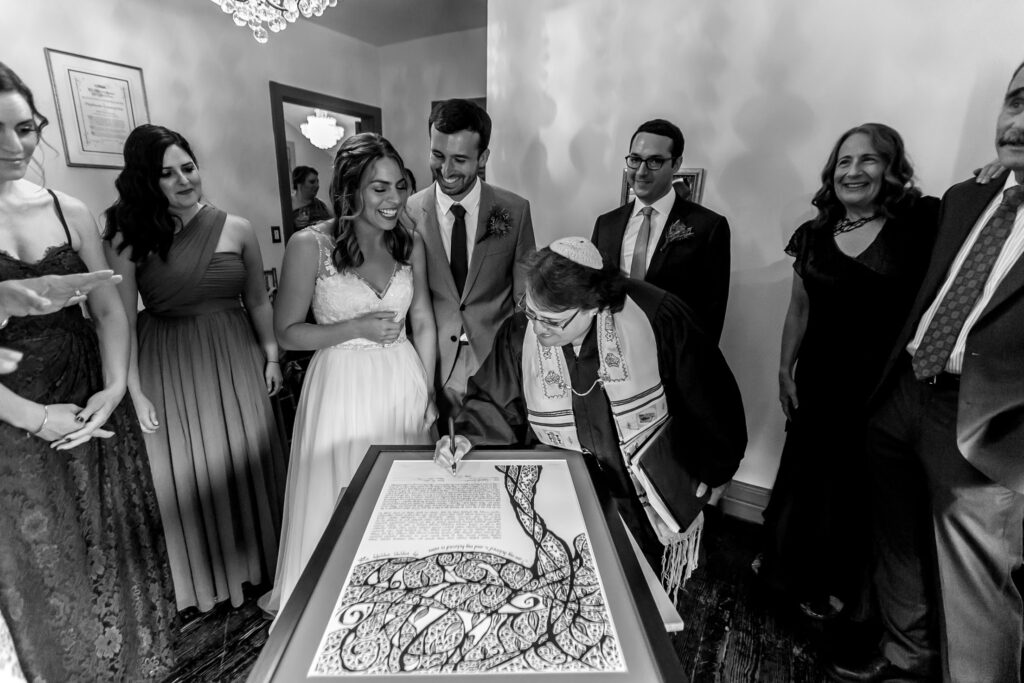 Rabbi Andrea has built her brand as The Jewish Wedding Rabbi for all couples who are both Jewish, and for couples where one person or spouse-to-be is not Jewish. She conducts Jewish Wedding and Civil Ceremonies, including Elopements.Jewish, Interfaith, and Marriage Equality Couples, all are dedicated to their Jewish identity whether by birth or choice. It has been important for Rabbi Andrea to follow the motto to make all couples feel welcomed and embraced from the first conversation to their wedding day ceremonies.
She resides in Westchester County, New York.
As a Clergy Member Rabbi Andrea Frank, The Jewish Wedding Rabbi, is honored with the Authority as a Wedding Officiant. With that Authority she can sign ALL 50 U.S.A. State Marriage Licenses. Today, there are 75-85% of unaffiliated couples that do not have a Rabbi connection. For the reasons known and unknown, bridging them to the gems of Judaism, even if only for one life cycle ceremony, is heartfelt.
For those couples where one makes the decision on converting to Judaism, Rabbi Andrea offers the 'Intro to Judaism Program.' It includes the ritual immersion in the mikveh ritual waters. However, it is not required to convert to Judaism for Rabbi Andrea to officiate your Chuppah wedding canopy ceremony.
The Jewish Wedding Rabbi, Rabbi Andrea serves the Metropolitan area; (New York City-Manhattan), Queens, Brooklyn (DUMBO, Greenpoint, Millwood, Red Hook, Williamsburg), Bronx (Botanical Gardens, Wave Hill, Riverdale) Connecticut (Fairfield), Long Island (Nassau County), and Northern New Jersey. Destination Weddings can be arranged. Please contact Rabbi Andrea for more information.
What inspired you to become a Rabbi and what do you enjoy the most about your chosen profession?
Judaism was a strong presence in my family growing up. Whether it was preparing for the holidays or everyday life, there was always a Jewish connected feel in my household and my extended family. My mother and grandmother led the way along with being active members to a conservative synagogue in the town, which I lived in. I recall it was a thriving Jewish community. In fact, the rabbi and cantor along with their wives were always in my home kibitzing over coffee. What I enjoy the most about my chosen profession is that I recognized my passion and found a way to provide rabbinical services to the ever changing, fast-paced world. One ceremony stops time and elevates the moment to a higher level making it warm and memorable.
What was the first ceremony you have ever officiated like?
I am not going to hide that I was not nervous and that I did not over prepare, but soon discovered I really knew what I was doing. After the details were gathered and organized, I was in the place I knew was the right place for me!
What is your favorite part of a Jewish Wedding?
Being in the Chuppah with the wedding couple and while presiding over their ceremony, I get to see them up close embracing each moment of it.
What was the most emotional place to have officiated an event in?
The most emotional place would be the countryside of France on the property of the bride's parents' chateau. In the USA a backyard will often have the borders of all sides. In this particular, so-called backyard, all I noticed were rolling hills beyond the Chuppah wedding canopy. The ceremony and the nature-inspired backdrop will always be one of my fondest memories.
How have you seen inclusion grow since you have become a Rabbi?
I cannot really say I have seen inclusion grow in leaps and bounds. What I expected is what actually took place. My goal was and still is today is to assist all couples by welcoming and embracing their choices. To not be turned away along with being the right fit are important key factors. Most of the wedding couples that contact me know what they are seeking and discovered that my unique style makes them comfortable to be themselves. I provide a warm, memorable wedding ceremony on their wedding day.
What is your favorite Torah portion?
Torah Portion: Pinchas
The five daughters of Zelophehad were bold and brave to approach Moses about their inheritance in regards to the law of the holy land portion owned by their deceased father. Torah mimics the laws of today where the next of kin, daughters and sons, inheritance is equal. It's quite enjoyable when my students are either preparing for their Bar/ Bat Mitzvah, both teenagers-to-be and adults along with my Conversion-Intro to Judaism students, learn about this portion. They are quite surprised to learn certain laws of today started in the Torah.
What is your favorite holiday?
Since I have to choose one, it would be Passover. It is truly a rite of passage when you can cook all those symbolic foods and prepare not only for the Seder, but also for the entire 8 days. It connects me to all those years with my mom and grandmother who had me watch as a small child until I was an adult on how to prepare and assist. Sadly, they were both gone too early from my life, but Passover I made sure to observe. It was a great feeling that I was able to continue their holiday preparation lessons and keep the tradition going with me.
What are your wishes for the future?
To be able to continue doing what I do and meeting wonderful people where Judaism continues to be important to them. Knowing there is a Rabbi out there to assist them and create a ceremony that is memorable.
How can our readers get in touch with you and where can we find out more about your work?
Jewish Wedding Rabbi Rabbi Andrea Frank Th.M
Reform Clergy; Wedding Officiant; Teacher 888-214-3821
Web Site: www.jewish-wedding-rabbi.com
Affiliation: Chavurah L'dor V'dor Congregation
Facebook: Jewish Wedding Rabbi
Instagram: jewishweddinrabbi
Can be found on WeddingWire & The Knot
Location: New York U.S.A.
Willing to travel: Yes
Co-Officiation: Not available
Note: I am on LinkedIn, and Twitter, but I am not very active.