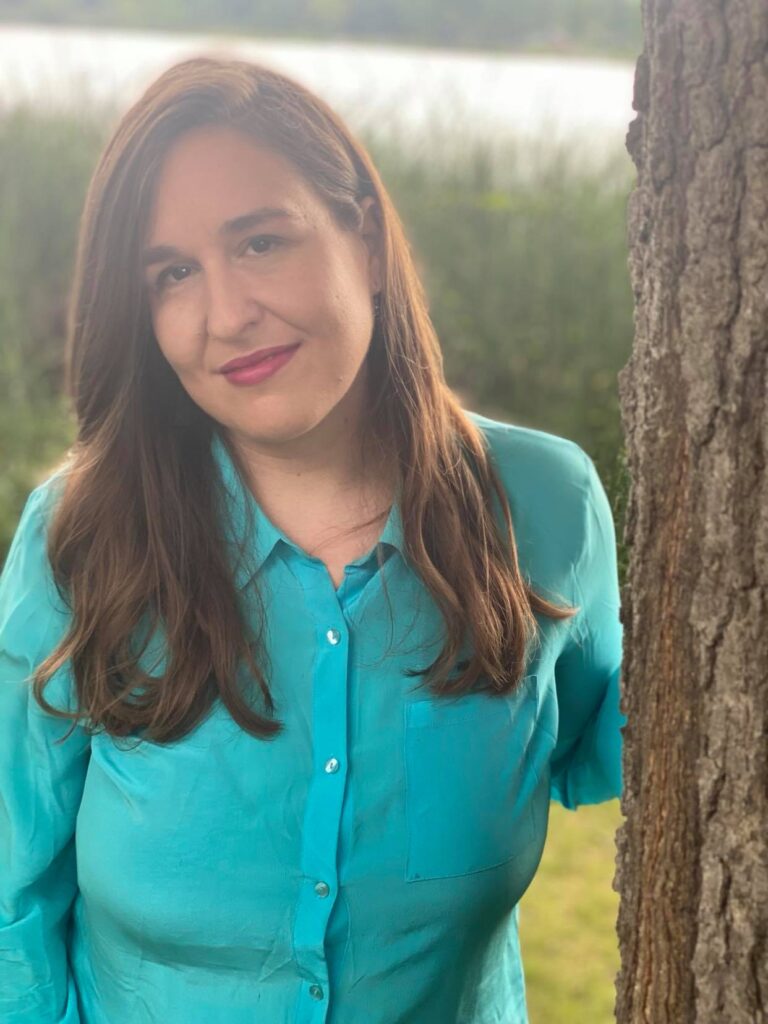 Photo: Courtesy of Danica Davidson
Please tell us a little bit about yourself and your background.
I'm an author of 17 middle grade and young adult books. My latest book is I Will Protect You (published by Little, Brown), which I worked on with Auschwitz twin survivor Eva Kor. She was elementary-school aged when her family was shipped to Auschwitz, and she and her twin sister were used for medical experiments by Nazi doctor Josef Mengele. Eva was adamant that she and her sister would get out alive, and together they did. This is a very rare story.
I met Eva in fall 2018, and she told me she wanted to do a children's book about how she survived. She said waiting until 12 to educate kids on the Holocaust is too late because the prejudices are already set in. She and I both believe that education about antisemitism needs to start before 12 to do any good. So I wrote the book and sent her chapters at a time. Little, Brown made an offer for the completed manuscript in June 2019, and Eva passed away only 15 days later while on an education trip to Auschwitz. It was devastating. I'm here trying to spread the word about our book because I believe it can make a difference. I Will Protect You is a middle grade book aimed for upper elementary school and middle school. But it's written so that people older than that can appreciate it as well.
Before I Will Protect You, I mostly wrote much lighter books, and anyone who knows me knows I like to write in different styles. So I wrote 12 adventure/fantasy/science fiction books about Minecraft, where the main character is 11-year-old Stevie, a boy who lives in that video game world. I also write a lot about manga. My bestselling book Manga Art for Beginners (with Melanie Westin) is getting a sequel later this year called Manga Art for Everyone (with Rena Saiya), and Rena and I are also coming out with the very first book on how to make manga characters out of chalk, Chalk Art Manga.
Before becoming an author, I worked as a journalist, starting in high school.
What inspired you to become an author?
I've always told stories. I started writing some of them down (or dictating them to my parents) when I was three-years-old. I wrote my first chapter book at seven. (It wasn't very good.) I wrote a lot more in middle school. In high school, I became a professional writer. Some years after that I became a professional author.
Where and when do you write? Do you have a writing routine?
I have a little office in my home, and do most of my writing there. My pets like to hang out with me, which is nice. As I'm typing this, my cat Tippy is purring on my lap. I don't have a set writing routine.
How long does it take you to finish a novel?
It depends on the novel. I Will Protect You isn't a novel, but it's a novel-length, and it took me three weeks to write the first draft. I just shut myself off into my own little world and worked. Then I did some revising, and the manuscript was finished and sent off to my agency within a few months.
My Minecrafter books would usually take about a week to write the rough draft, then it'd be a few weeks of revising. But those were all under contract with tight deadlines. If it's just something I'm working on, it can take weeks to months to years for me to finish a book.
Which authors can we find in your library?
I have a few thousand authors in my library. There's a bunch of ancient Greek and Roman authors (Homer, Ovid, etc), a bunch of Jewish authors (ranging from Cynthia Ozick to David A. Adler), a bunch of novels (ranging from Anais Nin to Anne Rice), and a bunch of manga (ranging from Yoko Matsushita to Junji Ito).
What advice would you give an aspiring author?
Write honestly and from the heart.
Where can our readers purchase your books?
They are available in bookstores, through my website and anyplace books are sold online.
My Minecrafter books are: Escape from the Overworld, Attack on the Overworld, The Rise of Herobrine, Down Into the Nether, The Armies of Herobrine, Battle with the Wither, Adventure Against the Endermen, Mysteries of the Overworld, Danger in the Jungle Temple, Clash in the Underwater World, Last of the Ender Crystal, and Return of the Ender Dragon; my manga books are Manga Art for Beginners, Manga Art for Everyone, and Chalk Art Manga. I've also written for the comics Tales from the Crypt and Barbie. There's a reason I said I like to write in different styles.
On which Social Media channels can our readers connect with you?
I post articles and book news on Twitter @DanicaDavidson. People can also reach out to me through my website.
Photos: Courtesy of Danica Davidson
Photo Credit: Kor family and CANDLES Holocaust Memorial Museum and Education Center