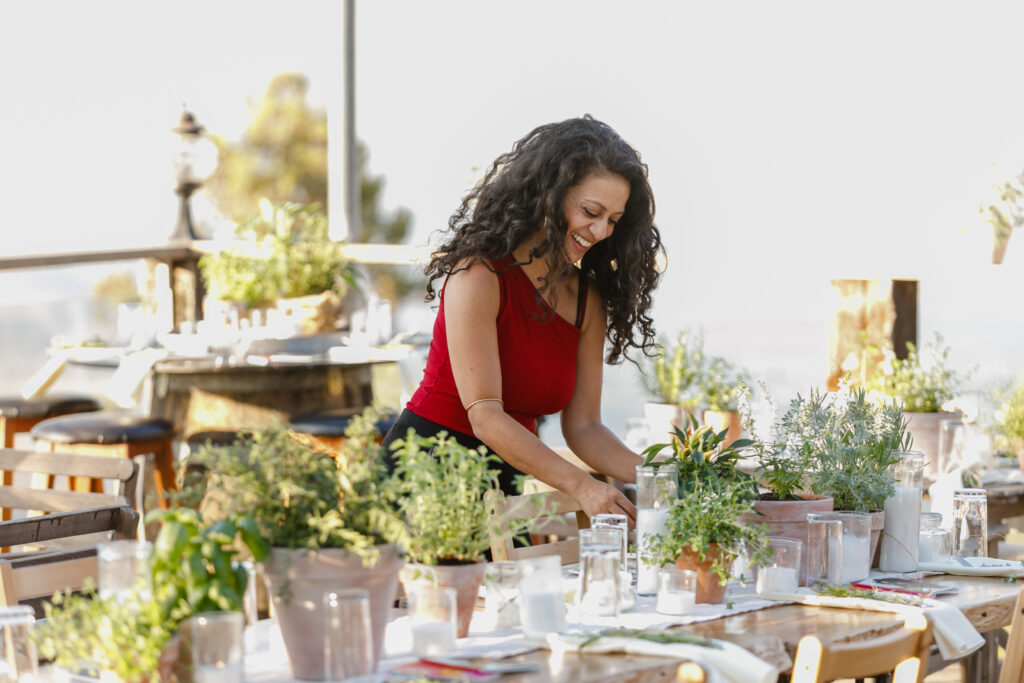 Photo: Courtesy of Natalie Abraham / DreamCatcher
Tell us a little bit about yourself and your background.
I was born in North London to a traditional Yemenite/Israeli family. Israel was always the place that I felt most connected to, and I knew that the day would come when I will move to live in the land of milk and honey. At age twenty-three, I couldn't wait any longer. I packed my bags, left everything behind to start a new life of my dreams and have never looked back since.
What inspired you to go into Event Management?
It all began when I started working in music productions. I found myself at the right place at the right time (classic Israel) and was asked by a friend to help manage the 'day-of' her sister's wedding. That night, I knew I had finally found my passion intertwining a career. I knew that this was it! With my high set of management/organization skills, my passion for people and details, not to mention a pure romanticist and believer in soul love – it ticked all my boxes. Within a month I officially opened my baby 'Dreamcatcher' in the ministry offices. I knew ahead of time that as cheesy the name may sound, this is what I'd really be doing – creating and catching peoples dreams, and bringing them to life.
What is your favourite part about planning events?
I feel like an artist in each event I plan. Co-creating the exact shading and colours to match each unique piece. Apart from loving the tiny details to make each event personal and special, my absolute favourite part is when I see my client's faces in awe of what it feels like to live in their own dream. Their hearts bursting in ecstasy. It is a priceless moment.
What type of event was the first one you have organised yourself?
The first full wedding I planned was for friends who had their wedding in the backyard of a family villa. I jumped straight in to the deep end with this complicated production, and it was flawless from start to end.
How long does it usually take to plan an event from start to finish?
Well, I planned one of my biggest weddings in three months, and I have clients who book me over two years in advance, so the range is pretty wide.
What was the most interesting event you have organised so far?
Wow hard question! I have worked with so many interesting people with interesting themes and locations. If I had to pick one I would choose the wedding of Karen & Eli, who got married in a special venue overlooking a breathtaking view of Jerusalem. They left most of the design details to me, and I created them a magical fairytale wedding with tons of tiny details and live music from very reputable artists. (You can see some pictures here.)
What are your three favourite Event venues in Israel?
I like to work with many secret venues that most people do not know about – hidden gems scattered all over Israel. From the classic list, I definitely prefer venues where you can really feel Israel, instead of ballrooms where you can really be anywhere in the world. So my top three would be:
What would you advise an aspiring Event Manager?
A successful wedding is largely determined on your team of vendors, how they interact with one another, and the personality of each team member. When selecting vendors, each vendor should match the vibe of the couple and the rest of the vendor team perfectly, so the harmony that exists between them will be felt throughout the rest of the event.
What are your plans for the future?
2021 Is going to be a big year for us, having closed one of our most exclusive weddings yet! Couples and families are loving our work and personality, making the planning journey as sweet as the day itself, and this is what its all about. Creating more and more happy moments that will live on forever. We still plan to remain a boutique company, taking a limited number of events per year, as one of our main objectives is the high level of personal care each event gets.
Where can our readers find out more about your work and book you for their next event in Israel?
Our gorgeous website – including galleries, blogs, free advice, testimonials & press releases
An exclusive video exhibition of our art
A behind the scenes video clip
Photos: Courtesy of Natalie Abraham / DreamCatcher