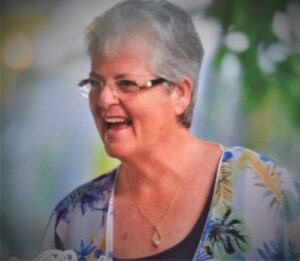 Photo: Courtesy of Marlyn Butchins
Tell us a little bit about yourself and your background.
I am originally from Zimbabwe (formerly Rhodesia), lived a number of years in South Africa and came to Israel with my husband, three children and my sister, and her younger daughter, in 1987. Career-wise, I am a Brain Aerobics therapist for people suffering dementia and also a grief counsellor.
I started quilting in 2003 and immediately fell in love with the craft. I mostly enjoy making traditional quilts, although I have created some "art" quilts as well. Some years after my mother and sister were killed in a terrorist attack near Dizengoff Center in March 1996, I initiated a memorial quilt project to honour the lives of my family and the other 11 victims killed alongside them. I have given many lectures in Israel about this quilt and travelled overseas with it to several countries.
I made my first chuppah for my elder daughter's wedding in 2009. It was an extraordinary feeling standing under a chuppah which I had made with so much love. I felt this was a pinnacle moment as an expression of my Jewishness and heritage. In making the chuppah, I had given so much thought to the significance of marriage, tradition and family. It was very emotional – but then again, making quilts is always an emotional thing for me! This chuppah has since been used for my son's wedding, and I have loaned it to several friends with great joy.
When COVID-19 hit and we went into lockdown, my professional work as a therapist took a serious knock as I could no longer visit clients. I searched for alternatives which would give me an income working from home. I realized the answer was staring me in the face. Chuppah Craft was born.
What inspired you to become an artist?
Both my parents worked with their hands. My father, in particular, was not only a carpenter by profession, but he could sew, knit, crochet, embroider and, later in life, ran a sewing machine business geared towards the African trade in then Rhodesia, teaching the use of both hand-crank and treadle machines as the African townships were not electrified. He gave many sewing lessons to his customers.
I became a quilter after being fascinated by a quilt with an oceanic theme. I was captivated by the story it told and the gorgeous, colourful fabrics that were used.
What is your specialty?
I LOVE scrap quilts, especially those which use recycled fabrics such as denim and plaid shirts. I have great patience, it seems, in cutting tiny little pieces – and literally thousands of them – to put into my quilts. I even make 'crumb' quilts using pieces smaller than 1"! My quilting buddies know exactly where to pass on all those little scraps they would normally throw away.
How and where do you work?
I am fortunate to have a whole room to use as a studio in our 3-bedroom apartment and it is filled to capacity with a wide range of fabrics, books, reference material, beads, buttons, ribbons, objects that I aspire to putting into quilts (the "dollar shops" provide these!), threads, and everything else that could possibly be related to my craft.
Creating chuppot is an off-shoot of my quilting. I have incorporated a lot of my design and colour ideas to create something unique while remaining traditionally significant and meaningful.
What is the most indispensable item in your studio?
I think my Janome 7700 Memory Craft sewing machine takes pride of place in my quilting arsenal! It was gifted to me by my husband and friends for my 60th birthday (some years ago!) It is simply a Rolls Royce of sewing machines and I just love it! Though mostly I agree that one needs only a machine that can accurately sew a straight stitch, I often use an array of stitching applications.
Where do you take your inspiration? Are you pursuing any themes?
Gardens! Any colour combinations seem to work. I am not shy of colours and use them extensively. I am a traditional quilter, and although I pursued Modern Quilting, I find myself returning to traditional blocks and designs. I have transferred my love of colours into most of the chuppot I am making.
Do you do bespoke work?
I have taken commissions for quilts and wall hangings, and now am offering "Heritage chuppot" as a unique wedding gif or for special anniversaries such as 25th, 40th or 50th for example. These heritage quilts will record family history, names and special messages, photographs, artifacts and memorabilia. If couples prefer, they may hire a unique chuppah from my range for this special event.
What projects are you currently working on?
I am mostly focussed at this time, on chuppot with a variety of theme. I am also working on a new bed quilt using some special fabric that I've been collecting for many years.
What is your favourite item in your current collection?
I recently made a king-size bed quilt using saturated colour – reds in this case – that is the epitome of a scrap quilt!
How do you know when a piece is finished?
When I sew a label onto my work, I consider it finished!
What was the first artwork you ever sold?
It was a collage of men's silk ties. I actually made it for myself, but a friend walked into my apartment and said she just had to have it! I thought to myself that I had enjoyed it for five years already, and seeing the price she was willing to pay was just right, I agreed to part with it. She has since commissioned four more wall hangings from me!
Which project have you enjoyed working on the most so far?
Having said that I love working with men's plaid shirts, I have made a very special quilt for myself. It is made with the shirts of a dear friend who passed away. I requested that his shirts be given to me and as there were so many, I was able to make five quilts for each of his children, and with the left-overs, created one huge quilt for myself!
What do you want to achieve with your work and what are your wishes for the future?
I hope to share my chuppah creations with many couples embodying the family dynamics symbolized by the chuppah and which sits at the heart of all quilting creations.
Where can we find your work?
Website: www.chuppahcraft.com
Instagram: chuppah_craft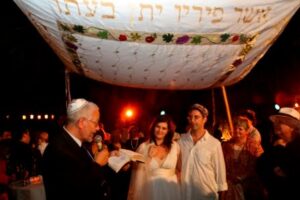 Photos: Courtesy of Marlyn Butchins