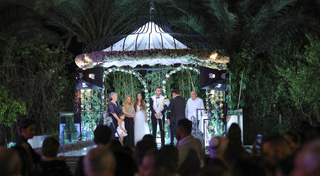 Photo: Courtesy of Lior Moshe Photography
Tell us a little bit about yourself and your background.
My name is Lior Moshe. I'm a photographer specializing in weddings, fashion, special events and culinary. I've been a professional photographer for over 15 years.
My goal is to give my frames a unique vision to my own perspectives and how I see them. You will always see me with 2 camera bodies and different focal lenses. Double memory cards in each of them for safety and backup is a must for me.
I gripped my first camera just to try it and catch a special moment and memories. I start my photography in different night clubs which was the most difficult because of the lightning conditions, continued to portrait photography, events and much more. The most important thing for me was to create super sharp and unique frames to make myself different from others.
How did you develop an interest in photography?
It was after my move from Georgia to Israel (2000) when I was in high school that I discovered my love and passion for photography. Enlisted in the Israeli Army, I found a mentor (Amir Ezer) that was a nature photographer. After this meeting, I realized that I too, enjoyed capturing moments in time and saving them forever through photography. Unlike my mentor though, I discovered that I had more of a passion for capturing moments in time with people and venues as my subject matter.
As a photographic artist, I have had a lot of practice in different environments and challenging places. Initially, I first started shooting photos in nightclubs and then realized that I also had an interest in other disciplines. With an eye for uniqueness, I strive to take my photography to the next level and not shoot photos that look like everyone else's.
What was the first camera you used and what equipment do you prefer to use today?
Fujifilm finepix s5600 with 5.0 megapixel, 10X optical zoom, ISO 64-1600, used XD memory card up to 1GB.
Today, I basically use 2 bodies of Canon 1DX mark II, a bunch of Canon L series lenses,
SanDisk memory cards, two in each body for backup, Canon speedlites along some other light solutions, such as high power continues lights for wedding ceremonies at night.
What do you enjoy most about photography?
Creation is the main and major aspect I enjoy – every shoot is different. Especially when it comes to weddings, even when the style of the wedding or event is the same the biggest challenge is to be driven to improve my results and think about new things.
What is your specialty?
Basically, my main subject is weddings, fashion, special events and culinary although I often get offers from clients for various projects. An example would be Medtronic Israel in Jerusalem who asked me to photograph a "Town Hall" event.
How would you describe your style?
My style is very natural, spontaneous and full of emotion. I do like to create images with aesthetic lines and the story itself.
I would say that every project or event has a special procedure that I have to go with so it depends on what I have to provide at the end of the day.
Which project have you enjoyed working on the most so far?
I love photographing Jewish weddings very much: They are so emotional and the ceremony makes me happy because of the words and phrases I hear from the Bible and I feel blessed.
Other than weddings, I had an opportunity to work with FG|PG company (FreddieGeorges). They represented the Tito's vodka brand at the Boston pride parade festival.
Do you work with an assistant photographer?
Usually I work with an assistant photographer. Due the pre-planned schedule, I have to get some photos taken at the same time.
Additionally the equipment I carry with me requires assembly and there is not so much time.
What advice would you give an aspiring photographer?
Be yourself and do not try to do what others do. (You can do that to test your skills, but not to make it yours). Try to create your own style and taste.
Make sure you are always backed up: especially with a backup camera and memory cards. (I have backup for almost everything because I hate to be stuck while I am trying to follow my imagination.
What do you want to achieve with your work and what are your wishes for the future?
I hope to have the opportunity to shoot special projects, especially for global companies, or in new countries.

In the near future, I'd love to have my own unique studio that provide services for the fashion world and shoot weddings for couples who are interested in having something special on their day.
In this kind of era, where the digital sphere is being so changeable, developing so fast, I rather have the best customer service for my clients and meet their expectation, than be a famous global photographer.
How can our readers book you and where can they find out more about your work?
You can contact me via following links:
Website: www.liormoshe.com (you can book a session under the book button as well)
Instagram: @liormoshe_photography
Facebook: https://www.facebook.com/liormoshephotography/

Photos: Courtesy of Lior Moshe Photography