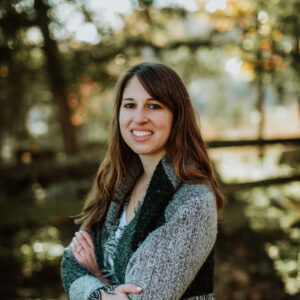 Photo: Courtesy of Lauren Lowenstein
Tell us a little bit about yourself and your background.
I'm originally from New York City, but moved to Washington DC for college and very much consider it to be my home. After graduating from college, I participated in a program called Avodah – the Jewish Service Corps, which really helped shape my career path and also helped me form a strong community of friends. I live with my husband, Adam, and our very sweet and strong-willed Miniature Pincher, Fig.
What inspired you to become an artist?
When the Covid-19 pandemic started, I found myself sleeping less. I would lie awake, thinking about things I wanted to paint, ideas for different images swimming in my head. I decided to use the extra time I had at home to see if I could bring those images in my head to life, which is when I really started painting in earnest rather than as a side hobby.
What is your specialty?
I specialize in abstract painting, and my current favorite medium and technique is acrylic-flow painting. However, I'm eager to tackle the world of alcohol-ink next.
How and where do you work?
I work on my tiny Washington, DC balcony!
What is the most indispensable item in your studio space?
The most indispensable item in my tiny balcony studio is a tarp that I lay down to catch excess paint.
Where do you take your inspiration? Are you pursuing any themes?
I like to watch other artists on YouTube and find inspiration in their creations.
Do you do bespoke work?
Yes, I am happy to make customized Ketubahs.
What projects are you currently working on?
I'm working on digitizing a few paintings that I completed over the summer, they are a bit darker and moodier than the rest of my work.
What is your favourite item in your current collection?
My favorite piece is the Marble Earth series—it was a complete accident, and I love the way it turned out.
How do you know when a piece is finished?
I usually have a pretty clear idea of what I want the piece to look like in my head, so once it matches that, I try to let it be.
What was the first artwork you ever sold?
My tree ring Ketubah is the first I ever sold.
Which project have you enjoyed working on the most so far?
I love working with the souls collide Ketubah, it is merged and morphed into one of my most versatile pieces. I have it hanging in my bedroom!
What do you want to achieve with your work and what are your wishes for the future?
I want to create Ketubahs that people love, that fit their modern aesthetics, and that they feel like they want to have hanging on their walls forever.
Where can we find your work?
https://www.etsy.com/shop/artforalwaysketubahs
Photos: Courtesy of Lauren Lowenstein