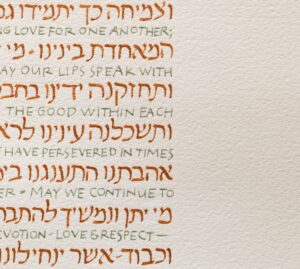 Photo: Courtesy of Aliza Boyer
Tell us a little bit about yourself and your background.
I have been creating hand-lettered and handmade ketubahs and other contemporary ritual objects through my design studio, Ketubah Graphia, for over 17 years, alongside other artistic practices including painting, drawing, and sculpting.
After studying art at the Claremont Colleges in California, teaching, and working on public art projects in Los Angeles, I moved to NYC to pursue a graduate degree in arts education at NYU. This was over 20 years ago, and I've been in NYC ever since, working as an arts educator at the Museum of Arts and Design, Lincoln Center, and the Newark Museum, in addition to lots of other interesting freelance projects.
In 2019, I transitioned to full-time artist/business owner. Always an educator, I love sharing and learning about modern Jewish and cross-cultural ritual through my artistic practice—working directly with people to create meaningful designs, as well as collaborating with other illustrators and artists on special projects.
What inspired you to become an artist?
When I was very young, I was inspired and intrigued by a family friend who was an artist and part of Judy Chicago's Dinner Party project.
Communicating and connecting with people through a visual language has always fueled all my creative pursuits, as both an artist and an arts educator. My design practice with Ketubah Graphia emerged from a need to create meaningful rituals for modern life.
What is your specialty?
Hand-lettering. My focus is on the beauty of the text and honoring a couple's union through the time and intentionality devoted to the process. I love being part of the time-honored Jewish scribal tradition and also exploring typographic forms in multiple languages.
How and where do you work?
The where is my home/studio in Brooklyn and the how is a combination of collaboration, with couples and other artists, and solitary/meditative.
What is the most indispensable item in your home studio?
I've moved a heavy vintage drafting table—that I was lucky to find at an estate sale for a few dollars—all over NYC during the past two decades. It is both my touchstone and workhorse and continues to serve me well.
Where do you take your inspiration? Are you pursuing any themes?
The originality, history, textures and colors I encounter around my home in Brooklyn are my everyday inspiration; my travels in India, Israel, South Africa, Mexico, Turkey, Portugal, and the places I dream to go next, expand my vision.
My designs are very minimal, contemporary, white-on-white, with papercut shapes that play with light and shadow and reference both the natural world as well as the interconnection, relationship and union of two people getting married through abstract forms. This simplicity offsets the intricacy of the lettering and keeps the wording—what I believe is the most important element—as the focus.
Do you do bespoke work?
All of my work is bespoke to some degree. Each ketubah is a unique, one-of-a-kind work of art. My design process is intentionally interactive and offers many points in the process for couples to customize choices about language, ink, cut paper details, and other special elements.
I love the intimate process of working with people to explore and articulate a visual language that represents a couple's deeply personal symbolism.
Beyond my own portfolio of ketubah designs, I also accept commissions to collaborate on ketubot with other visual artists. In the past few years, I've been honored to work with some well-known artists such as Brian Selznick and Art Spiegelman, other NYC Judaica artists, and also the amazingly talented family members and friends of my clients all over the world. I have worked on some interesting multi-media commissions, writing ketubah texts on wood or painting on silk and other textiles.
I also enjoy receiving commissions for additional gifts and other lifecycle events— invitations, birth announcements, bar/bat mitzvah gifts, mezuzahs and mezuzah scrolls, blessings for parents and grandparents as well as for the home, among others.
What projects are you currently working on?
I'm currently working on commissions with couples who have had to postpone their weddings due to the COVID-19 pandemic. Relating to people forging ahead with hopes for the future during the uncertainty and fragility of this time has been a daily inspiration. While I would normally be able to have people visit my studio, I have always been available by video chat and phone so am doing that more regularly at the moment until it is safe to meet in person again.
Additionally, I have started creating new designs in other mediums, and am also working on numerous projects that increase accessibility of text options for a wider range of customers.
What are your favourite items in your current collection?
My multi-lingual pieces are definite favorites! I've made ketubahs in over 25 languages to date, with recent projects in Spanish, Korean, Dutch, Hindi, French, Polish, and Sanskrit. It is also a fun challenge to work with translators to convert texts to Hebrew from other languages. I'm especially fond of the beautiful Apache wedding blessing offered on my website. Creating ketubahs in various languages is such a special way to represent the diverse cultural heritages people bring to their unions and also to invite and include non-Jewish families into the ketubah tradition.
How do you know when a piece is finished?
I try to achieve a balance between the text and border designs, and between negative and positive space. The collage-based nature of the cut paper designs allows me to make adjustments until I find that balance. The final result usually reveals itself through that process.
I know definitively that my work is complete, and my intentions realized, when a couple receives their ketubah and writes or calls to say it is everything they asked and hoped for or more.
What was the first artwork you ever sold?
I've been selling artwork in various media since high school, BUT my very first ketubah commission is a very special story. In 2003, my sister asked me to make a ketubah for her modern, interfaith wedding. She had never seen a ketubah like the one she had in mind, but was sure I could create it: hand-lettered vows that reflected her aspirations for an egalitarian partnership—a ketubah rooted in Jewish tradition, but rewritten.
This deeply personal project set me on a path to doing something I love that is about love itself, and starting Ketubah Graphia. Since then, I have made ketubahs for people all over the world.
Which project have you enjoyed working on the most so far?
Most meaningful projects: Following my sister's ketubah, the second ketubah I made is also very special to me as it was for my parents. They didn't have a ketubah that was a work of art but rather a simple piece of paper. So on the occasion of their 35th wedding anniversary, my sister and I gifted my parents with my handmade ketubah. I continue to be inspired by their partnership of now 51 years.
My artistic background is in sculpture and ceramics, so it is always a fun challenge when a couple asks me to work in a new medium. About two years ago, a couple asked me to create a hand-lettered ketubah on a huge, beautiful piece of driftwood! They found it on a favorite beach and then meticulously sanded, polished, and prepared it to receive the calligraphy ink. This is definitely the largest ketubah I've ever worked on—the wood is almost as tall as I am.
What do you want to achieve with your work and what are your wishes for the future?
I want to create beautiful modern ritual objects and heirlooms for people of all backgrounds. My deepest wish for the future is that families of all kinds will be not only recognized, but honored, celebrated, protected, affirmed, and included. This was absolutely not the case when I first started making ketubahs for LGBTQIA couples over 17 years ago. Equality is a deeply personal mission for me and working with so many different types of people over the last several years has illuminated areas where I can make a difference in pushing boundaries of access and inclusion through ketubah art.
Where can we find your work?
Photos: Courtesy of Aliza Boyer