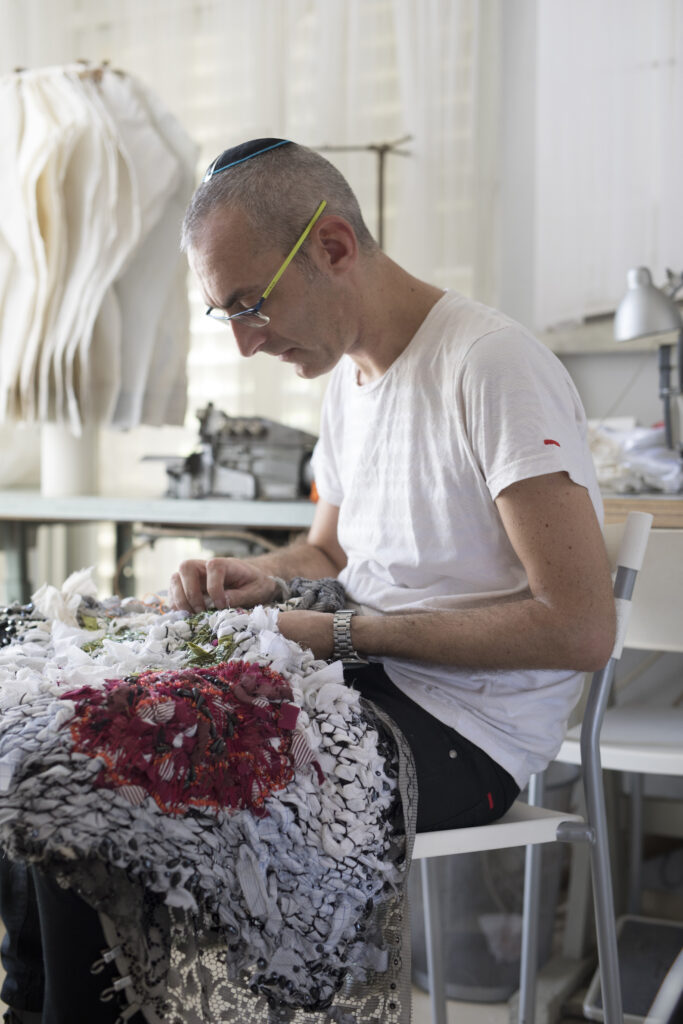 Photo: Courtesy of Doron Zeevi / Photographer: Daniel Lailah
Tell us a little about yourself and your background.
Doron Zeevi, a 45 year old textile and fashion designer graduating from the Department of Textile Design and Master of Design at Shenkar College in Ramat Gan.
In the studio, I integrate fashion design for commercial companies and for private clients and textile development for design and art.
As a religious designer and creator, I integrate my great love of the study of design and Judaism. In this way I can express all my values together.
What inspired you to become an artist and designer?
The field of design is sharp, precise, dynamic, fast and intense. It requires to keep your finger on the pulse and to reinvent yourself.
The handmade things and the crafts enable to create things 'into a bubble' especially during these stressful days. It also lets me work calmly, to look at every piece of embroidery, and to think at every attachment work. It is a very silent process of creator and material with no considerations of price and pricing, but only for the glory of the creativity, the research and the soul.
What's your specialty?
My specialty is textile design. I was studying it for four years as part of my BA studies. Textile design includes creation of raw material, fabric, knitwear or textile embroidery, choosing raw materials and using unconventional possibilities for a new look and use.
Being in the studio, the creative thoughts make new connections because of the environment. The art provides me with an opportunity to tell a human emotional story of thought. Thus, the viewer can look into my world as an artist and to be connected with it.
My works are based on the knowledge I have about various textile fields, research on Jewish products and art. I 'mix everything together' and create a new design language for sets of familiar products.
The idea of the exhibition allows me to continue to create and develop series of products that are sold to the audience, mentioning the motif I created.
How and where do you work?
I work in my studio in Ramat Gan, where ideas and items are created. I read and review professional literature. I check what is going on. Then, I begin to create items relating to the new fashion, textile trends, materials, new techniques and the design language I want to express.
The professional staff in the studio helps me turn my fantasies into reality and make a perfect creation
What is the most essential item in your studio?
A piece of paper, a pencil, a piece of fabric, scraps of thread and needle – these are the basic items as a textile artist. These items help me to begin each creation process in a sketch. The passage begins in my mind. Then the idea goes to the sketch. The next step is a three-dimensional creation which interlaces development and idea.
Where do you take your inspiration? Do you deal with all subjects?
My inspiration comes from anywhere, a fashion or a textile exhibition, a tool I found at home which is full of memories, trips, walking around town, film, scenery and even an item I found on the street. I can also get it from previous work that started to drive a material or form course design.
I try to create and be interested in a variety of fields that enrich me. I find that creating and engaging with clients resulted in new and initiative ideas.
Do you create custom products?
Definitely, the work process in the studio allows me to create things based on existing work and the needs of the clients. The works are Torah scroll covers, Challah covers, or dresses.
What projects are you currently working on?
These days I am working at a limited "regeneration" fashion collection. This collection is made of fabric scraps left in the studio. I use the pieces together with embroideries and textile strips that I create.
At the same time, a new exhibition "From Sacred to Profane" exposes my personal religious objects and rituals as a religious person.
From Sacred to Profane is an Abstract Jewish concept. It describes the transition from religious acts to ordinary objects and activities. The transitions are familiar to religious people but are unknown to those who encounter me in my professional life as a designer, as a lecturer and as an artist.
I decided to recreate a number of items known as Jewish ritual objects (hand washing cup, tzitzit, challah cover, a Tefillin bag) and to explore them in various textile interpretations with inspirations and materials I use daily. All the works are made of different materials I used in some projects I created and deal with them
What are your favourite items in your current collection?
A hand wash bowl made of cloth clips. It is based on a childhood memory of works I made when I was a child.
One more item is a Challah cover made of bridal veil fabric interlocked with a huge size text and embroidery. This special cover looks like a bridal veil in a wedding ceremony.
How do you know when a piece is finished?
I feel that the product is ready when the ideas I imagined are successfully executed. In addition, I check that the spiritual, research and design contents I wanted to put into the product are there.
What were the first item you ever sold?
In my youth, even before school I liked calligraphy, cutting papers and drawing with watercolours. I made a custom design Ketubah (a Jewish marriage contract), handmade wedding invitations and a handmade bridal blessing (Birkat Kallah). Making those products, I used a variety of techniques and raw materials. At that time they were unique products since the Ketubah and the Birkat Kallah were mostly printed on a simple paper. I decorated the products with paper cutouts.
Which project have you enjoyed working on most?
The current project and especially the Challah cover and the bridal veil.
It is a royal object. It will be hung in a large space so everybody will be able to feel connected to parts of it. I hope that the objects will make people bring up memories about Judaism, tradition, ceremony or fashion.
Four years after the previous exhibition was presented I refer to the beauty of Jewish tradition by introducing ceremonies and objects that reconnect me to art. This reconnection is full of emotions and joy and not just loss. Being religious enriches me daily with contents and my textile work evolves over the years thanks to these works
What do you want to achieve in your work and what are your wishes for the future?
The Exhibition "Sparks of Happiness" actually brought me to design series of Judaica items from clothing and tools that my father OBM left behind.
The series of works I created shows the design with great emotion and love for the art and creative work as well as Jewish religious articles and the Mishkan.
I tried to bring to mind that producing Jewish objects which show a personal story has an additional meaning. It increases the value of the donated object.
In fact, families who were exposed to the exhibition, the objects, the embroidery and the concept of it were deeply excited and ordered a special product made of Jewish objects from their precious collection. Thus, the donation to the synagogue or the community empowers the excitement and relationship between the family and the last person besides commemorating him.
Where can we find your work?
Facebook:
https://www.facebook.com/SparksofHapiness
https://www.facebook.com/DoronZeeviDesigner
Instagram:
https://www.instagram.com/doron_zeevi_judaica/
https://www.instagram.com/doron_zeevi_bridel/
Torah coat commissioned by a customer
Photos: Courtesy of Doron Zeevi / Photographer: Achikam Ben Yosef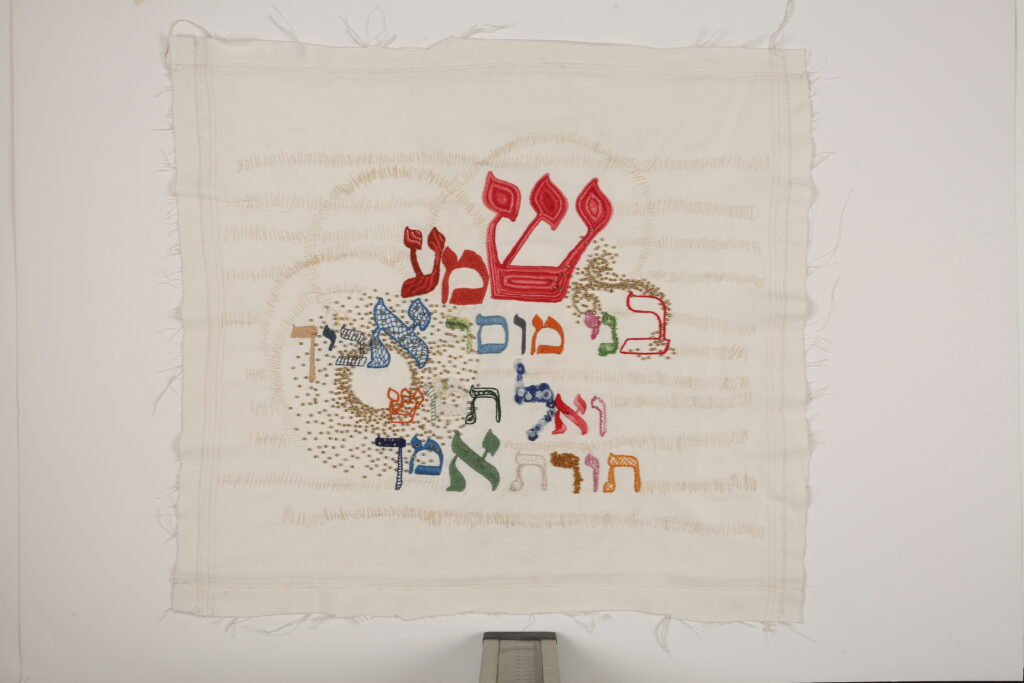 Photos: Courtesy of Doron Zeevi / Photographer: Achikam Ben Yosef
Photos: Courtesy of Doron Zeevi / Photographer: Achikam Ben Yosef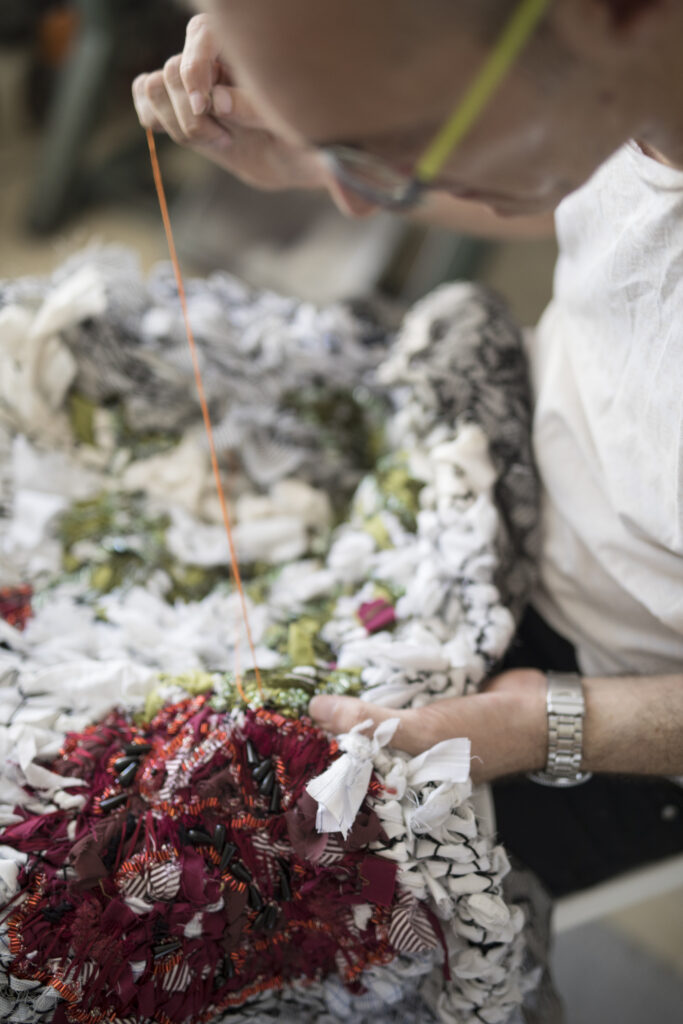 Photo: Courtesy of Doron Zeevi / Photographer: Daniel Lailah