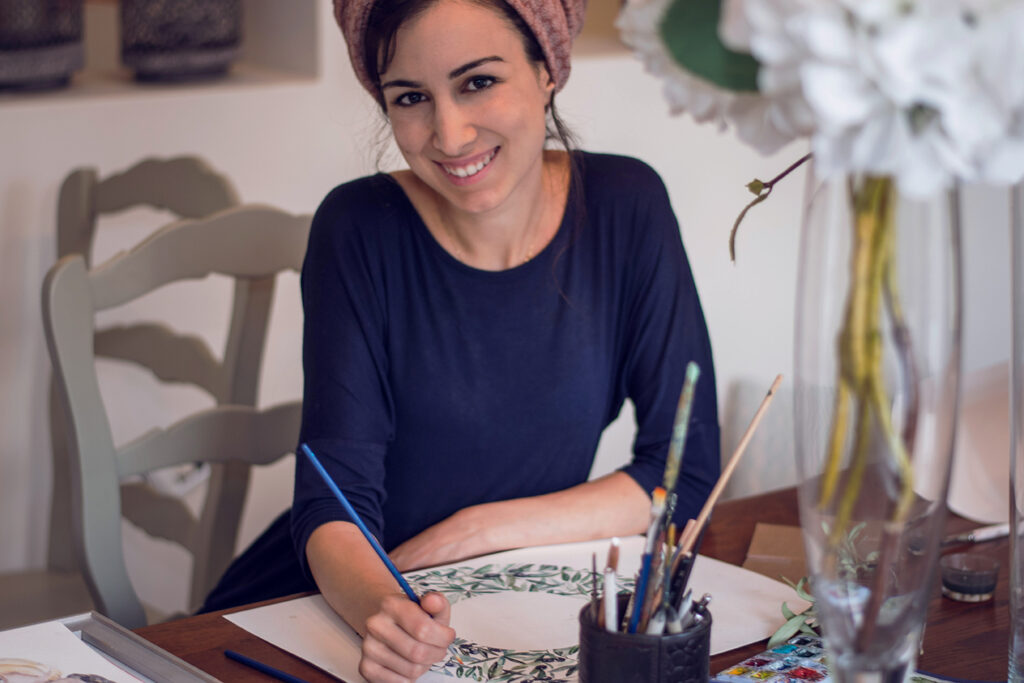 Tell us a little bit about yourself and your background.
My name is Noam, I am 28 years old, I was born in Jerusalem where I live with my husband Shaul and my two sweet daughters – Ruth and Elisheva. I am a social worker by profession and have recently completed a Master's Degree in Sociology and Anthropology at the Hebrew University, but the passion for art and for painting has never let go of me. Just before I went on to work in my field, I decided not to, and to try fulfil my dream, and to pursue art.
A few months ago, I set up 'KetubaHome', a Ketubot and Jewish art studio, and I enjoy every moment of it. I believe that getting a Ketuba is a special opportunity for the couple to explore what home they want to create together, what kind of relationship they want to build, and what values they want to bring into their family. I am happy to have the privilege of being a small part of this amazing thing.
What inspired you to become an artist?
Since I can remember I paint, and I don't remember there being a time in my life that I was able to live without painting.
What is your specialty?
Oil and watercolour, as well as charcoal drawing. I like to combine different techniques as well as traditional and modern elements.
How and where do you work?
I work from my home studio in Jerusalem. Occasionally my daughter (4 years old) also joins, helps, and advises me.
What is the most indispensable item in your studio?
My colours and the brushes, of course.
Where do you take your inspiration? Are you pursuing any themes?
I draw inspiration for my artwork from Jewish themes and Israeli landscapes. I love incorporating imagery that is reminiscent of Jerusalem – especially themes connected to the Old City of Jerusalem and the Western Wall, which has been the epicenter of Jewish prayers, hopes and dreams for thousands of years. I take ideas from biblical narratives, which I've studied in the original Hebrew – and I also like to integrate modern Israeli motifs.
What projects are you currently working on?
I am currently working on a custom Ketubah, for a very special couple who wanted to illustrate it with the places close to their heart (some places in Philadelphia and New York). I haven't visited the US yet, so for now it's fun to discover these places through painting.
What is your favourite item in your current collection?
My favourite Ketubah is the "Jerusalem of gold" Ketubah, the scenery of Jerusalem decorated with 23 carat gold leaves, everything handmade.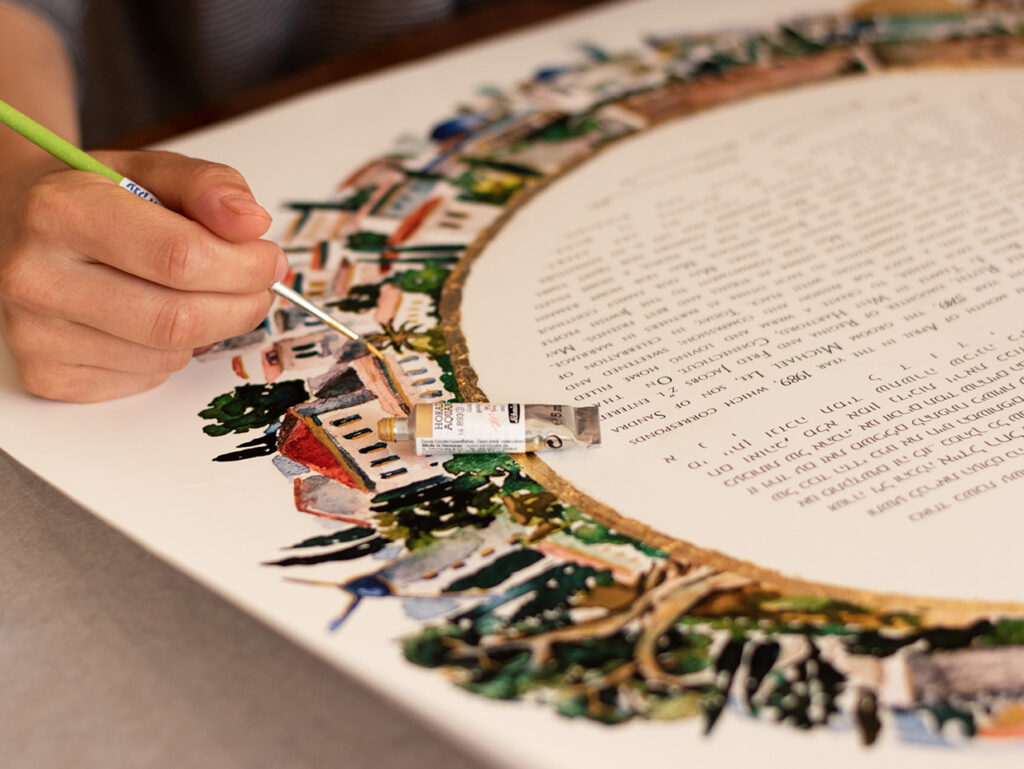 How do you know when a piece is finished?
I like to take some time off after painting and revisit the work from a more external and critical perspective. But, I believe, it's mostly a matter of intuition.
Do you do bespoke work?
Of course, I really like to create custom works. The collaborative work process with customers is unbelievably engaging and creative. The unique requests of clients challenge me as an artist and provide me with a lot of inspiration.
What was the first artwork you ever sold?
The first piece I sold was a huge charcoal drawing work of a ballet dancer.
Which project have you enjoyed working on the most so far?
I am currently studying calligraphy and want to add the option of calligraphic writing to my Ketubot. As I try, I discover how sophisticated it is in this world of letter writing. It is fascinating and especially fun to learn it.
What do you want to achieve with your work and what are your wishes for the future?
I want to continue to work on creating and developing as an artist, and to continue to explore ways in which I can add beauty and light to the world. In addition, hopefully of course continue to be a part of joyous events in people's lives through my art.
Where can we find your work?
Etsy Shop: https://www.etsy.com/il-en/shop/KetubaHome
Instagram: https://www.instagram.com/ketubahome/
Pinterest : https://www.pinterest.com/Ketubahome/
Website: https://ketubahome.com/