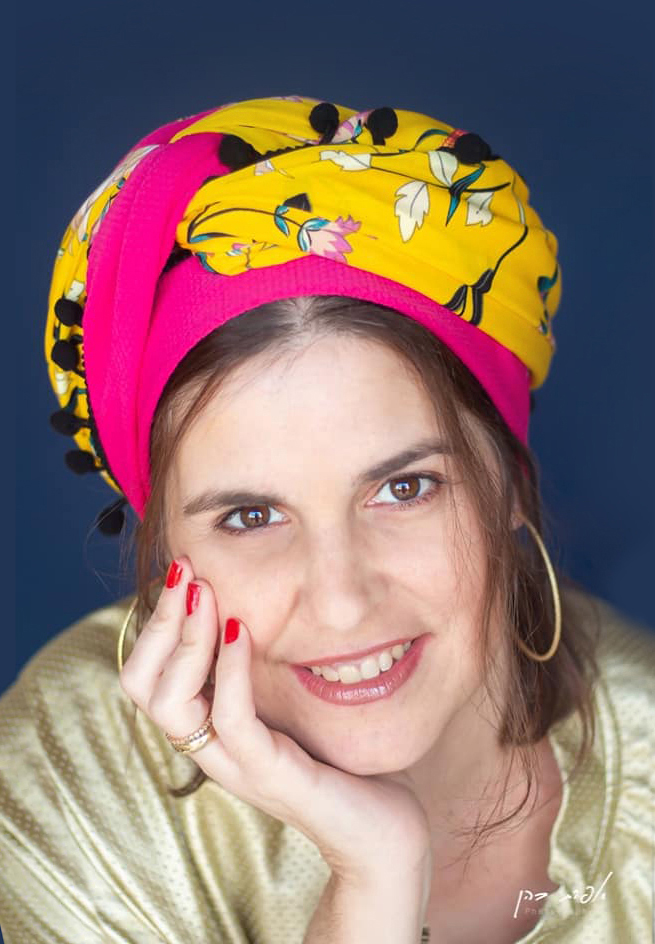 Photo: Courtesy of Noa Attias / Photographer: Efrat Cohen
Art has been part of my Noa's life since the day she was born and so it was only natural that she started making Paper cuts from her apartment in Jerusalem when she was still in her early twenties. She was a Graphic design artist then and during the day, she would work in a graphic studio and then come home and work late nights drawing and cutting in her apartment. Eventually she decided opening her studio in 2007.
She specializes in creating hand-cut and laser-cut ketubahs, Challah boards, Home blessings and all the perfect and unique gifts for all occasions and holidays for the Jewish home. Her custom-made paper cuts combine paper cutting, original calligraphy and hand paints. Noa is also a master in gold gilding. She uses 24k Gold leaf to give the artwork a modern and traditional look with a spark of gold.
Her paper cuts can be purchased as original hand cuts or laser cuts.
Noa has developed a NEW and unique style of paper cuts. She has turned her paper cuts into Applied Art to decorate the Jewish home. The new items include a Challah cutting board, Seder plate, Candle Lighting Board, and plenty of more items that are being developed these days.
In addition her paper cuts include beautiful pictures that add beauty to the house and the Jewish home: Ketubah / wedding vows, Home Blessings, Chamsa (a wall hanging that is superstitious defense against the evil eye), Mizrach ("east" is the direction that most Jews face during prayer), Children's Blessings, Candle Lighting Blessing, Woman of Valor (Eshet Chail) and the Menora.
Her artwork is a suitable gift for any occasion; such as weddings, housewarmings, anniversaries, bar/bat mizvahs, the birth of a baby, or just to show a loved one how much you care.
She has sold ketubahs to Jewish couples, secular humanist and even Non-Jews that thought the idea of the wedding vows is perfect for their wedding.
Tell us a little bit about yourself and your background.
As a child, I always loved art, painting and cutting. I was in art classes after school and my dream was to work in art.
I went to the Emunah College for Arts and learned all about artists from all centuries, I learned the history, went to museums and also worked a year in Israel Museum in Jerusalem.
I'm totally living my dream and enjoying my job every single day.
What is your specialty?
My specialty is Judaica paper cuts and calligraphy but I do enjoy painting and adding color backgrounds to my paper cuts. At my home you could find also big paintings I did as a hobby. Haven't sold any yet, maybe one day …
Photos: Courtesy of Noa Attias / Photographer: Efrat Cohen
How and where do you work?
My studio is located in my house in Hashmonaim, a little settlement near Modi'in.
What is the most indispensable item in your studio?
The most indispensable item in my studio is my xacto knife and cutting board
Where do you take your inspiration? Are you pursuing any themes?
I have my own art book library; it's small but gives me inspiration. I love scrolling through my Instagram that is full of artist feeds and Pinterest. I look a lot at art online and sometimes go to see exhibitions, wish I would do that more. And the best inspiration is from traveling around the world or even just walking out the house and seeing the leaves and flowers around me.
What projects are you currently working on?
Right now I'm working on 3 original hand cut ketubahs and trying to finish building my website.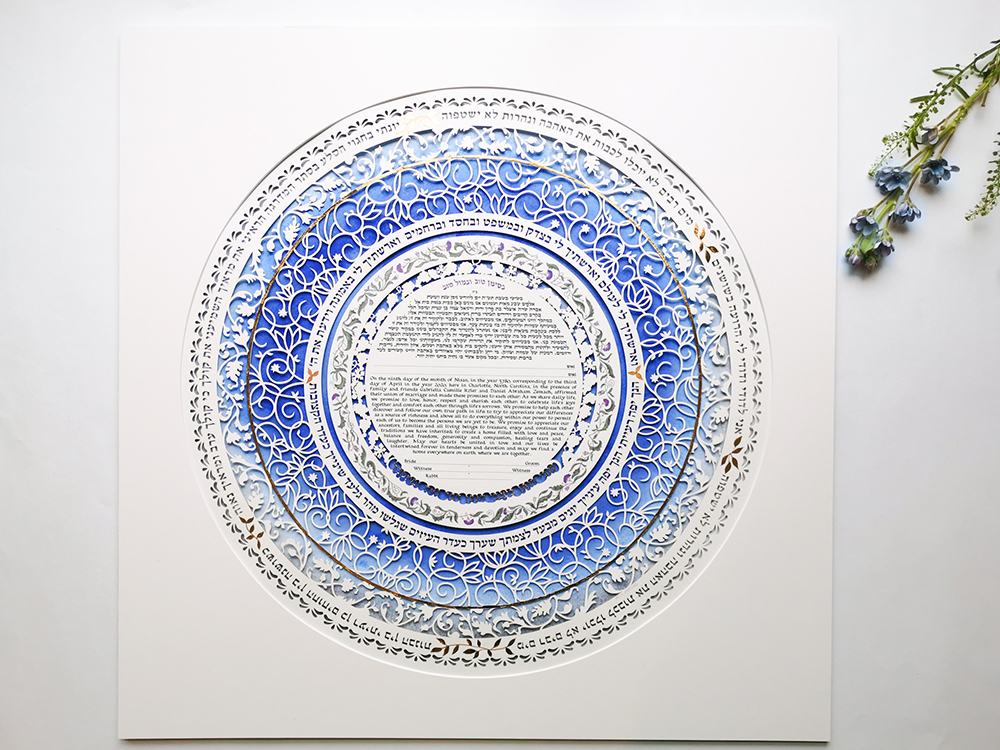 Photo: Courtesy of Noa Attias / Photographer: Efrat Cohen
What is your favourite item in your current collection?
That's a hard question, it's like asking what child of yours you like the best. Usually the newest paper cut is my favorite, right now I love my "אהבה"- "Love" paper cut that is made out of 11 layers of paper. It actually started as a project I wanted to make of a small paper cut with only 6 layers. I loved how it came out after playing with colors and layers so I made it into a ketubah with 11 layers. Then I also made it into a bigger version picture with 8 levels. I have it either in English letters or Hebrew.
The graphics of the letters is taken from the famous "Love" statue that's in NYC and the Israel Museum.
Photos: Courtesy of Noa Attias / Photographer: Efrat Cohen
How do you know when a piece is finished?
When I feel I can't add anything too it and that it is complete!
Do you do bespoke work?
All my artwork is bespoke and customized. I don't have a display of paper cuts. I get an order and work on the paper cut. I almost always am asked to customize the art by changing background colors and texts. Also with my ketubahs I have some couples send their own text if they don't want to use mine.
What was the first artwork you ever sold?
I learned calligraphy in college and our final project was to make a big piece of calligraphy. I was a young student and a lot of my friends were getting married so I decided to do a ketubah. I wrote the calligraphy and in the library of the college, I found a book of papercuts. I decided to try and cut and it worked. I put the ketubah in the end of the year exhibition. Someone actually purchased it from there.
Which project have you enjoyed working on the most so far?
The Shofar blower. I really love the meaning of it and I like how it came out. It was shown in a few exhibitions.
What do you want to achieve with your work and what are your wishes for the future?
My dream is for every brides and grooms to know about Noa Attias's ketubahs. I want my ketubahs to be part of as many weddings as possible, I absolutely love working with brides and grooms, they are so full of happiness and spread their love while working with me. I accompany them in their happiest time of their lives. Nerveless my other artwork also adds beauty and joy to the Jewish home and that's exactly what I enjoy and love in my job.
Photos: Courtesy of Noa Attias / Photographer: Efrat Cohen
Where can we find your work?
Etsy: https://www.etsy.com/shop/NoaAttiasJudaic
Facebook: https://www.facebook.com/NoaArts/
Instagram: https://www.instagram.com/noa_papercuts/
Web site (not finished) www.noaattias.com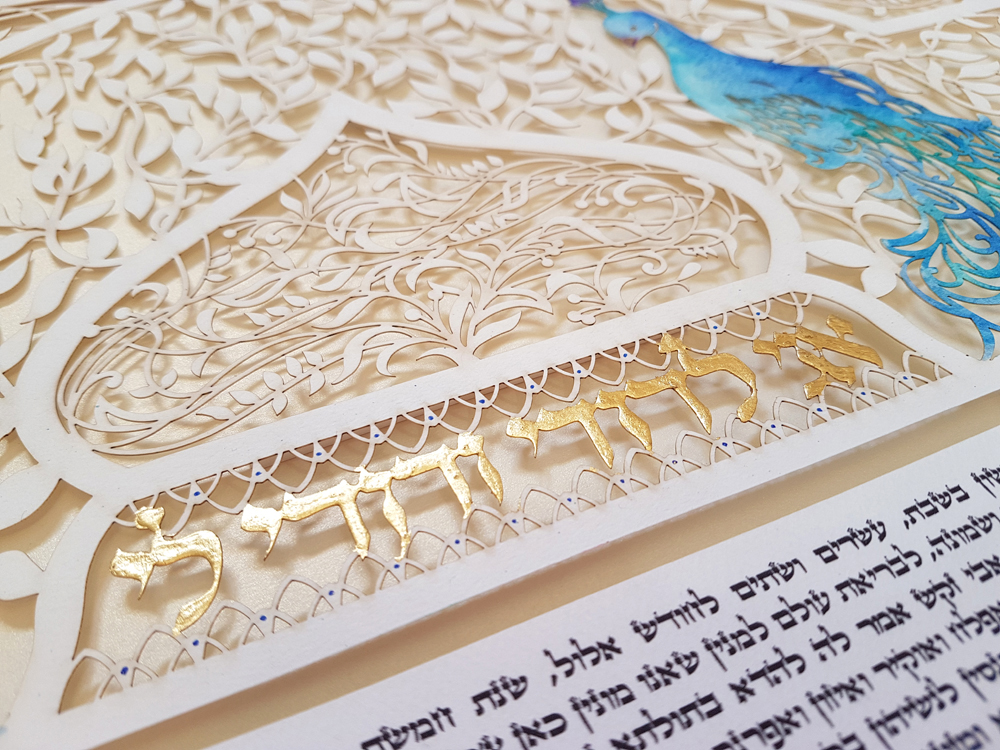 Photo: Courtesy of Noa Attias / Photographer: Efrat Cohen
Photos: Courtesy of Noa Attias / Photographer: Efrat Cohen