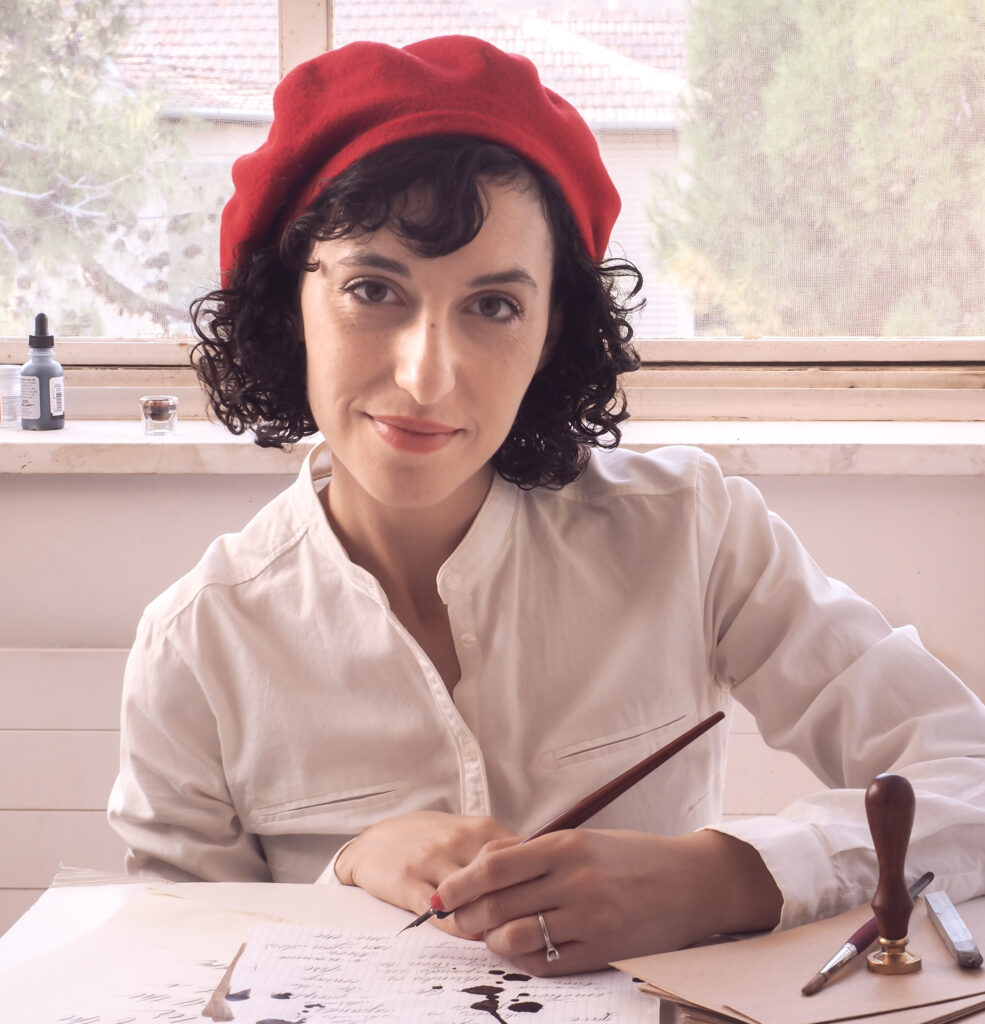 Photo: Courtesy of Malka Klein
Tell us a little bit about yourself and your background.
I'm Malka, a calligrapher & artist living in Israel. I'm originally from New Jersey and grew up with a love for drawing and reading that fell to the background as a teen when academics became my focus. I moved to Israel at the age of 19 where I studied Political Sciences & History, thinking I wanted to be a journalist but quickly becoming disillusioned. I worked at the Israel Museum, a Veterinary clinic and as a designer in Hi-tech but always wondered if, I should have gone to art school. After years of struggling to find the career path of my dreams, and a few year stint in graphic design, I finally came back to my childhood love of art, calligraphy and working with my hands. I now run my very own calligraphy & design studio.
What inspired you to become an artist?
I have always been artistic and even won local art contests as a young child. Though I never considered becoming a professional artist until I was an adult, I spent much of my free time drawing portraits and creating heavily detailed scrapbooks for my best friends throughout my school year. I also maintained a love of letters since I first learned to write. I'd keep in touch with teachers and friends via snail mail and I've never really stopped! Thoughtful letters are my favorite form of communication and they inspire my fascination with calligraphy.
What is your specialty?
Calligraphy is my specialty, both English & Hebrew. I paint and draw, as well. I design ketubot and create other calligraphy pieces for luxury events and brands.
How and where do you work?
I work in my home studio located in Modiin. Most of my work is done manually using archival materials, inks, paper and paints. I have a graphic design background so I periodically incorporate digital work.
What is the most indispensable item in your studio?
Definitely my calligraphy pens, both dip pens and brush pens.
Where do you take your inspiration? Are you pursuing any themes?
I take inspiration mainly from nature around me – wildflowers & mountains – and from ancient manuscripts that have always captivated me for their beauty, their rarity and their deeper meaning. I often find my paintings contain a whimsical and rustic feel. In my work, I seek to inspire authentic communication off the screen. My love of letters, calligraphic and physical, have deeply impacted my life for the better and taught me that sitting down to compose a thoughtful letter to a friend not only brightens another's day, but also gives the writer a chance for real introspection and gratefulness.
Do you do bespoke work?
Yes, I mainly do bespoke work! I do offer ketubah prints but I love the challenge of a design from scratch that speaks to my client's precise and personal needs. This keeps my work and my mind fresh and always seeking creativity.
What projects are you currently working on?
I'm currently working on a handmade invitation suite for a couple with very different backgrounds. I look forward to celebrating their shared histories and differences by designing a beautifully intricate and handmade invitation that tells their story.
What is your favourite item in your current collection?
My favorite item so far is a recent mirror seating chart that I designed. I had been longing to design a piece like it and finally had the opportunity and the result, paired with incredibly beautiful flowers was truly satisfying and lovely.
How do you know when a piece is finished?
I know a piece is finished when the balance of white space and content feels correct. When the concept is clear, and content is accurate, and the client is thrilled at the result.
What was the first artwork you ever sold?
The first piece I ever sold was a landscape painting with a customized quote. I actually sold four 4 of them on the same day at my very first art fair. It was quite a feeling and truly eye opening to me!
Which project have you enjoyed working on the most so far?
I have truly enjoyed working on my passion project called "The Illuminated Letters co". It is an alphabet postcard series inspired by my love of ancient manuscripts and sending letters to those we love. Just like the glimmering gold found in these ancient books, I design my intricate little cards with gold leaf and send them out with a calligraphed message to friends and followers, hoping to brighten their day.
What do you want to achieve with your work and what are your wishes for the future?
I'd like to bring beauty to people's homes and an appreciation for beautiful letters and the messages they can convey. I'd like to continue doing exactly what I love and bringing smiles to people's faces all the while. I feel that I can best give back by following my passion and seeing where it takes me. My current aspirations are to hold successful calligraphy workshops on a large scale, emphasizing the health benefits this beautiful art form has to offer. And, I am dreaming of working with large brands to incorporate lovely hand-calligraphed pieces in to their offerings.
Where can we find your work?
You can find much of my work on my website and social media accounts.
https://www.instagram.com/malkaklein/
http://www.facebook.com/malka.kleins
email me at design@malkaklein.com to inquire regarding commissions
Photos: Courtesy of Malka Klein