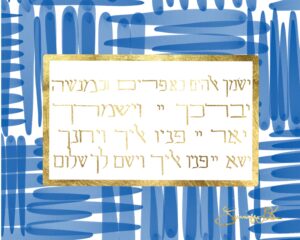 Photo: Courtesy of Jennifer Kaplan
Tell us a little bit about yourself and your background.
I am an artist, mom of two, and development director at Gross Schechter Day School in Cleveland, Ohio. I have always been creative, and love incorporating my Judaism into my art. I attended the same day school where I now work, and credit my Day School education with giving me the knowledge and foundation to live and breathe a Jewish creative life, and the fluency in Hebrew to speak knowledgeabley about our texts and traditions. I have advanced degrees in Judaic Studies, Art History, and Biblical history, as well as a focus in Ancient Semitic Languages. I love the idea of bringing ancient Jewish traditions into our modern lives.
I have dabbled in many different media, from fiber to metalsmithing. I had a brief stint as a jewelry designer out of graduate school, but really started selling my art professionally when a high school friend approached me about making her Ketubah. I had never made a Ketubah before, but thought it would be a fun project. 12 years later, and I've made LOTS of Ketubahs for couples all over North America, as well as expanded my art practice to include other Jewish milestones (Bar and Bat Mitzvah gifts, house blessings, baby blessings, retirement gifts and community awards), and digital art (which has proven invaluable during COVID 19 when getting to the studio was difficult!).
What inspired you to become an artist?
I wouldn't say I was inspired to become an artist, I just have a need to create. Growing up, I was always making things. I consider myself a maker. I think that creating, whether it's drawing, cooking, building or writing, is a way of tapping into a deeper spirituality. Sometimes, when I'm very lucky, I get to experience a state of flow while I'm working, and I honestly feel like there is a spiritual force guiding me. That is inspiring to me and keeps me coming back for more!
What is your specialty?
I am primarily a paper artist specializing in paper cutting and collage, but I also paint and experiment with mixed media. I also love Hebrew calligraphy, and am enchanted by the shape of the Hebrew alphabet and find drawing the letters incredibly meditative.
How and where do you work?
I have a studio in our basement at home where I do my "analog" art. Since the beginning of quarantine in the US in March, I've been doing a lot more sketching and illustration on my iPad so that I can be present with my 4 and 6 year old. Having the ability to continue creating art anywhere on my iPad during this time has been both incredibly calming and distracting!
What is the most indispensable item in your studio?
Currently with my digital quarantine art, my most indispensable item is my iPad Pro! Before, it was my X-acto swivel knife.
Where do you take your inspiration? Are you pursuing any themes?
Before the pandemic, I was doing some self-exploration and digging into some themes surrounding motherhood. I have been fascinated for a while by female traditions, and Tehinot (women's uncanonized prayers passed down through generations). I have a lot of ideas for a body of work using those texts.
Do you do bespoke work?
Yes! The majority of my work is commissioned.
What projects are you currently working on?
Currently I'm working on some Judaica for my Etsy shop, a Birkat HaBayit for a client in Chicago, a Ketubah for a wedding that got postponed due to the pandemic, and a few family portraits I've been doing on the side.
What is your favourite item in your current collection?
My favorite item is a papercut self-portrait I did earlier this year. I tried a new technique, and leveled up my paper cutting. It is part of a series I was working on before quarantine about holding on to my identity while mothering little children.
How do you know when a piece is finished?
As a piece gets closer to completion, I tend to get more and more impatient— I'm always ready to jump into the next thing! I rely on my husband to take a look and give me his opinion. Sometimes I take his suggestions, and sometimes I rely on my intuition.
What was the first artwork you ever sold?
The first major piece I sold was a Ketubah I made for a high school friend.
Which project have you enjoyed working on the most so far?
I really like making Ketubot. I am always humbled by playing such a special role in people's marriage, and my favorite part is writing the Ketubah text, especially if it is a modern text, or written by the couple. As I write, I get to meditate on the words and ideas in the text. I enjoy seeing the priorities that the couple has chosen to call out in their marriage contract. It gives me time to reflect on these ideals, and reflect on my my own relationship— something that I probably would only do when actually attending a wedding. The couple's hopes and dreams are laid bare in their Ketubah, and it is both vulnerable and humbling as the artist to bring their ideas to life through the calligraphy.
What do you want to achieve with your work and what are your wishes for the future?
I want people to have a meaningful way of commemorating their history with my art, whether that's commissioning a Ketubah, or relating to a piece of Judaica in a new way, and I want my art to help people connect (or reconnect) to their Judaism.
Where can we find your work?
My website is www.jenniferkaplandesigns.com
My Etsy is www.etsy.com/shop/jkaplandesigns
My Instagram is www.instagram.com/Jenniferlkaplan
My Facebook is www.facebook.com/JenniferKaplanDesigns
Photos: Courtesy of Jennifer Kaplan