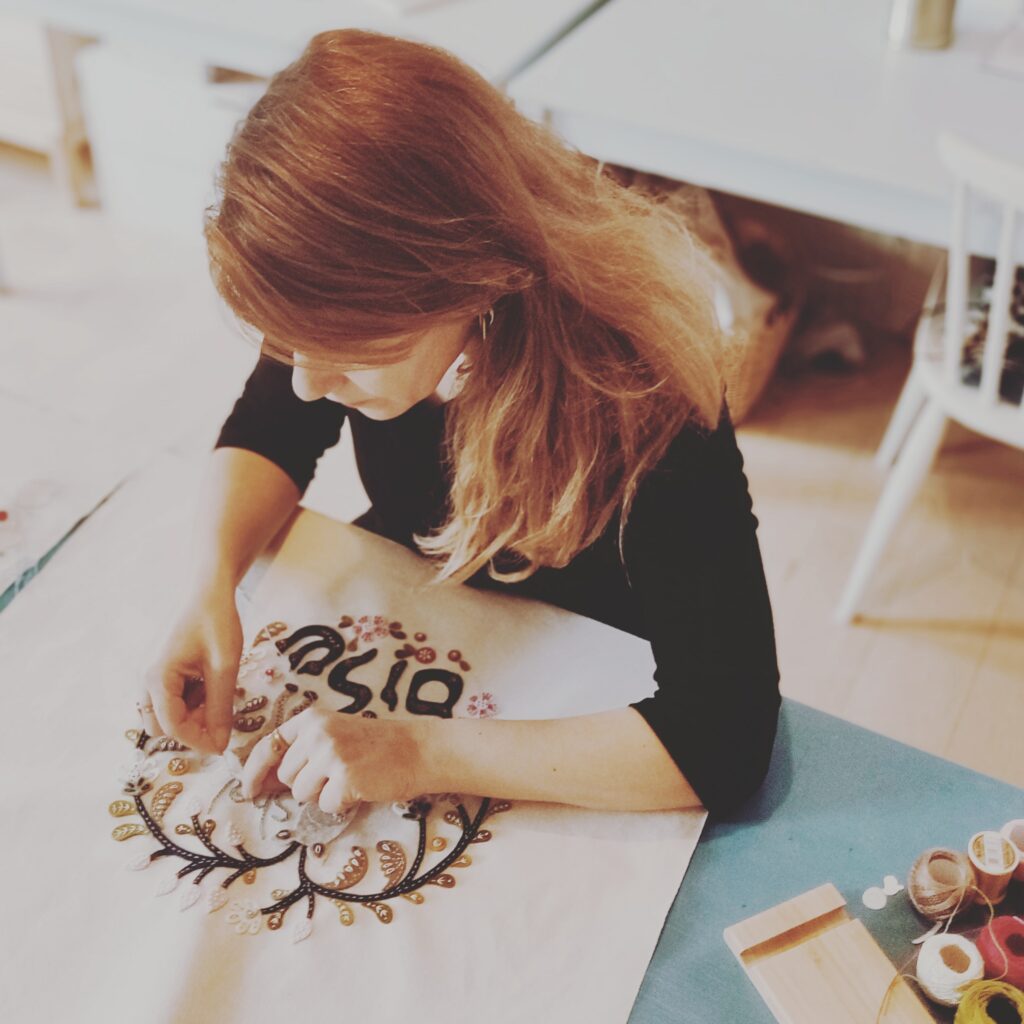 Tell us a little bit about yourself and your background.
My name is Eleyor Snir (in short – Ori). I was born 44 years ago at the Kibbutz Neve Eitan in Beit Shean Valley to a large and diverse family. I am a fourth of nine children.
My mother is a children's book writer and educator, and my father is a fish-breeding expert. After school and following my military service, I decided to study Design and Illustration at the Vital Art Institute in Tel Aviv. After three years of intense studying, I started a family and mainly focused on being a mum, but I always kept on doing all kinds of art.
I have illustrated and designed books for my mother, I did countless story and drawing sessions in preschools and schools, I set up a brand for children's clothing ("Petel"), and later also set up "Nitza Hasadeh", a unique wedding design company in nature, with a partner.
I have enjoyed all the activities that included a lot of creative freedom, that are ways of expression for me. However, family time got shorter and I started missing it, the pressure was up, my health deteriorated and I have finally decided to take a few steps back, give up everything and go back to art with the joy of heart and not out of necessity.
After my body also signalled me, I became aware that there was no better time than now, I made the decision to change my life, move to a different place, get a different perspective, focus on the family, and live my art.
Four years ago, I moved with my husband and four children (Sol, 17; Eliana,15; Gala, 13; and Emilya, 9) to Nelson, BC, and we've been there ever since.
What inspired you to become an artist?
I grew up in a home with a special mother, who encouraged independence and diversity and gave my siblings and myself freedom of thought and creativity. I always loved imagining images and worlds, and creating with my hands. There was a time when I loved to draw houses and build small models, another time, I would draw plenty of clothing pattern, I always got a positive feedback from my surroundings about my artistic abilities and it was clear to me that this would be the direction, but I never locked into only one area.
For me there is no other option than art. The art is so integral to who I am that everything I choose to do it will always be integrated into it.
What is your specialty?
Today, I work with several areas. I create embroidery on wool felt fabric (textile art), illustrate children's books, create inscriptions, art prints for the home, and greeting cards. When we moved to Canada, I made a decision that that first of all I would give myself time to create without a coherent plan, and see where it leads me.
It took quite a while for the kids and us to acclimatise. My hands and fingers were already tickling and were eager to get back to creating. Initially, I created a wall-mounted wool felt fabric and embroidery piece that I photographed and printed.
The decision to create Ketubot already grew when I was working with couples and with the understanding, that there is a lot of work with the design and planning of a wedding, but there is not always enough emphasis and thought on the meaning of the ceremony and the intention on the day itself.
When I started experimenting with appliqué, wool felt, and embroidery, everything connected with me and I felt that I had found the medium where I could best express my abilities and what I love.
How and where do you work?
My studio is in a central space in a house adjacent to the play area and my girls' arts area.
There is a long desk along the wall and another working desk in the middle of the space and plenty of storage for the many materials I work with on a daily basis. I have never had my own room separated from my house.
There have been many years where I have worked on the kitchen table that I emptied and cleaned before every meal. So, the studio today is a major upgrade compared to what I had.
There are situations that I need quiet and concentration and then I take advantage of the mornings when the kids are in school. There are situations that I can continue to work and create while the little one plays right next to me or the girls create something with me by the table, which is wonderful.
What is the most indispensable item in your studio?
A huge pile of pieces of wool felt in all the rainbow colours I have collected over the years.
Where do you take your inspiration?
The connection to nature, to the changing of the seasons, and what is reflected in my window greatly influences my work. I love to look at ancient Jewish art, read quotes and sayings, and try to connect wisdom and tradition with our lives at this time.
Are you pursuing any themes?
I was always interested in my roots and tradition. Since we are out of Israel, my affinity has increased and I have a greater desire to engage in Jewish arts and crafts.
I think I want to find and create connection points through which we can connect to our common base as a people and as a human being in general. I find that Judaica has the combination of ancient wisdom and the beauty of aesthetics that speak to me.
I love to look at ancient Jewish art and if there is a place from which I draw inspiration then it is from there.
What projects are you currently working on?
I am currently working on several things at the same time. I have some works of wool felt fabric and embroidery (appliqué) ordered from private clients. There are several children's books I'm working on, one of which is expected to be published in the PJ Library, and other books that have been published in Hebrew in Israel.
In parallel, I also create Ketubot and art prints that are sold through an online shop. My greeting cards are sold in shops and I hope to create more designs this year.
What is/are your favourite item/s in your current collection?
Hmmm … it is hard to pick one piece. There are those who compare it to selecting a favourite child. There is not one piece I like the most but each piece gets its attention in its time and then it is the centre of my heart. There are two pieces that have been sitting on my desk for two months now and I want to finish them but at the same time, I am probably not quite ready to release them either, so the work on them is refusing to end. They are probably, my favourite at the moment.
How do you know when a piece is finished?
Good question!
For the most part, my work is very ornate and full of intricate details that can continue long after other eyes see them as a finished product.
It is not knowledge, but a feeling when work is complete. Something complete about it and me at the same time.
Do you do bespoke work?
Yes. I really enjoy having direct contact with clients and creating artwork especially for them.
It is very exciting for me to know that the works that I created with my hands will be presented at their home and will accompany their lives from now on.
Each Ketubah I create is also a unique piece where I strive to create art that reflects the personal connection of each couple, a work that will always strengthen and remind them of the basis of their relationship.
What was the first artwork you ever sold?
The first book I illustrated when I was 21.
When I had a children's clothing brand, I opened an Etsy shop and I still remember my first order and how excited I was. I also remember the first Ketubah I sold and the first embroidery work. To this day, I am excited about every order of my work.
Which project have you enjoyed working on the most so far?
Each project consists of different stages and processes that require different things from me.
There are long-term projects and there are short-term projects, but the processes within the projects are often very similar.
There is a period of time that is pure creation time within the project, which I love most. When the idea is solidified, the sketches are ready, everything is prepared and approved by the client and all I have left is to enter into a mode of meditative creation were I am the happiest in.
What do you want to achieve with your work and what are your wishes for the future?
My dream is that I can become more and more involved in the art itself and to have to deal less with marketing and everything around a creative business organisation. I want to work with galleries and shops, while continuing to create for private clients. I hope to write and illustrate children's books and continue to create and develop in all areas.
Where can we find your work?
https://eleyori.myportfolio.com
https://www.instagram.com/eley.ori
© Eleyor Snir