Photo: Courtesy of Edwin Aaronson
My name is Edwin Aaronson and my brand is called Windthrow. My twin sister, Stephanie, and I work together to supply couples with an interactive process of designing their Ketubah. Using a range of different mediums we achieve unique results, which vary depending on what it is the engaged couple wants to portray.
Working through rough sketches and adjusting with feedback, we create one of a kind marriage certificates for all types of couples. Our driving motivation is to create something the couple can view hanging in their home for years to come. We hope that this document, which they themselves have signed, stands as an anchor in their relationship.
Tell us a little bit about yourself and your background.
My Name is Edwin Aaronson and I started my artistic journey through the world of graphic design. It was during my University years I began to draw daily for the first time in my life. My professors stressed the importance of a traditional artistic foundation, figure drawing, still lifes, and maintaining a sketchbook. As I developed as a designer, the importance shifted to mastering thumbnails and rough draft. Putting out lots of small ideas to conquer one large idea beautifully.
What inspired you to become an artist?
When I was young, the first inspiration I had to become an artist came from graffiti. I was fascinated by how some people could manipulate letterforms to evoke such different meanings. I soon became a 'bubble letter' addict. This started around the age of 11 years old. By the time I reached 20 years of age, I was focusing my studies on digital typography and hand written calligraphy.
What is your specialty?
My specialty revolves around the conceptual process. As a graphic designer, with years of freelance experience, I have become accustomed to speaking with clients and then representing visually the key parts of their brand. Now, I am able to transfer those skills over to speaking with two people who are about to embark on the journey of life together. Many times both people getting married have slightly different ideas of what they want their ketubah to look like, and I have the unique opportunity to blend their ideas and design the first thing they will hang in their home together.
How and where do you work?
I work from home in the mountains of Asheville, North Carolina. My home reminds me of a city I visited in Israel, Safed. There are many artists here and never a lack of inspiration. Most often I draw and write during normal business hours with music playing and my windows open, taking breaks here and there to stroll through the neighborhood with my dog, Kai.
What is the most indispensable item in your studio?
My desk is the most valuable item in my studio, I am fascinated with workspaces. I love that I can stand and paint or sit and type or sketch. I love organizing my favorite pens and pencils so they are easy to grab at a moment's notice when inspiration strikes. I love looking at my row of sketchbooks, which grows over the years and looking through them to remind myself of the past. My desk holds the few things I would grab if my house was burning.
Where do you take your inspiration? Are you pursuing any themes?
I get a lot of inspiration from sketching other artist's work. Practicing their styles helps morph my own. Jaw Cooper, Theosone, Sainer, and Christina Mrozik to name a few.
What projects are you currently working on?
Currently I am working on capturing water, I have had a few different clients want water splashing and twisting around their wedding vows. I have used watercolor, pastels, oil and acrylic to portray water but I have yet to find exactly what I'm looking for. I suspect it will be a blend of mediums along with hours of practice.
What is your favourite item in your current collection?
My favorite piece of work in my collection has yet to be created. I've carved poetry into wood before but never an entire ketubah. That would be my ultimate ketubah. The start of my professional career took off from carving text into wood and there is something so warm and timeless about dark beautiful letterforms in such a natural substance. Though my wood burning tool is extremely modern and precise, I always think the results look as if the artwork could have been created thousands of years ago.
How do you know when a piece is finished?
Finding the point when a piece of artwork is finished can be very difficult. The beauty with marriage certificates is that there is a hard deadline and ceremony, which the work needs to be ready for. These hard deadlines force me to step back, literally, and exam the work with a critical eye and ask myself about the balance of the piece. Sometimes I have to phone a friend. I have the good fortune of working with my twin sister, who can always lend advice on what a specific ketubah may need before it is considered 'final'.
Do you do bespoke work?
Most of my work is custom for the particular couple getting married, though I have begun to offer certain designs, which are reproducible.
What was the first artwork you ever sold?
The first works of art I ever sold were name tags in school at 12 years old. I sold each for one dollar and they were all in the same "style". Somehow, they caught on and friends liked taping them to their desks in class. Years later, as a young adult, my first works sold were cigar boxes, which I would burn, names and designs into for clients. The embellished cigar boxes marked an end to my college career and a beginning for starting my own business.
Which project have you enjoyed working on the most so far?
The project I have enjoyed most was a ketubah between a fascinating couple who started their engagement in Disney World and wanted to portray their love for that place in their marriage certificate. They also wanted to showcase their differences while illustrating how well they work together. That project was a challenge but the end result was stunning. It showed two different castles each with their own unique attributes. Water and waves flowed between the two structures with a rollercoaster twisting through the waves. It was intricate but refined and a joy to work on.
What do you want to achieve with your work and what are your wishes for the future?
My goals are to push the boundaries on what a ketubah can be created from, as stated above, I see wood being a big part of that. Also, scratchboards give a great high contrast effect, while also offering some hurdles for the calligraphy. I see Windthrow, my business, allowing newlyweds to find exactly what they are looking for even if it's never been done before.
Where can we find your work?
To find my work visit my website; www.windthrow.com or view our social media on instagram; @windthrowcreative. We appear on Etsy and Facebook as well.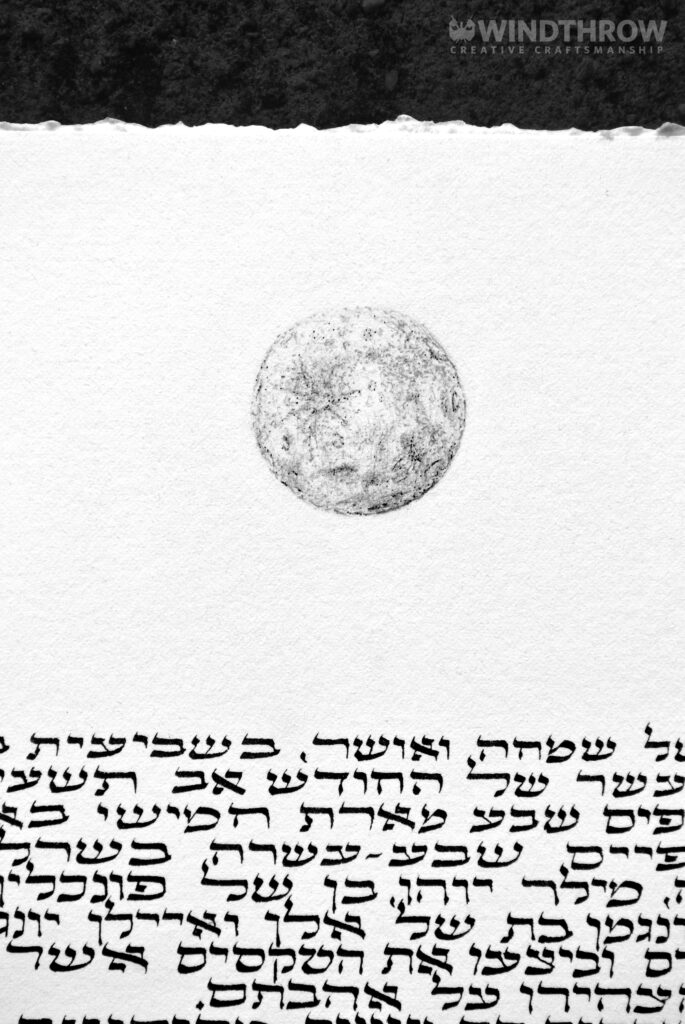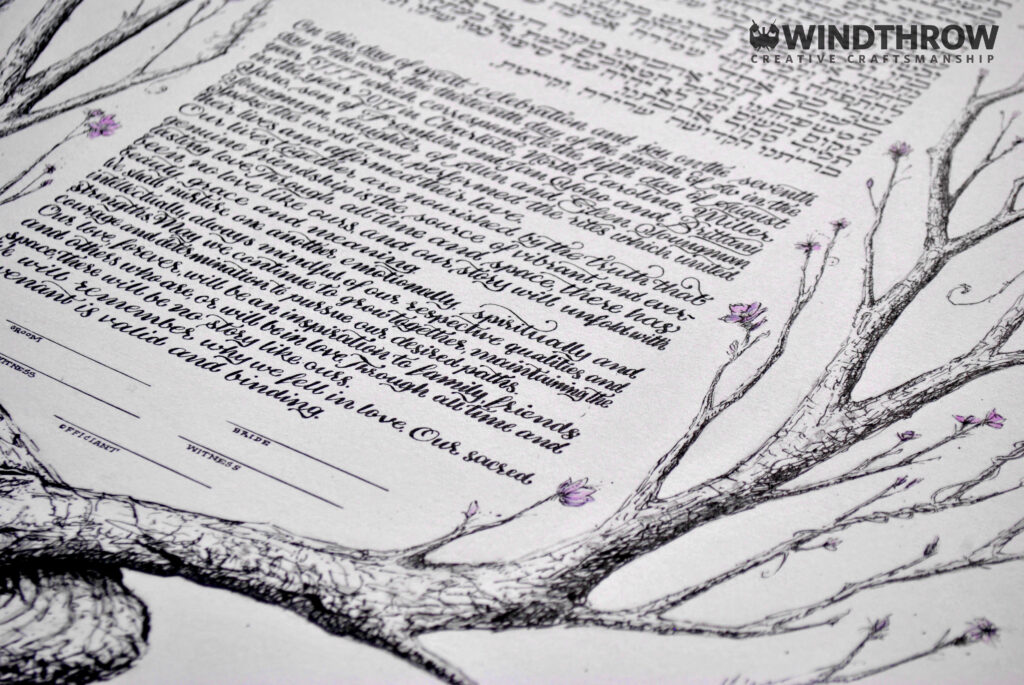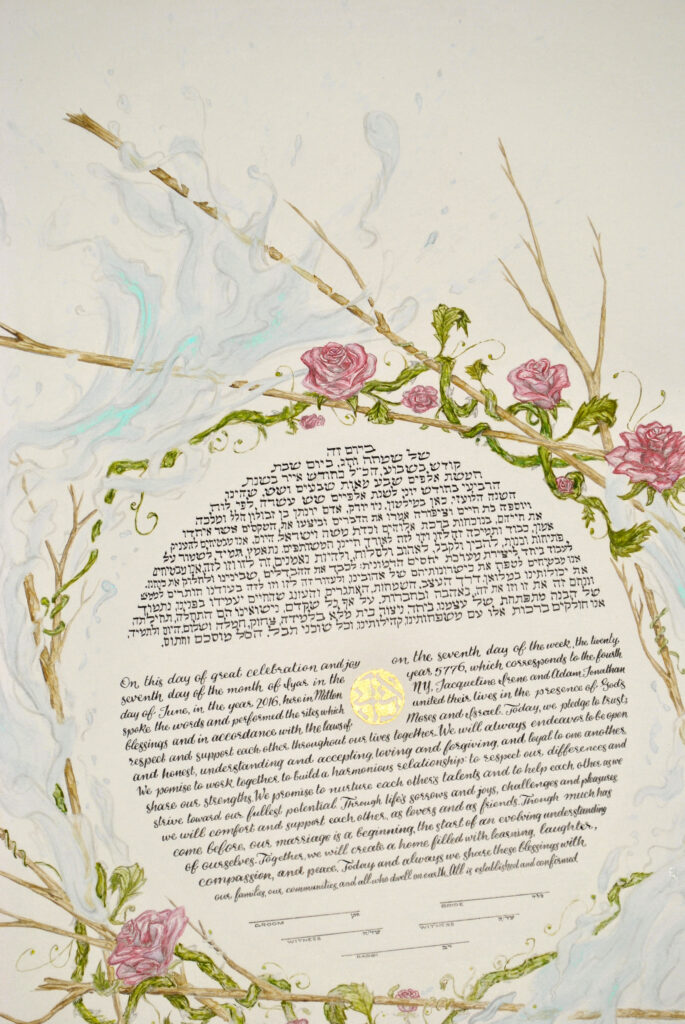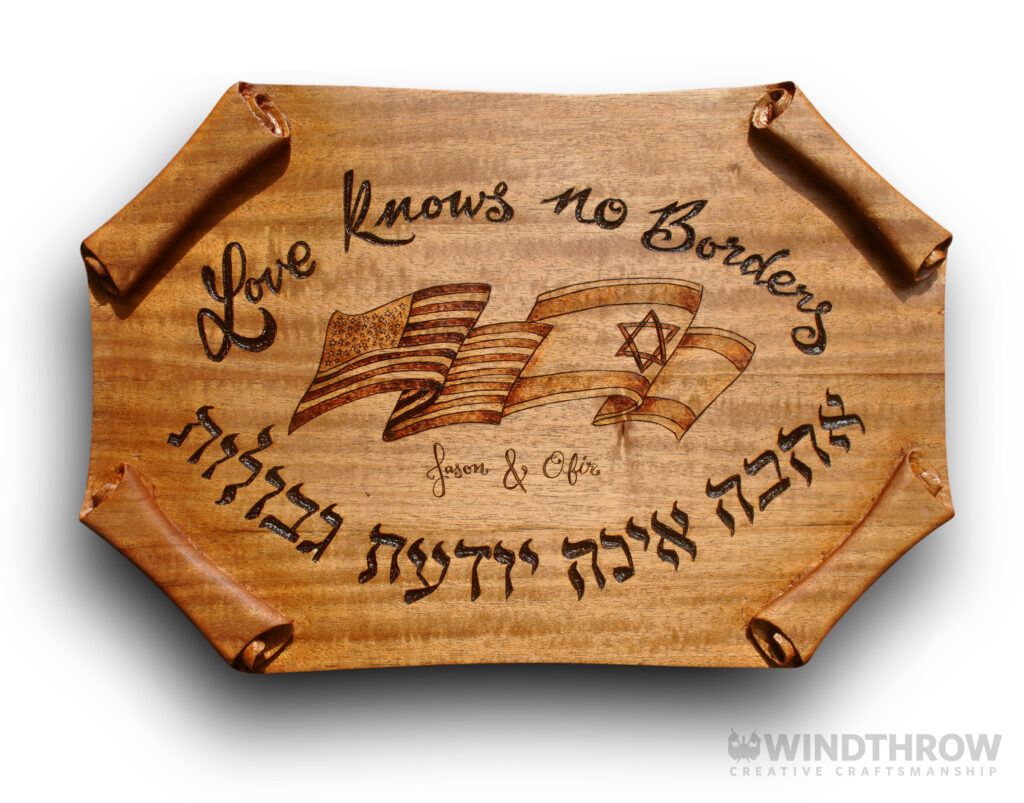 Photos: Courtesy of Edwin Aaronson