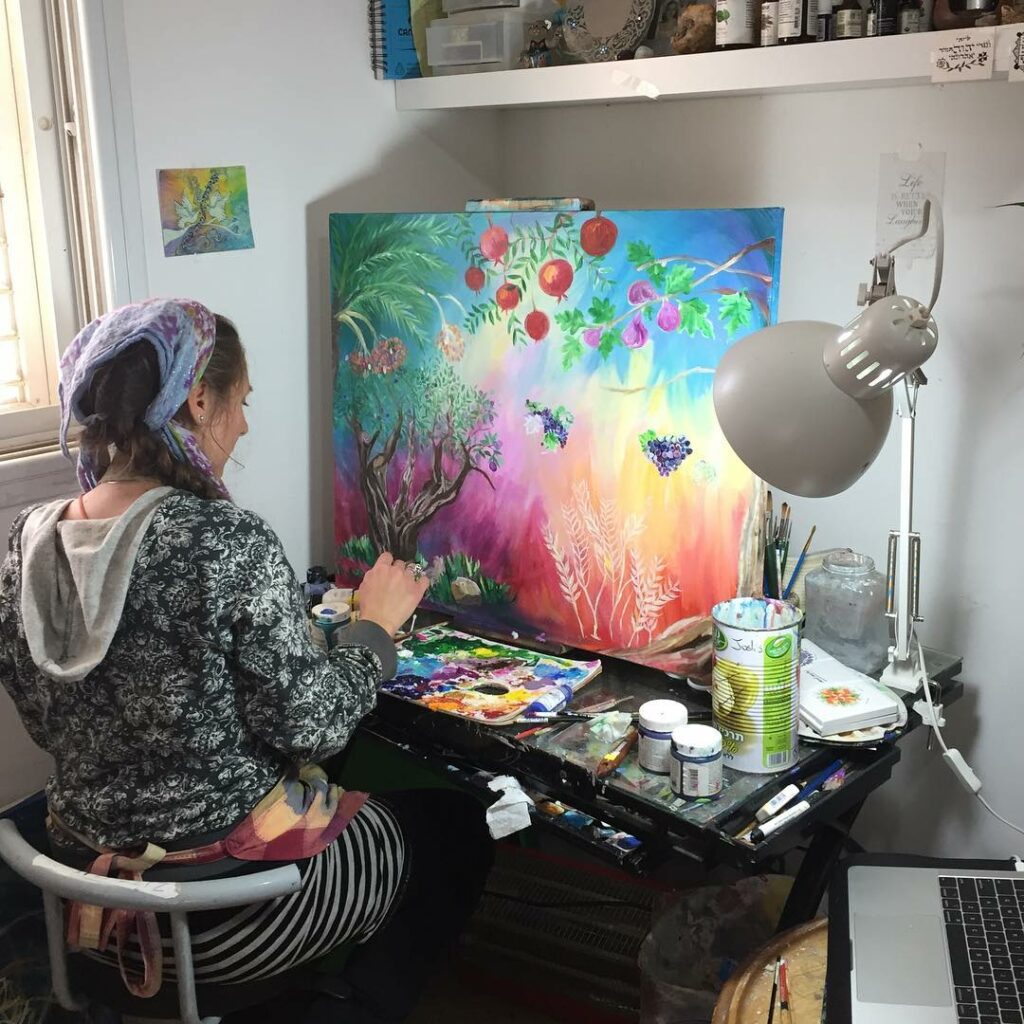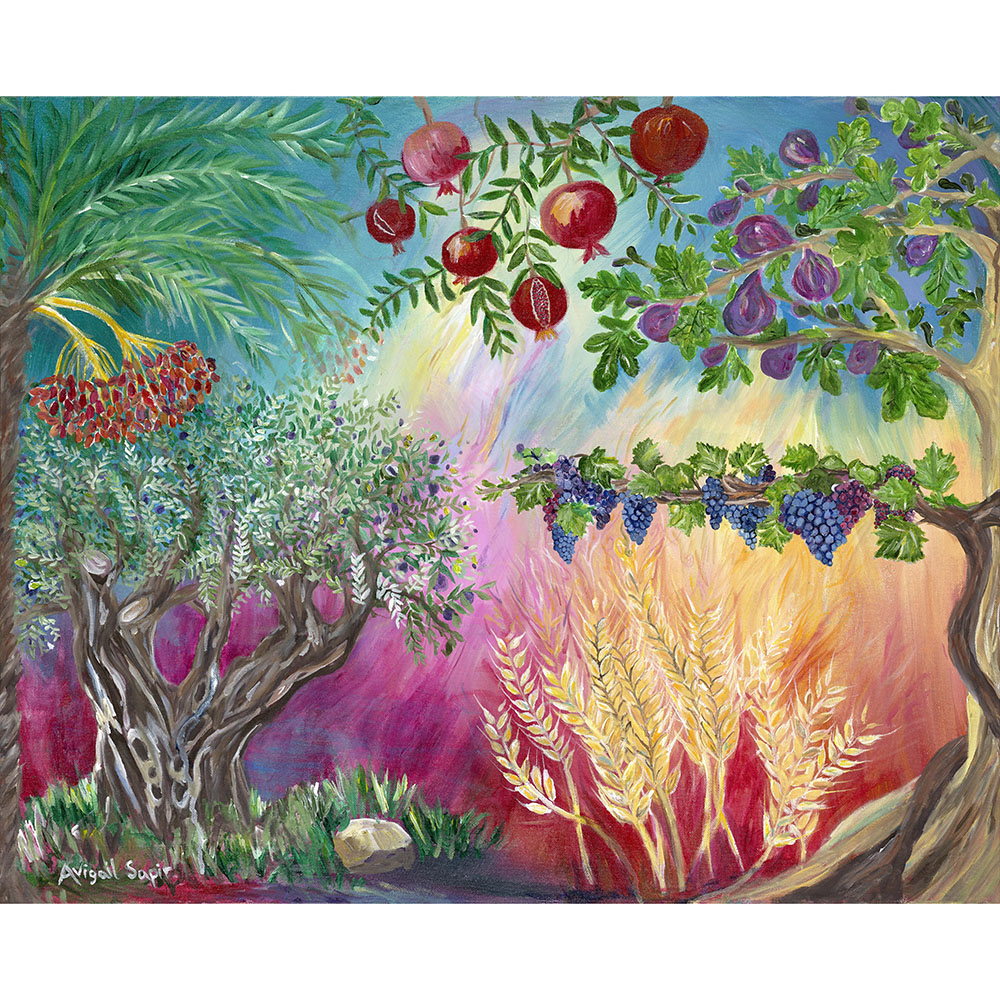 My name is Avigail Sapir and my goal is to inspire people and to provide a deep experience. I am a Visionary and Judaic artist, living in the holy land of Eretz Yisrael. I graduated from SAIC ( School of the Art Institute of Chicago) with a BFA in 2012.
I currently live in Moshav Bnei Re'em, Israel with my husband and daughter. As a family, we are very connected to nature and spend much of our free time gardening and tending to our small homestead farm where we grow our own veggies, herbs, and flowers.
Art to me is a sacred, visionary practice; it represents my pure and intuitive voice. My vision is surrounded by spiritual and mystical themes where the desire to grow in positive and productive ways really guides the essence of who I am and whom I strive to be.
I make Visionary works, Ketubahs, and Judaica. I am a glassblower and ceramicist as well, but I am currently focusing on my painting and putting the work into building my business. My most recent endeavor as the co-founder of a new productions company called Revelation Productions has just kicked off with our first event, which was a music and arts camping festival over Yom Haatzmaut, and continued into a holy Shabbat. The sole purpose of Revelation Productions is to be a foundation for events focused on music, art, and gatherings for musicians, artists, and creative minds.
Tell us a little bit about yourself and your background.
I grew up as a modern orthodox Jew in Skokie, Illinois. I was involved in Bnei Akiva, sports, and art classes growing up. I did a few programs in Israel and I kept coming back. On my last trip before making Aliyah, my husband and I started dating. We went back to the States together, finished our undergraduate degrees, got married and made Aliyah together in 2012.
We currently live in Moshav Bnei Re'em. We have one beautiful 3-year-old daughter. As a family, we are very connected to nature and spend much of our free time gardening and tending to our small homestead farm where we grow our own veggies, herbs, and flowers.
Anything that involves creating art or being part of a creative team, music, putting together music and art events, growing organic food/gardening, and celebrating and hosting Shabbat, really fuels the energy in my life. These things are the spark of who I am.
What inspired you to become an artist?
I have always been a creative person. The truth is, I struggled a lot in school growing up. If I had the proper help I needed, then I did alright. I certainly felt most alive when I was given the opportunity to do creative projects in school and in this, I excelled the most. Since I was a child, I always wrote poetry, for hours and hours. I decorated my notebooks and planners with pictures and magazine cut-outs. I was certainly a doodler in school, making swirls and designs all over my notebooks. I still do that to this day.
After high school, I did not know what I wanted to do with my life. My parents believed in my creative abilities so much that they suggested applying to art school. This was the start of my career as a true artist.
All in all, I believe that we are all artists at heart and one can still be an "artist" even if it is not his or her career.
What is your specialty?
I specialize in making ketubot, Judaic works, and visionary paintings. The materials I mainly work with are acrylic and watercolors.
I also specialize in glassblowing (flame working), but I am currently taking a break to can focus on my painting and ketubot, as well as getting my business off the ground.
How and where do you work?
I am currently working out of my private studio in my home. I am extremely grateful that I have this space to create and store all of my works. It is a huge upgrade for me since my last "studio" space was a corner of our living room.
What is the most indispensable item in your studio?
I wouldn't say that there is one item that makes it all happen. Having my work station always set up and surrounding myself with quotes, pictures, and paintings are what really allows me to delve deep into each project fully inspired. Additionally, my computer is the greatest blessing because it allows me to share myself with the world as well as keeping organized in a professional manner.
Where do you take your inspiration? Are you pursuing any themes?
I take my inspiration from nature and from my spiritual journey as a Jew. The themes in my work are often revolved around the calendar of the Jewish Holidays and mystical concepts. I also get inspired by other visionary and abstract artists that I follow on social media. I am most drawn to the expression of emotion, depth, color, and pattern. Before moving to where I am now, we lived in the mystical city of Tzfat for three years, and there I blew glass under renowned Israeli glassblower and painter, Sheva Chayah. This was truly inspiring.
While living in Tzfat I underwent many spiritual transformations that translated into my art, and I began to really develop my own unique style. Tzvat's atmosphere of spiritual Judaism inspired me to incorporate more kabbalistic concepts into my art and delve deeper into what it means to be a Jewish painter and glassblower. There I began painting ketubahs as well, which is the marriage document that is signed and read at Jewish weddings. This has been a lifelong dream of mine.
What projects are you currently working on?
I always have many different projects going on. This might not be the most efficient way to work for most people, but for me, it is just the way I work. I am currently working on a few commissions and original ketubot.
I have a few ideas for paintings of my own that have been bubbling for quite some time and I am eager to get started on these paintings.
Another ongoing project I am working on is a seven-piece collaboration with Kalman Safrut (Instagram – @thejerusalemscribe). He does the "safrut art," the verses for each day of creation and I paint around the words. We create the vision together and we are currently working on the third day. Additionally, I am the co-founder of Revelation Productions which is one of my newest ventures that I am extremely proud of.
What is your favourite item in your current collection?
My favorite item in my collection changes over time as I change. As time goes on, my style takes its turns but always stays true to who I am as an artist. Each new painting I make becomes my favorite until I make a new one that I fall in love with. I also have some glass and ceramics pieces that I truly love.
How do you know when a piece is finished?
Over time I have definitely gotten better at knowing when a piece is finished. It is difficult to know exactly when a painting is finished, it's all subjective. I keep working on a piece of art until I am happy with it; that means that I feel a sense of "flow" throughout the painting, such as composition, contrast, color ect. Even now sometimes a painting is hanging up on my wall and 6 months later something will bother me and I will decide that there needs to be a little more contrast here or there.
Do you do bespoke work?
I make commissioned pieces based on what people want. Other than that, I am really just working from the heart. I am not necessarily doing something to please a certain kind of person. I know that every work I do will speak to someone. There are enough people in each niche and I know whatever I make, someone will love it.
What was the first artwork you ever sold?
I honestly do not remember. I wish I did because it would be fun to look back on. For many years, I gave my paintings away to family members and to friends. I do remember one specific time, after my year abroad at Bezalel, I came back with many paintings. My friend had told me about this guy who was looking for paintings for his new Hookah Bar Lounge in Chicago. He bought a few of my paintings and I was extremely excited! Now looking back, I could have sold those paintings for way more money, but that's what you have to do when you're first starting out. That is my first memory of selling original paintings.
Which project have you enjoyed working on the most so far?
Each new opportunity I get to make a new "visionary painting", is completely exhilarating to me. This is where I really take my inner visions and go deep into the many layers or the painting and the many layers of who I am on a soul level. I call these my masterpieces.
I really love working on Ketubot. The latest one I did was a wonderful experience, there was math involved too, and the theme was also on the days of creation!
Additionally, it means so much to me to work on a piece that represents the union of two people coming together and this is very sentimental because it is also the first artwork together as a married couple. This is so special to me, especially because many of my clients are my friends and I know each person personally.
I also love being part of a creative team, doing collaborations and communal artworks.
What do you want to achieve with your work and what are your wishes for the future?
I want to see beauty, growth, spirituality, and community. I want my energy to reveal itself through each project I do, and for people to really feel and experience that beauty in their homes. I want to see Revelation Productions grow into a beautiful platform for art and music exhibitions to flourish and blossom into more creative ventures, networking, and a growing spiritual community.
Where can we find your work?
You can find me on Instagram, Facebook, and Etsy. My website is currently in the making and will take some time before it is up and running.
If you have Instagram I am posting regularly there and most frequently.
Please follow my journey
Instagram – @artbyavigailsapir
Facebook – https://www.facebook.com/AvigailSapir/
Etsy – https://www.etsy.com/shop/ArtByAvigailSapir
Website – http://avigailsapir.com/ ( currently under construction- check back in a couple of months)
Revelation Productions – https://www.facebook.com/RevelationProductionsIL/