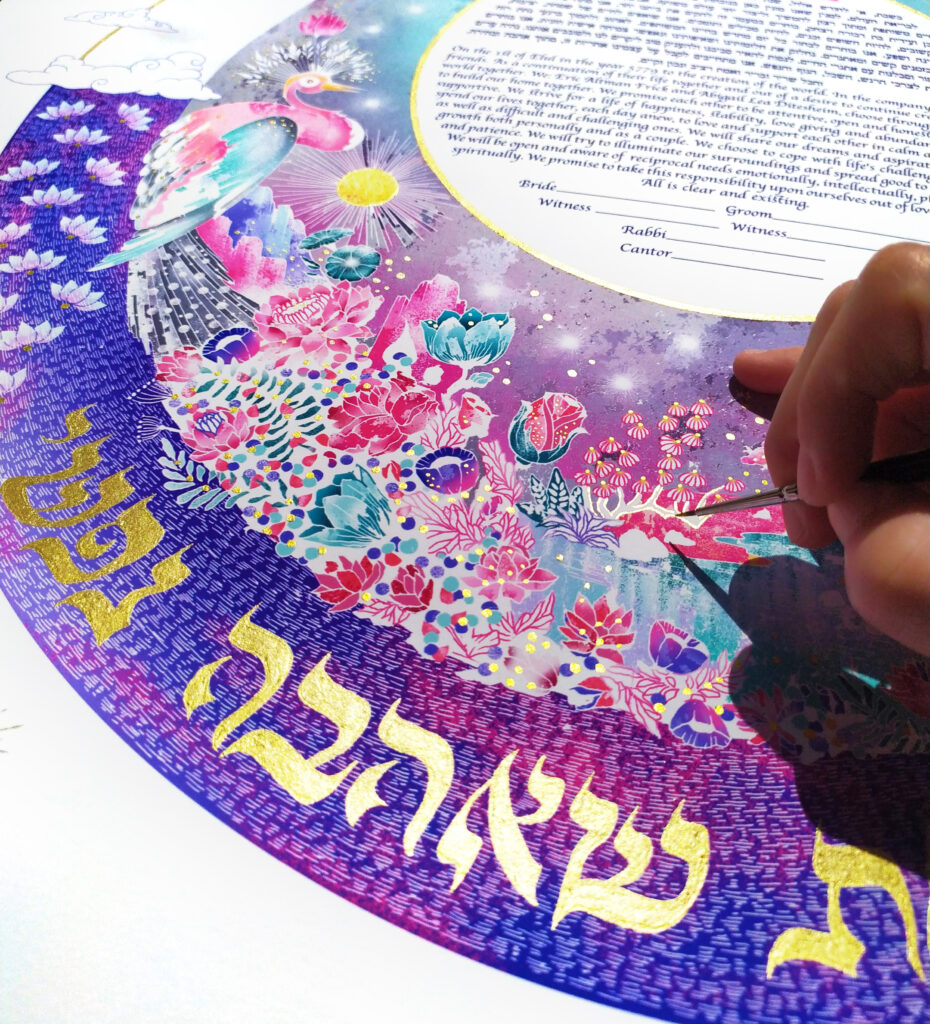 Anat Michaelis is a Professional Ketubah artist who creates fully customised and unique Ketubah art that is inspired by the couple's vision.
Before starting her business, Anat worked as a freelance illustrator and presented her artwork in Israeli galleries.
After creating Ketubahs for her close ones, She decided to dedicate her time into building "Leila" her own Ketubah brand, Creating unique and personality Ketubahs for people around the world.
Anat's art style is inspired by nature and fantasy… In her artwork she creates magical worlds, full of colour and spirit.
Her Ketubahs are made in a unique technique that she developed including organic paper textures.
All Ketubahs begins with a pencil drawing on paper and get a final magical touch by adding beautiful gold details with fine brushes.
Anat's mission is to bring beauty and spirit together, to create meaningful and inspirational artwork. Connecting couples to their personal Ketubah, reflecting their personality and making it their own!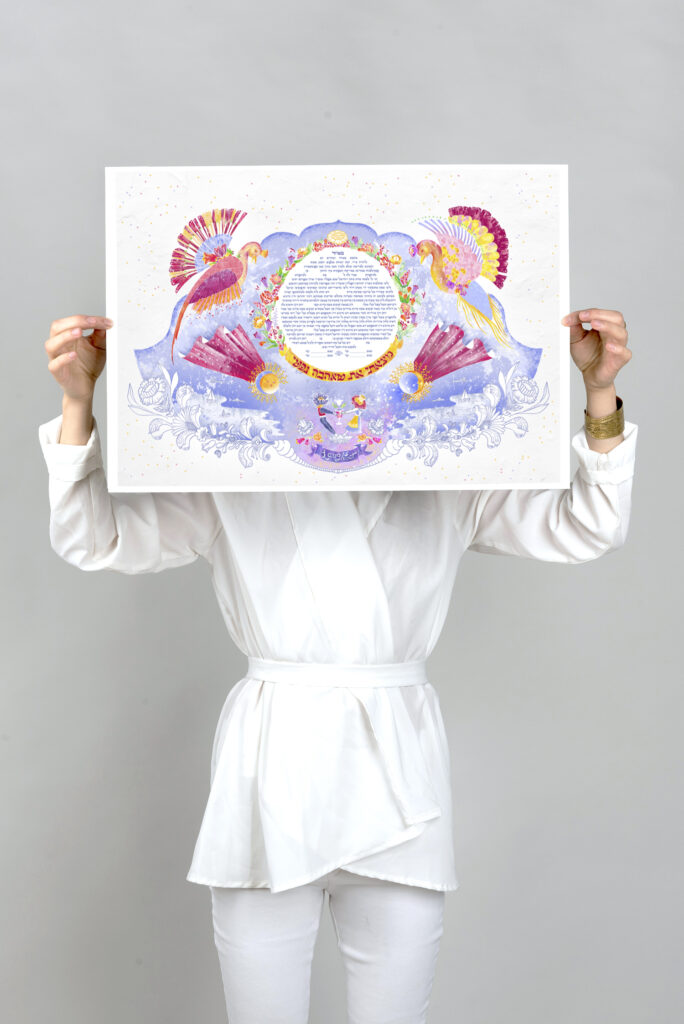 Tell us a little bit about yourself and your background.
Hi, I am Anat Michaelis, I was born and raised in a small and beautiful town in northern Israel.
I've been painting since I can remember myself. Creating a magical world of colors and shapes.
The process of an artwork is like meditation for me, I lose a sense of time, and connect to the
movement of the hand on the paper creating textures and combinations of colors.
Over the years I have gotten the opportunity to study illustration and graphic design at
Bezalel, the leading university in Israel for design and art. About two years after my graduation, two dear friends got married and chose to write their own personal ketubah that represented their shared vision of their common path. I was so excited by the opportunity to add beauty to their vision. I thought about this moment, where two people choose to take a joint walk in life, stop for a moment, listen to themselves … bare and honest, they define the world they choose to create, and the house they choose to build.
I didn't imagine how much meaning and joy I would find in this type of artwork. Along the way, I
had the privilege of illustrating other ketubahs for people I love … and so I decided to open this
shop, and devote my time to creating colorful and inspirational ketubahs.
What inspired you to become an artist?
I think I've always loved to draw and loved to look at paintings and illustrations… Ever since I was a
little girl, I remember being hypnotized by a painting on the cover of a book or the floral engravings
on decorative boxes I found at home.
I guess I just never stopped painting, and the natural development of persistence in painting is what
made me an artist.
What is your specialty?
My specialty is understanding the character and style of the married couple, and creating a magical
Ketubah inspired by them! I'm actually learning what the couple's world of inspiration, what their
culture is, their traditions, and their style, and I connect it all organically and mold it into their unique Ketubah!
How and where do you work?
I work from my home studio in Tel Aviv
What is the most indispensable item in your studio?
My pen, pencil, and paper!
Where do you take your inspiration? Are you pursuing any themes?
I draw my inspiration from everything beautiful I see in the world around me! I love the arts of
Eastern cultures and I look at Indian and Asian art books. I also love to stare at flowers, and the way
the sun's rays pass through their leaves and create a different color every time.
What projects are you currently working on?
Currently, I'm working on a new custom Ketubah. The lovely couple is very fond of purple and
circles, so it will be the first time I create a Ketubah that is styled this way and it excites me!
I love to create custom Ketubahs! It's a fascinating creative process!
What is your favourite item in your current collection?
Honestly, I really love all of my ketubahs, they're like my babies. Every Ketubah has its own special.
story behind it.
How do you know when a piece is finished?
I just know! I see that all the different parts complement each other harmoniously.
Do you do bespoke work?
Certainly! That's my favorite part! Custom Ketubahs are my favorite!
What was the first artwork you ever sold?
A wedding Ketubah! The bride's sister saw my other illustration work and asked if I would create a wedding Ketubah for her sister, as her wedding gift to her sister.
Which project have you enjoyed working on the most so far?
A Ketubah I created for a couple who came from two different cultures, a Swedish bride and a Mexican groom. They asked me to integrate elements from their different cultures into the Ketubah.
I really enjoyed the visual research! I enjoyed discovering new things about the folklore of different
cultures and integrating everything together into the creation of the Ketubah.
What do you want to achieve with your work and what are your wishes for the future?
The artwork I create focuses on bringing beauty to your meaningful words. And through my art, I hope to uplift your words and illuminate the essence.
My vision is to bring beauty and spirit together to create unique and personal Ketubahs that make couples feel connected to themselves.
Where can we find your work?