Photo: Courtesy of Secret Passengers
Tell us a little bit about yourself and your background.
My name is Aminadav Coen, and I'm an Israeli designer and illustrator now living in California. After graduating from art school, a career opportunity sent me to the US, where I've lived for the past seven years. Yet, I am still very much connected to my Israeli and Jewish heritage, culture, friends, and family.
What inspired you to become an artist?
I've always been a very visual person; in high school, I was always the artistic one: I always carried a video camera with me and filmed everyone around me. I've always felt that even before I knew I wanted to become an artist, I already was one. So as the clichée goes, it chose me rather than I chose it.
What is your specialty?
Artistically – or professionally – I am both a designer and an illustrator. Therefore, I do my best to combine the right visuals with the perfect idea, text, and tone. But honestly, my specialty is storytelling. In everything I do, I try to find a way to tell a story, even a small one, that says something about life and the world we live in. Oh, and I make a fantastic Shakshuka!
Where do you take your inspiration from? Are you pursuing any themes?
I always try to take part in the world around me, so a lot of my inspiration comes from everyday life: Scenes I see in the street, random social interactions, and nature. In my Ketubahs projects, I tried to combine my usual themes and inspirations with more traditional themes to create my modern take on tradition.
Do you take on commissions and create bespoke designs?
Yes! Although I work full time as a head of a design team in a small start-up, I always love to mix things up and stay dynamic with all kinds of commissions and works.
Which project have you enjoyed working on the most so far?
When I got married (To an incredible Jewish-American girl), we realized how much of our tradition was essential for us, yet it felt a little outdated. I remember my parent's house, back in Akko (Where I'm originally from); their decades-old Ketubah was hung on the wall. It was beautiful and enigmatic to me, and I wanted something like that for myself. That's when I've come up with my Ketubah project, which is still my all-time favorite project. Soon enough, many of our friends started getting married and asked me to design a Ketubah for them. It was tough to find a Ketubah that matched our current modern style. A ketubah that we could proudly present in our homes that fit the rest of the furniture and art we all have. The feedback was better than I thought, so in response, I worked with some of my favorite illustrators to create some beautiful new Ketubahs that, hopefully, couples all over would love.
What do you want to achieve with your work and what are your wishes for the future?
I think that every artist's mission is to express ideas, thoughts, and values to other people through art mixed with empathy and eventually create more joy in life. Being an Israeli living abroad, I think I would like to become a bridge between cultures, traditions, generations, and ideas. Showing young Jewish people that their heritage can be modern, beautiful, and cool is inspiring to me. I don't want us to lose our identity, I want to learn and respect our past while designing the future.
Where can we find your work?
https://www.instagram.com/secretpassengers_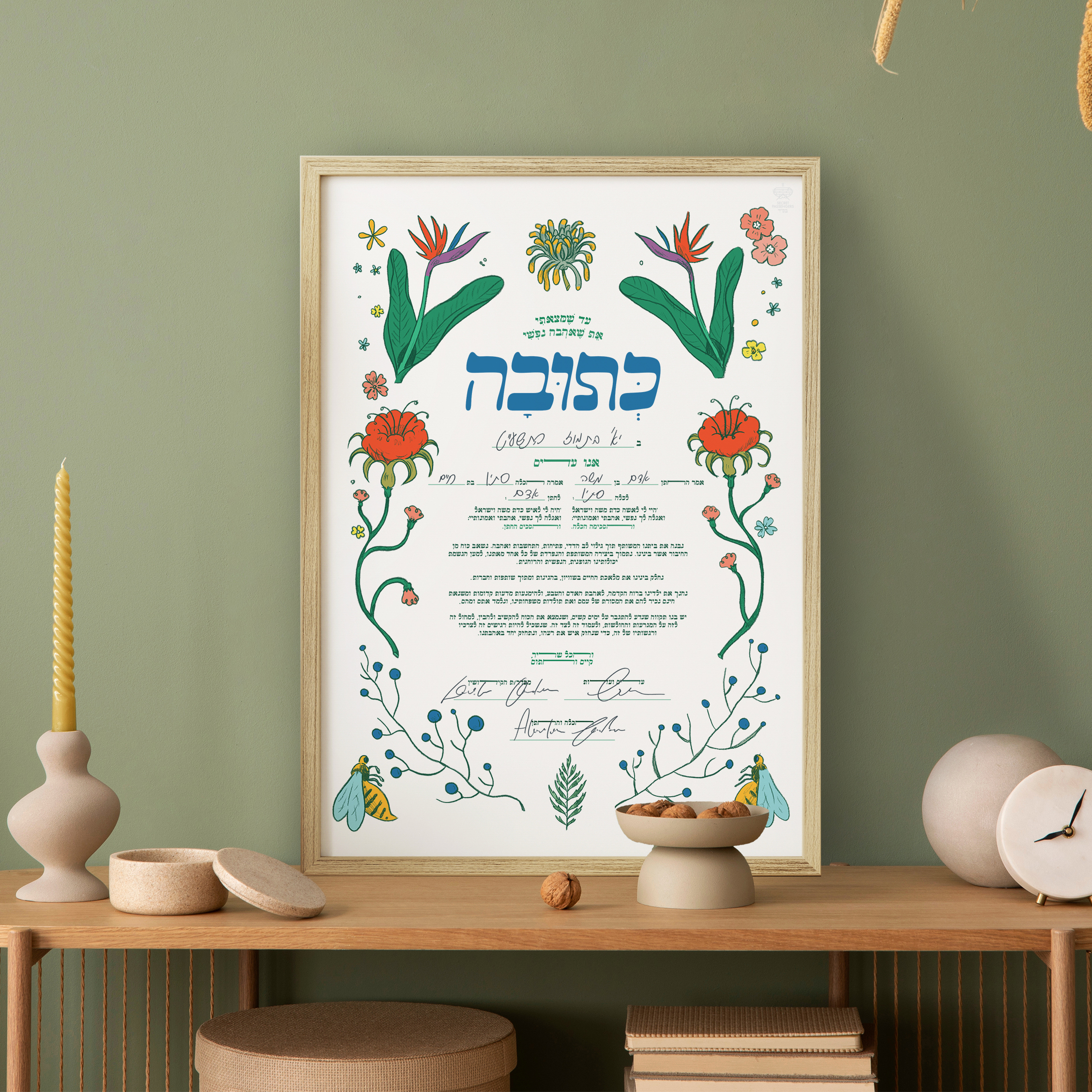 Photos: Courtesy of Secret Passengers