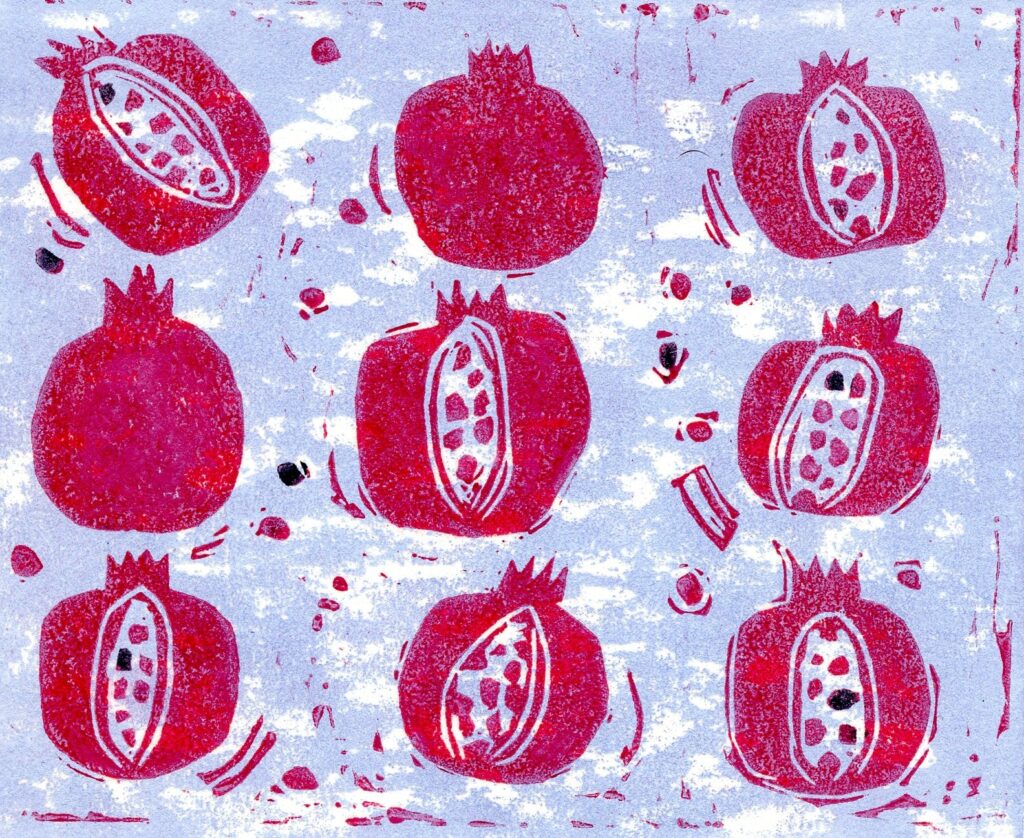 I am artist living in New York City. What inspires me to make art is influenced by my surroundings. Often it is an immediate idea sparked by nature or simple objects and how they relate to their space. Today my artistic ideas are expressed through printmaking, creating relief prints; linoleum prints, collographs and foam prints using Styrofoam. All my work is printed by hand. Other times I paint with watercolor adding ink and colored pencil. Right now my main focus is my greeting card line, which feature Judaic designs and also include Every Day designs. My greeting cards are about celebrating the special moments in life in a colorful and whimsical way. In addition, I continue to teach art to children through workshops I have developed, including a series of classes on Printmaking without a Press.
Tell us a little bit about yourself and your background.
I grew up in New Jersey and attended college at Boston University. I was not selected by BU's art program at that time instead chose to study art history and education – I was previously enrolled at the University of Hartford in their Fine Arts Program, but choose to attend college in Boston. Not being part of the art program still did not deter me from the desire to be creative. I attended art classes and workshops available from many sources. Looking back on those years, I realize the varied and often inspiring classes shaped my art and how I teach and inspire others today. The reason I talk about this, is knowing that things don't always take the prescribed path we desire. It's important to recognize this and make a different way for yourself. I always encourage others in my classes and workshops to do the same!
What inspired you to become an artist?
I was very influenced to become an artist, during my high school years. My teachers exposed us to many different art mediums as well as encouraged us to experiment with the art process. It was there that I learned to engage in printmaking. My inspiration to become an artist is still my passion to be creative. It is a part of my every day life!
What is your specialty?
My art is often focused on my printmaking. I like the textures, layering of designs and patterns characteristic of printmaking.
How and where do you work?
My workspace is a makeshift desk that I have used for over thirty-five years! It has an oversized top made to look like wood that sits on top of two file cabinets. It's been the happy home of many prints and paintings as well as a few art lessons for children. I purchased it at a cabinetry store on the Upper West Side in Manhattan. It's been with me wherever I have lived.
What is the most indispensable item in your studio?
My most indispensable item in my studio is a wooden kitchen spoon, which I "borrowed" from my mother's kitchen. Since I did not have a press I used that spoon to make my first print. I rub the back of the printing plate with it. This creates the pressure to have the inked design transfer from the printing surface to paper. After all these years, the spoon has a beautiful shiny patina.
Where do you take your inspiration? Are you pursuing any themes?
My inspiration for my greeting cards came about from my first time visiting Israel. At that time, my son was studying abroad at Tel Aviv University. My expectation of what I would see and learn while there, became far greater than I would imagine. Many questions arose and at times they were overwhelming. I began to look at my life in a very different way. The biggest question was "what was missing?" The road to discovery led to my desire to create my Judaic Greeting Cards. Learning, reading, it all influenced my art. What better way for me to express myself, than through art?
What projects are you currently working on?
My current project is my greeting card line, creating different illustrations depicting Jewish life.
What is your favourite item in your current collection?
I did a blockprint image for a Rosh Hashanah greeting card. It captures the moment and spirit felt at the sounding of the Shofar! After it was printed I added hand coloring with watercolor paint.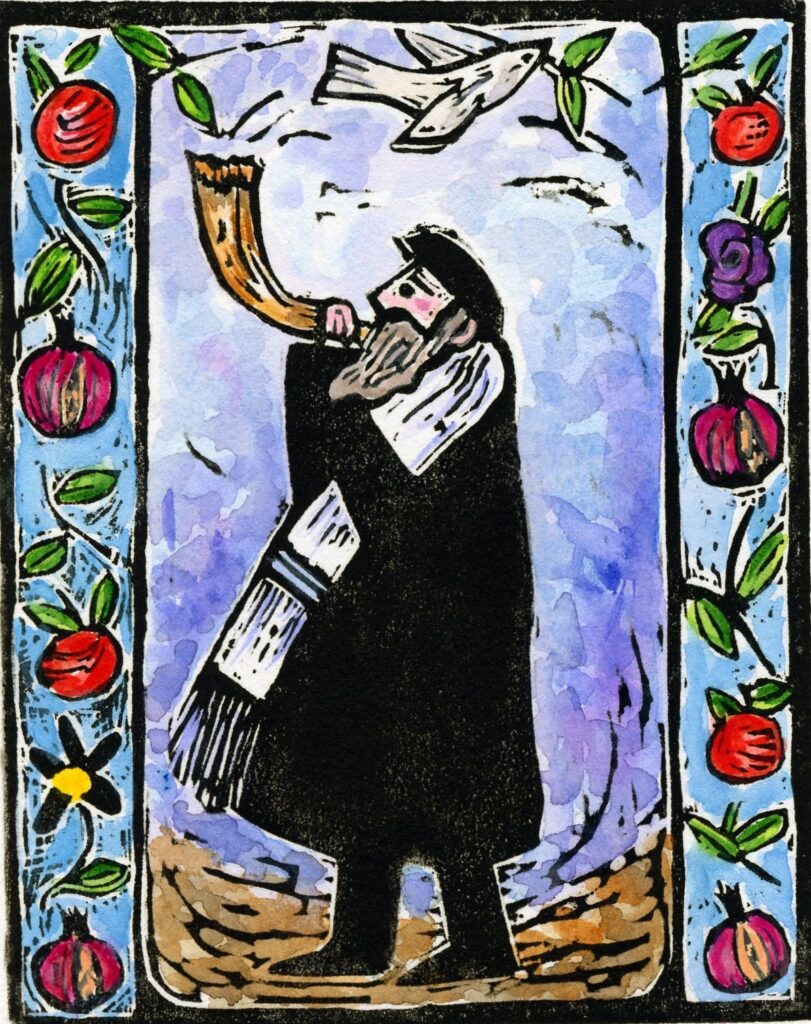 How do you know when a piece is finished?
That is a difficult question, but I have finally come up with an answer that works for me. I simply put the work aside until the next day. When I look at the work the following day, the answer is apparent.
Do you do bespoke work?
It's possible.
What was the first artwork you ever sold?
In the early 1980's I started a hand-made greeting card line while living in Boston. The cards were created using stencils I made. I was able to create more than one image of the design using the stencil technique (another form of printmaking). The cards were sold in Boston and New York City. I would set up appointments with the shop owners to show my cards. My cards were well received and became popular. I was know as Mrs. Gross Designs.
Which project have you enjoyed working on the most so far?
While living in New Jersey, I created an art class to serve the children in my community. I developed a curriculum based on printmaking, drawing, painting and crafts. In my classes I taught children various art techniques while encouraging themselves to be comfortable with their own creativity. It became a reflection of how I grew to be an artist.
What do you want to achieve with your work and what are your wishes for the future?
I want to be able to continue developing my greeting card line. The cards are a way for others to enjoy my art while also giving others an opportunity to send their special note or message to one who is important to them. To find my sources, I spend part of my day reaching out to Synagogues, Jewish organizations, bookstores, who I would hope consider my greeting cards! I enjoy talking about my cards and also listening to others reactions. I also contact people with an email and website. In addition to my greeting cards, I will continue to teach my workshops to children.
Where can we find your work?
My greeting cards can be found on the greeting card website:www.artworkbysharon.wix.com/greetingcards
One may also email me directly @ artworkbysharon@gmail.com regarding my greeting cards, artwork and workshops.
In addition, my greeting cards my cards can be found at the following stores:
The Museum at Eldridge Street gift shop, New York, NY
Books & Company, Hamden, CT
Afikomen Judaica, Berkely, CA
Kolbo Fine Judaica Gallery, Brookline, MA
Temple Israel Judaica Shop, Memphis, TN
Magpie, New York, NY
Barner Books, New Paltz, NY
Dayenu Judaica, San Francisco, CA
Tall Tales Books, Atlanta, GA