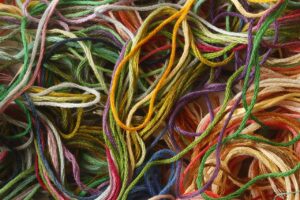 As one of the most beloved traditional forms of art, embroidery has captivated many people throughout the world over centuries.
Embroidery is not only a fantastic mindfulness exercise to train your focus and concentration skills but has also shown to relieve stress and to help people struggling with anxiety.
After practicing embroidery for a while, you will see how this art form enhances your creative skills like no other. You will quickly feel confident enough to create your own designs. Creating a unique design, deciding on which style of embroidery to use as well as choosing the ideal colour combination for your piece of art will come natural to you. Be prepared that your sense of achievement will be up in the sky every time you give someone a bespoke gift you have designed and embroidered yourself!
A wonderful pass time for colder and rainier days, we have decided to put together a small selection of 18 beautiful embroidery kits we believe would be perfect for you to start with! Enjoy.
Shop: ChloeArtCrafts
Photos: Courtesy of ETSY
Shop: gembroiderycrafts
Photos: Courtesy of ETSY
Shop: HannahBurburyDesigns
Photos: Courtesy of ETSY
Shop: KitsandKo
Photos: Courtesy of ETSY
Shop: OhSewBootiful
Photos: Courtesy of ETSY
Shop: TheEmbroideryCart
Photos: Courtesy of ETSY