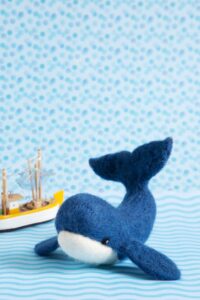 Shop: HawthornHandmade
Photos: Courtesy of ETSY
At Judaica in the Spotlight, we love how versatile needle felting is. With a little bit of practice, you will be able to create stunningly beautiful sculptures your family and friends will fall head over heels in love with the moment they will lay eyes on them. Be prepared that they will want to adopt them and take them home with them. In order to prevent this, we recommend a pre-emptive strike and create something special for them as well. We can guarantee you; no one will ever expect to receive a handmade sculpture that was created in this manner. It is the perfect surprise!
All you need for your brand-new hobby are felting needles, wool, and some sort of a cushion or pad to work on. Yes, you will be stabbing wool repeatedly with your felting needles and no, it will not replace therapy. You stab the wool in order to shape it into your desired sculpture. The overall process is wonderful. People living with you may take their distance for a while but that is perfectly fine (and very much desired when working on something that is rather more complex).
We have put together a small selection of needle felting kits we believe would be perfect for you!
Shop: CraftyKitCompany
Photos: Courtesy of ETSY
Shop: FeltandDandy
Photos: Courtesy of ETSY
Shop: FeltCreativeKits
Photos: Courtesy of ETSY
Shop: HawthornHandmade
Photos: Courtesy of ETSY
Shop: MaryJaneLillie
Photos: Courtesy of ETSY
Shop: TheWishingShed
Photos: Courtesy of ETSY