*** Have you already seen this year's post? 100 of the most beautiful Menorot of the season are waiting for you here. ***
Soon it will be time to polish your menorah! Can you tell that we are very excited about Chanukah?
If you are anything like us, you will have acquired a small collection over the years and be so in love with each of your pieces, that you will have them prominently displayed in your home. They are a piece of art after all! Why hide them?
We want to share this very special love for menorot with you! This year, we are going to celebrate Chanukah from December 22nd – 30th. If you want to add a piece, or more, to your own collection, now is the time to start looking. You do not want to get into a situation you find a menorah you love and not have it arrive in time!
While we all follow Judaism as a religious belief, we are different people with different styles and preferences.
What many people do not realise is that there are very specific rules in regards to what makes a menorah kosher. To sum it up: All the candles, except for the shamash candle, the candle that lights the other candles, must be exactly the same height, slightly apart from each other, and in a straight line. No need to worry, this does not mean that you cannot purchase the menorah of your dreams!
At Judaica in the Spotlight, we want to help you find the right menorah for you! We believe that anyone should have a menorah in their home that sparks joy and makes them feel happy whenever they look at it, regardless of the shape or design!
In our opinion, artists and designers are not replacing the more traditionally menorot, far from it! It is wonderful to see how they are adding to the selection!
We are very fortunate to be living in a time where so many talented artists and designers can easily showcase their work online. It has never been easier to find something that suits your personal style and preferences like today!
Regardless if you prefer a more traditional or contemporary modern style, there is something for every taste and budget.
So, are you ready to grow your menorah collection? We hope you enjoy the following designs just as much as we do!
Discover stunning Chanukah menorahs with us!
Alla of Fleeting Stillness is based in Maryland and specialises in modern stained glass home décor. Amongst many other products, she creates stunning glass menorot.
Copyright: © Fleeting Stillness
Asaf Man of Asaf Man Art Judaica is based in Israel and an artist at heart. He specialises in creating unique Judaica objects made out of magnificent pieces of wood.
Copyright: © Asaf Man Art Judaica
Shraga Landesman is a very well known Judaica artist based in Israel and creates magnificent and very unique pieces of Judaica.
Copyright: © Shraga Landesman
Nancy Sherburne of Arc Light Glass is based in Massachusetts and specialises in creating in glass art. She creates beautiful Judaica objects, jewellery, and many other decorative items for the home.
Copyright: © Arc Light Glass
Sari Glassman of Gaialai is based in Israel and creates stunning handmade lampwork beads, jewellery, and delightful Judaica objects.
Copyright: © Gaialai
Sarit of Shakuf Design is based in California and specialises in glass art. She creates magnificent fused glass Judaica and home décor for your home.
Copyright: © Shakuf Design
Anat and Hadas of Armadillo Judaica Lovers are very designers based in Israel who specialise in contemporary Judaica design inspired by origami.
Copyright: © Tal Sivan – Ziporin / Armadillo Judaica Lovers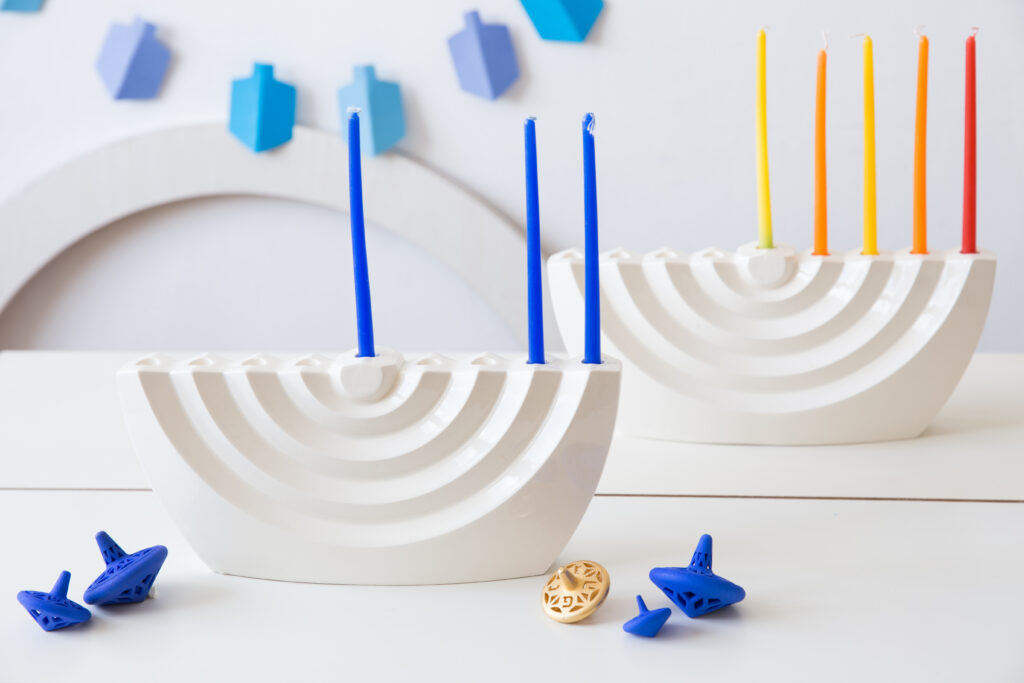 Shelly Agronin of Wallaby Studio is a product designer based in Israel who speicalises in innovative metal origami object.
Copyright: © Wallaby Studio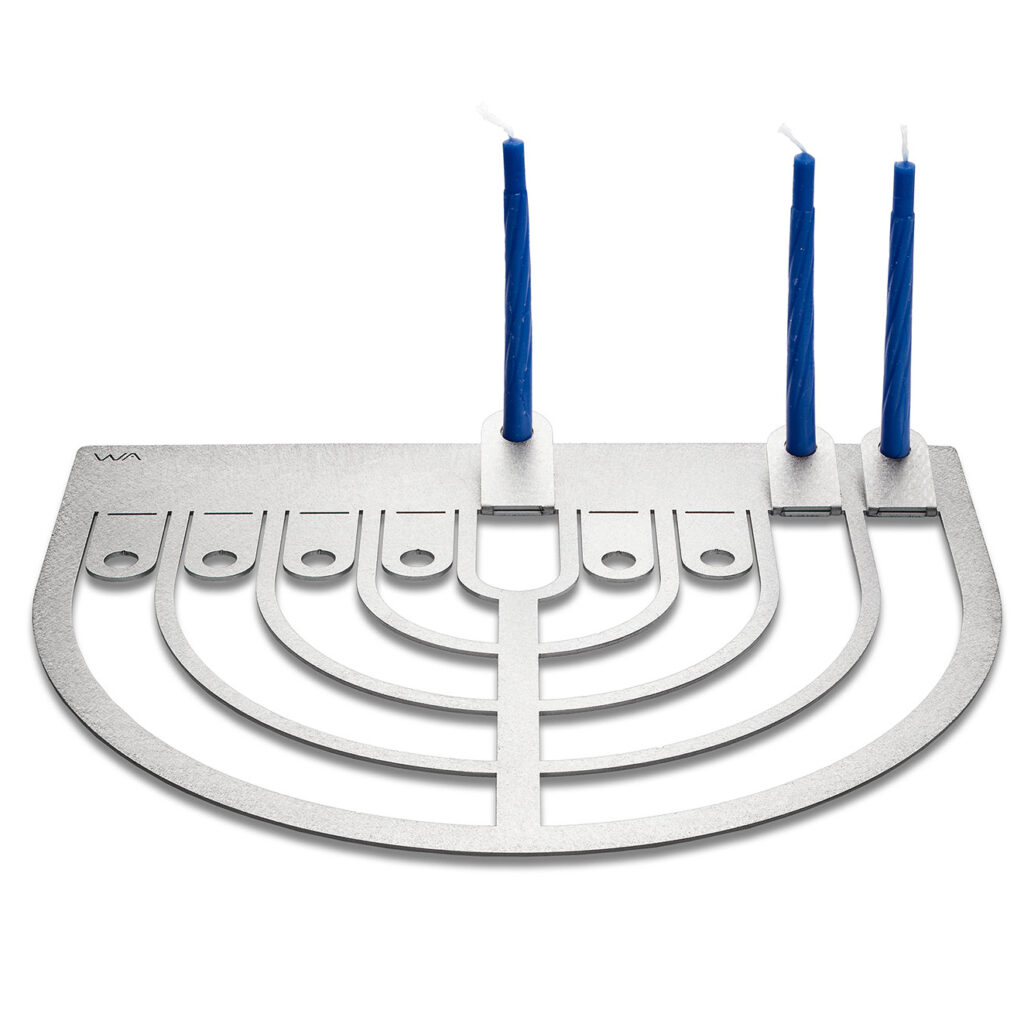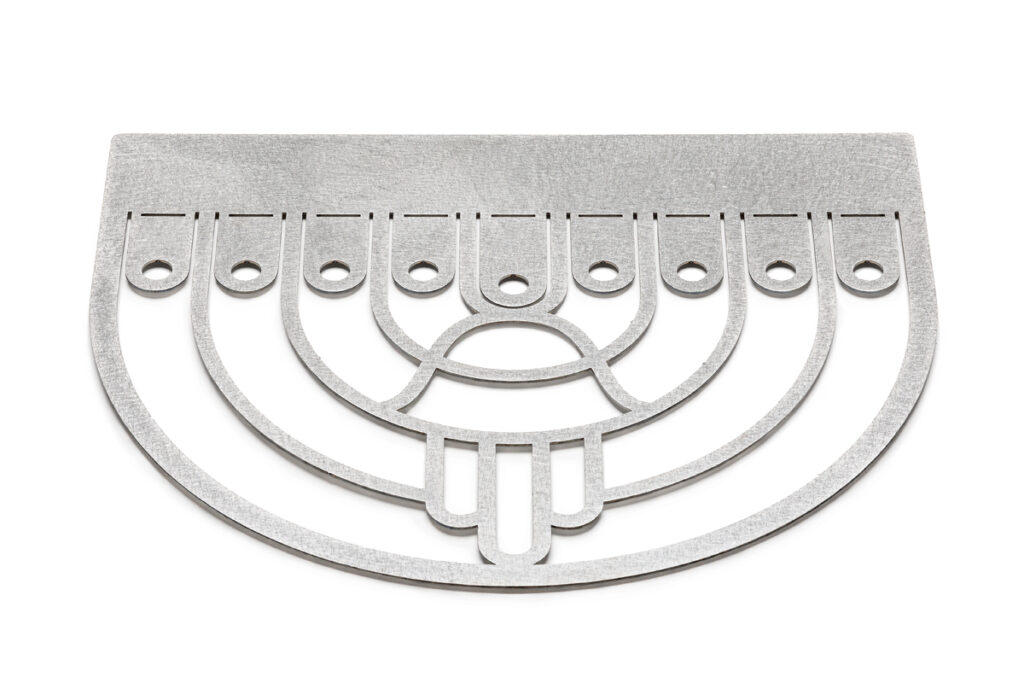 Laura Cowan is a Contemporary Judaica designer and Jewish artist. She is based in Israel and creates Judaica pieces inspired by space.
Copyright: © Laura Cowan Modern Judaica
Avi Nadav of Nadav Art is an artist and silversmith based in Jerusalem. He specialises in Judaica art, both traditional and modern in design.
Copyright: © NadavArt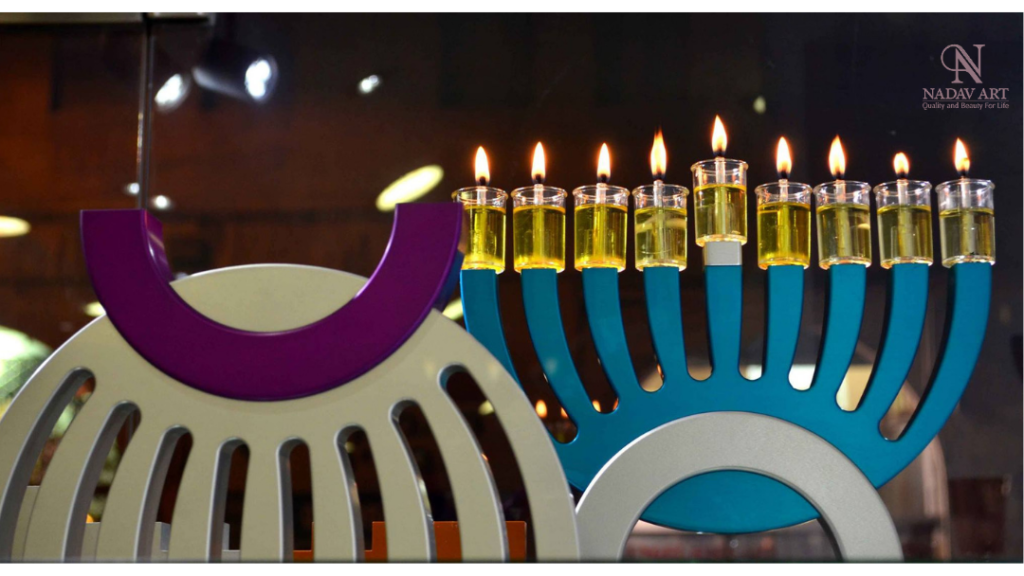 Jacki Cohen is a glass artist based in Arizona. Her colourful pieces radiate her positive energy and outlook on life.
Copyright: © Jacki Cohen Glas Art Designs
FaithZenkerCeramics specalises in unique ceramic serving ware, home décor, and delightful Judaica pieces.
Copyright: © Faith Zenker
Looking for a different Chanukah inspired piece of art?
How about a Chanukah themed plate by Jacki Cohen Glas Art Designs?
You can now support Judaica in the Spotlight with a small donation!
Many of our readers have approached us recently asking if they can support our project in any way. While being interviewed, and advertised, by us is entirely free of charge, maintaining the website is not.
If you want to donate any other amount, please contact us.