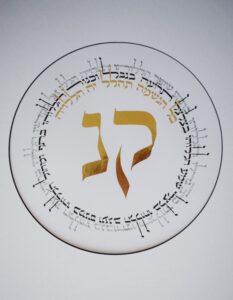 Photo: Courtesy of Judaica in the Spotlight
When German speakers, and many people for that matter, think of Bremen, the city Akiva Roszkowski is based in, they automatically think of the Brothers Grimm's fairy-tale "Die Bremer Stadtmusikanten". The "Town Musicians of Bremen". We are thrilled that the Jewish world now associates this northern German city with Akiva Roszkowski, one of the most talented Hebrew Calligraphers the European continent has seen in a very long time.
Akiva turns Hebrew letters into art like no other. His classical style does not require unnecessary embellishments to impress the viewer. It is stunningly beautiful, very elegant and most importantly, timeless. Many of his designs are inspired by the Book of Psalms. Tehilim in Hebrew.
The Book of Psalms has 150 chapters. One of these 150 Psalms can be found in the Morning Service. The six verses of Tehilim 150 accompany us throughout our lives, day in and day out, reminding us to praise G-d, inviting us to use musical instruments and our voices to connect with the divine.
Akiva has created a wonderful design to honour this last chapter. It is the one you can admire here today.
"Tehilim 150" is a masterpiece. Akiva's meticulous craftmanship is a delight to look at. The precision he works with can only be complimented. When you look at this piece you do not only see meticulously written script, you can feel the words. You can feel the emotion of the original author. You can hear the music. Reciting these words is a wonderful way to start your day with, seeing them in your home is a constant reminder of the beauty of Judaism.
A handwritten piece of art by a professional calligrapher is a wonderful gift to give to yourself and to people you deeply care about. Akiva has many magnificent designs waiting for you in his collection and he would be thrilled to create one for you. You will be delighted to hear that Akiva's pieces come framed, which makes it even easier to not just pick something for yourself but a present for a loved one as well.
If you are interested in this or any other of Akiva Roszkowski's artworks, we kindly ask you to contact him directly. You can reach him via his website, Instagram or Facebook.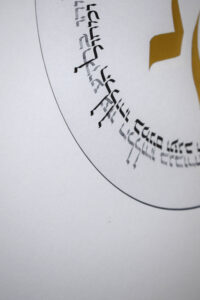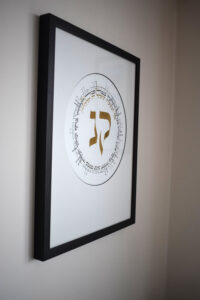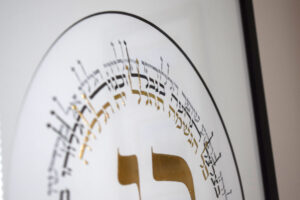 Photos: Courtesy of Judaica in the Spotlight