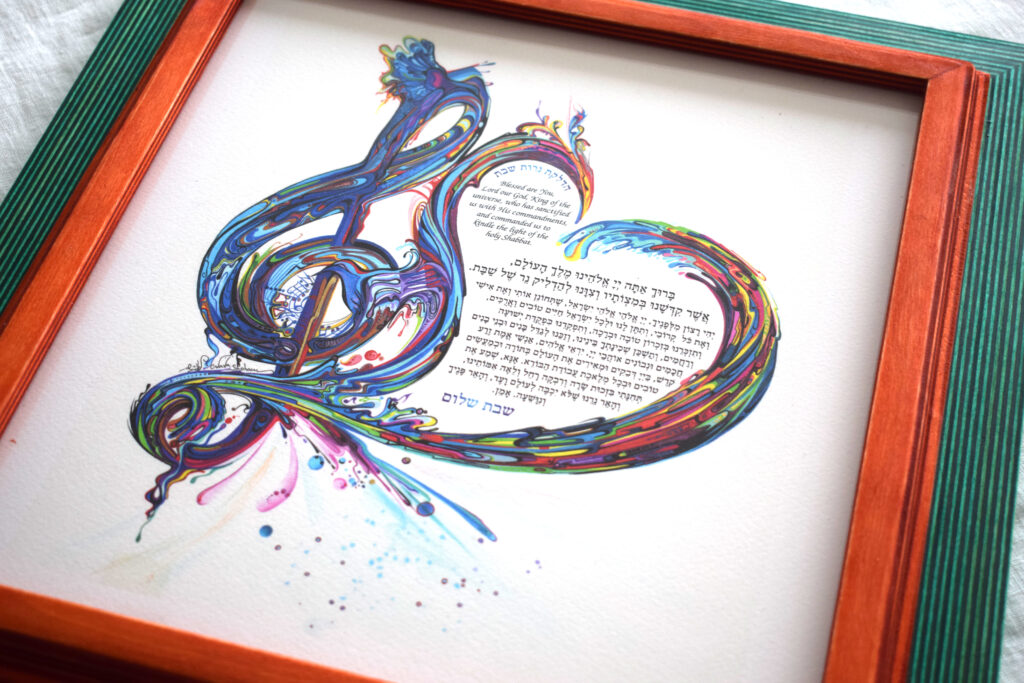 Photo: Courtesy of Judaica in the Spotlight
Product: Art Print (Giclée)
Our verdict: Captivating!
When Nava Shoham's Candle Lighting Blessing reached us from the other side of the ocean, we were lost for words. It does not happen very often than artwork makes us speechless but this piece certainly did. This delicate piece of art is stunningly beautiful! Breathtaking. Out of this world. The vibrant colours, the positive energy, the love the artist has in her heart for the people in this world; it radiates from each and every angle in this fabulous artwork.
Lighting the Shabbat candles on a Friday night is something very special, something so meaningful we would not want to miss from our lives. Ever. Having this marvellous piece of art standing next to the candles makes this sacred space whole. You will feel it yourself the moment you place it next to yours.
What we love a lot about Nava Shoham's work is that her designs are very colourful! You know what this means? You can pick any frame your heart desires! Many people will go with the classic gold or blue when they see this lovely Shabbat Candle Lighting Blessing, but how about going for a multi-coloured frame as we did for a change? It was a suggestion by one of our most trusted framers. Have yours show you a few more options! You will be amazed by how many possibilities you actually have. You can choose any colour frame you like for this eye-catching beauty and it will fit! It really is an interior designer's dream!
We can assure you that once you hold this lovingly created Shabbat Candle Lighting Blessing in your hand you will be so mesmerised by it in a way that you will forget the world around you. It will be love at first sight! You will think that you already fell in love during the order process but this will be a very different feeling. A different kind of love. The impressive details, and meaningful symbols your eyes will find, will make your heart skip a beat they are so delicate and beautiful.
If you ask us, it is time to invite some more colour into your life with one of Nava Shoham's enchanting pieces! Her artwork, especially her home and her candle lighting blessings, also makes the perfect present for all the important people in your life. Surprise them this Rosh Hashanah with one of Nava Shoham's captivating designs! You still have enough time to order them in time for the holiday.
It takes a very special person to be able to create such a magnificent piece of art, to be able to channel all the love there is in the universe and to bring it on to paper is a very special blessing Nava Shoham possesses like no other. We will forever and for always be in awe of her creations, for her generosity, and thankful to have met this wonderful person!
Curious about the artist behind this design? We invite you to read her interview with us here.
Make sure to visit Nava's website and to follow her on Social Media!
Social Media: