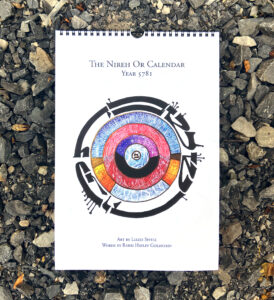 Photo: Courtesy of Nireh Or
Going through the Jewish year has never been lovelier! The beautiful Nireh Or Calendar you can admire above has been created by two tremendously talented and very inspiring women, artist Lizzie Sivitz and Rabbi Hayley Goldstein.
Lizzie's designs are in perfect harmony with Rabbi Hayley's inspiring commentary. Their love for Judaism shines through on each and every page of this marvellous calendar. A true masterpiece!
What we enjoy the most is that this calendar is as decorative as it is informative. You won't just be able to admire magnificent contemporary art but learn more about the origins of the Hebrew months and what they symbolise as well.
We wholeheartedly recommend this exquisite calendar to anyone who enjoys contemporary art, Hebrew calligraphy, and learning about Jewish culture. You can purchase it here!