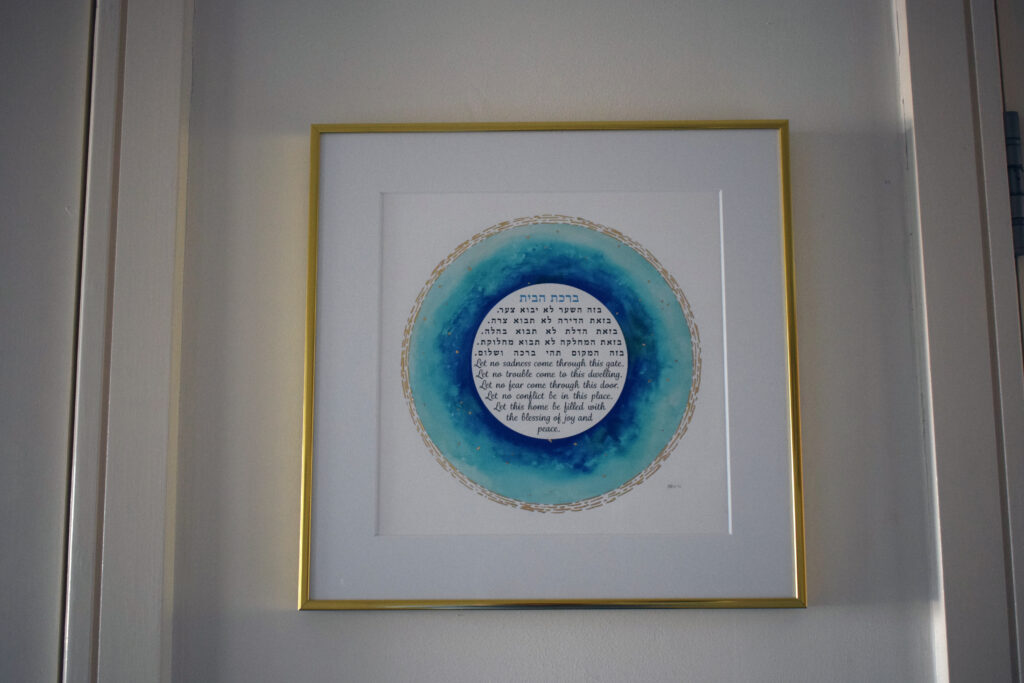 Product: Lagoon Home Blessing
Material: 100% cotton paper (300gsm), watercolour, gold leaf
Dimensions: 10''x 10'' (unframed)
Our verdict : Stunning artwork for the modern Jewish home!
We love surprises here at Judaica in the Spotlight! Even more so when they are art related. We have recently received one of Rachelle's stunning Home Blessings in the post and couldn't be more in love with it! It is very beautiful and something we will certainly cherish forever.
Rachelle Tchiprout of The Delicate Brush is one of the most talented watercolour artists we have encountered since starting our magazine. She creates the most delightful Ketubot and Home Blessings you can imagine. You can order them both as original artwork or high quality art prints with gold, rose gold, or silver leaf elements.
Her Lagoon design is particularly beautiful. Especially for someone who has always enjoyed spending time by the sea. The design itself has a very calming effect that invites you to daydream whenever you glance at it. There is something very special about the shades of blue she has chosen to mimic the movement of the water, as well as the gold leaf, which symbolise the sand.
We have displayed it in our hallway next to the main entrance. Each and every one of our visitors has stopped for a moment to admire the magnificent design and complimented us on having discovered such a talented artist.
This enchanting Home Blessing makes the perfect present for a loved one who just got married, moved into a new home, or just because you want to show them how much you care and how dear they are to you. All of Rachelle's Home Blessings can be personalised.
With so many lovely designs, it is very hard to pick only one! You can find her entire collection here.
Rachelle pours her entire heart and soul into her work. Make sure to follow her on Instagram.
If you are based in Tel Aviv, or have the opportunity to pick your Ketubah or Home Blessing up in person, Rachelle will be more than happy to give you a discount. You can contact her directly for more information.
Curious to learn more about the tremendously talented artist behind this beautiful artwork? You can find Rachelle's interview with us here.
Before you continue, we wanted to show you some of the lovely home blessings Rachelle has waiting for you in her online shop!