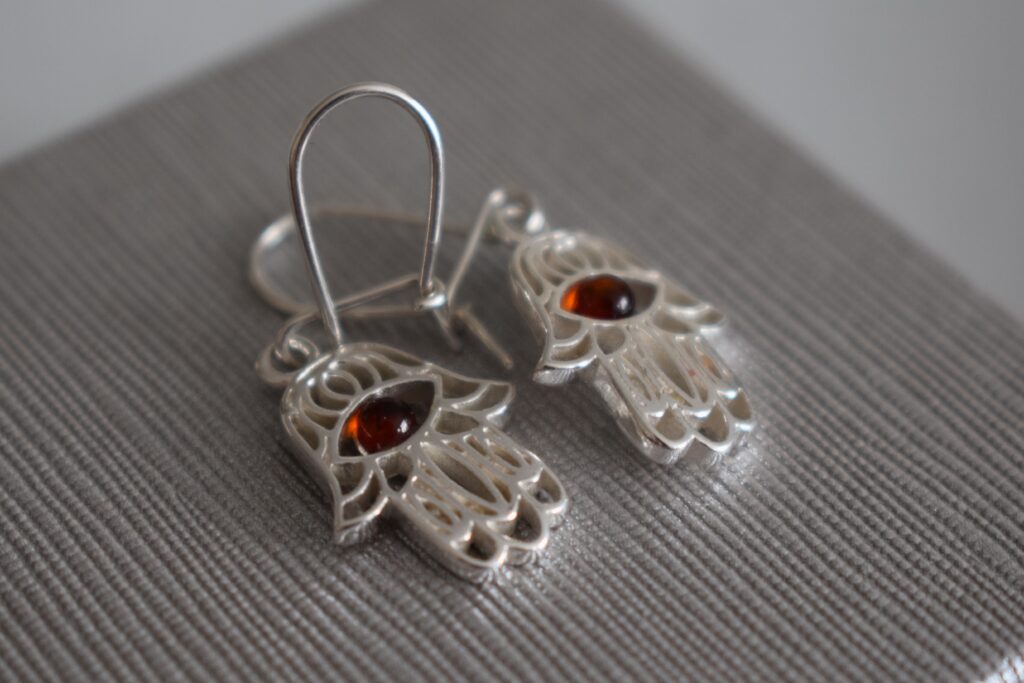 Photo: Courtesy by Judaica in the Spotlight
Product: Hamsa Earrings
Material: 925 Sterling Silver and Amber Elements
Our verdict: Lovely Accessory
Do you enjoy dressing up for Friday night dinner? Of course you do! Who doesn't? We believe that welcoming Shabbat in style is something very important! An essential part of any outfit, may it be casual or business, are the accessories you wear with it.
Like many women around the world, the women on our team are very specific when it comes to the jewellery they wear on a regular basis. Some prefer their jewellery to be more casual, some more elegant, but what we all agreed on is that any jewellery piece we wear should have a deeper meaning. This is one of the many reasons why we like Amber Judaica's designs as much as we do.
We recently received this lovely pair of silver Hamsa earrings in the post and couldn't be happier with it. Combining the Hamsa symbol with pieces of amber was a fantastic idea, as both symbolise protection amongst many other things. The size of the earrings is perfect and they are very comfortable to wear. We can highly recommend them!
If you like to wear Hamsa jewellery, you will enjoy the choice on Amber Judaica's website.
Based in the Polish city of Cracow, Amber Judaica is famous for their delightful amber jewellery as well as their contemporary Judaica items. Their jewellery designs are the perfect addition to any outfit, from casual to elegant.
The beauty of amber is that it is timeless and never goes out of style! You can follow Amber Judaica on Facebook as well as on Instagram.
Photos: Courtesy of Judaica in the Spotlight