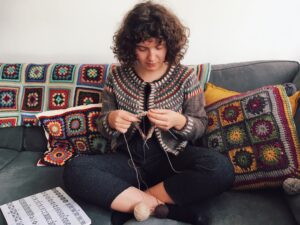 Photo: Courtesy of Miriam Cocker
Tell us a little bit about yourself and your background.
I come from a very creative family. My mum moonlights as a print maker and textile artist, my dad is a nature writer and my sister is a ceramic artist and designer. We were both encouraged from a really young age to draw and paint and make things. My mum grew up on North Ronaldsay, the most northern of the Orkney Islands, the small archipelago off the northern tip of Scotland, and home to a rich knitting tradition. I met my partner Tamar five years ago and fell in love with her and the Jewish culture she introduced me to. My kippot feel like a natural synthesis of these two influences. When I'm not knitting, I work at a zero-waste organic grocery shop in Glasgow – that's another reason I love working with wool; it's natural, renewable, durable and eventually biodegradable!
What inspired you to become an artist?
I am inspired by the natural world, by countless other makers and by the huge resurgence of handicraft in the last 10 years that has placed crafts that were, for so many years, undervalued and relegated as 'women's work' at the centre of a thriving new market. Like many inventions, my first knitted kippah was a happy accident. I made an unintentionally tiny hat when I cast off too soon for a friend who happened to be Jewish and he wore it any time he needed a kippah. I love Fairisle knitting and the size and shape of a kippah is a perfect canvas on which to experiment with colour and pattern, without too many ends to sew in! The kippah is, of course, first and foremost a mark of Jewish faith and identity and I feel inspired to be creating something that is not just a garment, but an emblem of something much greater, to be worn with pride and devotion.
What is your specialty?
I specialise in one-of-a-kind handknitted Fairisle kippot/yarmulkes made from second-hand Shetland wool.
How and where do you work?
I work in my top floor Glasgow tenement flat, usually snuggled up on the sofa while the rain lashes the windows. It's very cosy but probably not great for my posture! I pick up my knitting whenever I have time and always have a kippah on the go. I knit everything by hand, deciding which patterns to use as I go along.
What is the most indispensable item in your work?
My only equipment is a set of four 2.5mm needles, three stitch markers and a darning needle. All are pretty much indispensable!
Where do you take your inspiration? Are you pursuing any themes?
I take my inspiration from the wild and beautiful Scottish landscape around me. I love nature and go walking in new places most weekends. What is so lovely about the Shetland wool that I use is that the yarn colours reflect the Scottish landscape anyway and it's fun to match up different shades with the nature that I encounter. Each kippah I make is named after the Scottish place or plant that has inspired the colourway and I try to photograph them in situ.
I also keep some wonderful inspiring books on my coffee table, full of traditional Fairisle knitting. My favourite is a book my Granny gave me called A Shetland Pattern Book containing very useful charts. It has blank pages in the back where my Granny and mum have charted their own patterns in the past! I like to know that I am continuing a tradition that has been in my family for generations.
Do you do bespoke work?
Not at the moment, but it's definitely something I will consider doing in the future!
What projects are you currently working on?
The kippot are currently taking up all my spare time as I prepare to launch my shop. I'm hoping to be ready to go by Rosh Hashanah to sweeten the New Year celebrations!
What are your favourite items in your current collection?
I like the ones that combine mustardy yellow and grey, which has long been a favourite colour combination in my knits. It reminds me of the ubiquitous and beautifully named maritime sunburst lichen that adorns the rocks on Scottish beaches.
How do you know when a piece is finished?
Once a piece is off the needles, I sew in the ends to make sure nothing unravels. At this point, it looks a bit sad and misshapen and the final spruce needed is a wee soak in some warm soapy water, a squeeze to get the moisture out and then a stretch over a cereal bowl overnight. In the morning, it's ready to wear.
What was the first artwork you ever sold?
I have sold a few commissioned knitted items to friends in the past but I'm yet to sell my first kippah! Watch this space…
Which project have you enjoyed working on the most so far?
This the first time I've created a collection of knits to sell and I'm really enjoying the process. It feels very different to knitting for myself; I like imagining who might choose each kippah for themselves in the future and experimenting with colourways that I've never tried before. Because a kippah is a special, symbolic object, I want each one to be totally unique, full of joy and character.
What do you want to achieve with your work and what are your wishes for the future?
I will be proud if I can make contemporary and unique kippot that serve and celebrate the vibrant diversity of the Jewish community. In the future, I hope to learn more about the history of Jewish textiles and incorporate this into my work.
Where can we find your work?
https://mirikippot.bigcartel.com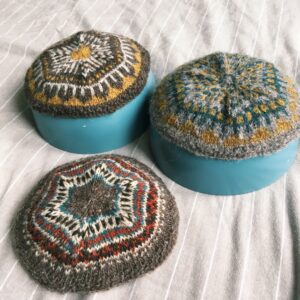 Photos: Courtesy of Miriam Cocker