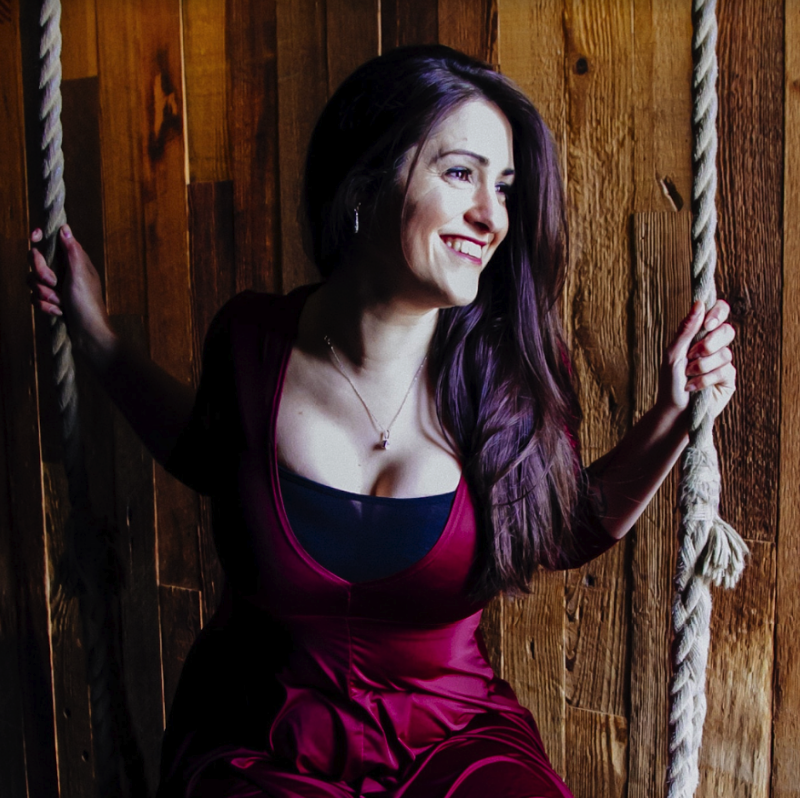 María, global traveller and self-employed business woman, is a trained, certified, and experienced teacher and DELE examiner, and certified SIELE exam trainer with a degree in Arts and a masters in Scenery Arts.
She is a Spanish grammar expert who loves exploring creativity, culture, art and self-expression in the target language as a way to connect the brain knowledge with the heart knowledge.
Tell us a little bit about yourself and your background.
I was born in the small city of Burgos, in the middle of the Camino de Santiago pilgrimage. So I have always been familiar with a certain type of spiritual tourism quietly passing by my city. I left Spain at the age of 24 to start teaching Spanish and I moved to France where I experienced for the first time and fell in love with teaching my own language. After that, I kept on travelling the globe: India, Turkey, Australia, New Zealand, Indonesia, and Germany … are some of the places I lived. I was a nomad for about 5 years until the call for roots was so strong I had to create a nest somewhere. I choose Ireland where I've lived for the past 4 years.
What inspired you to become a Spanish teacher?
I've always wanted to be a teacher. Choosing education was something I never had to think about, I just knew since I was a little girl. I always saw the potential to shape society and the impact in other people's lives that teachers have. I loved that.
For a long time I wanted to be a Spanish literature teacher and so I did a masters and a PhD in Spanish Literature. However, over time, I lost my heart about this; I saw that a Spanish literature professor could only inspire people who were already interested in the topic, whereas I wanted to touch more people, or people for whom literature was a scary or unattractive thing. That's why I decided to teach Spanish always including culture, literature with the intent to foster critical thinking and an artistic, creative self-expression within every lesson.
What do you enjoy most about teaching?
My part as a witness. Seeing the students achieve their goals, whatever they might be, pass an exam, speak fluently, write confidently… is the sweetest feeling in the entire world. I get goosebumps every time I see how a student is expanding their mind when they understand a new set of grammar rules, when they get how Spanish works, when they make the language theirs and they can express from their hearts in Spanish. Witnessing their sense of achievement is priceless.
What do you love the most about the Spanish language?
The idioms and fixed expressions that tell a story and give insight about the culture and mindset of society. The flexibility of the language to convey emotion. How subjective Spanish is and how important is to understand how to express subtleties with verbs and word order.
Who are your favourite Spanish authors?
María Zambrano, an essayist and a philosopher, is one of my most recent crushes. Lope de Vega, a XVII century playwright, poet and novelist was my first love. But as a Spanish literature lover, my favourite Spanish authors' list is long and varied, so to choose one favourite author depends very much on the mood of the day.
And how about your favourite artists?
Oh, so many! But I will pick three women unfairly forgotten by a history written by men: Margarita Gil Roësset, Margarita Manso and Ángeles Santos Torroella.
You help many people of Sephardic Jewish ancestry to reconnect with their ancestral homeland. What does it mean to you?
Besides having always loved my career as language and literature teacher, I now feel honoured to contribute in a small way to help reverting something that was unfair. As a Spaniard, I have exiled myself from a country and a culture I felt often times ashamed of: imperialism had an obvious imprint in Spanish culture and mindset, and those deep roots felt like a heavy drag for many years. But my Quixotic heart and soul feel grateful for the opportunity to participate in "righting that wrong".
In your experience, how long does it take students to be at a C1 or C2 level in Spanish?
It really depends on the commitment and effort. In my experience, a student can reach a C1 in a year as long as the student has guidance and commits to a daily practise. One key element is guidance, having the right teacher accelerates the process of learning and also helps to understand the language and culture better.
C2 is a level not all native Spanish speakers have because that level is more about being able to communicate with accuracy in very technical and specific topics, such as politics, art, economy… and this requires a maturity and knowledge also in their mother language.
Our readers are passionate travellers, which parts of Spain would you recommend them to go visit?
The whole country has wonderful things! I'd say it depends on the interests of the traveller. The South has an Arabic flavour that makes rambling around the narrow streets and white houses with colourful flower pots a lovely experience. The North, on the other side, is more about medieval Castilian castles and fortresses. For a one day visit, I'd suggest visiting Salamanca, Burgos, Toledo… For a longer visit, why not going to Barcelona, Valencia, Madrid or Granada?
Where can we learn more about the different services you offer?
All I have to offer lives in my website where my lessons, self-paced courses and retreats in Spain are detailed. My social media channels of choice are Instagram and Facebook.