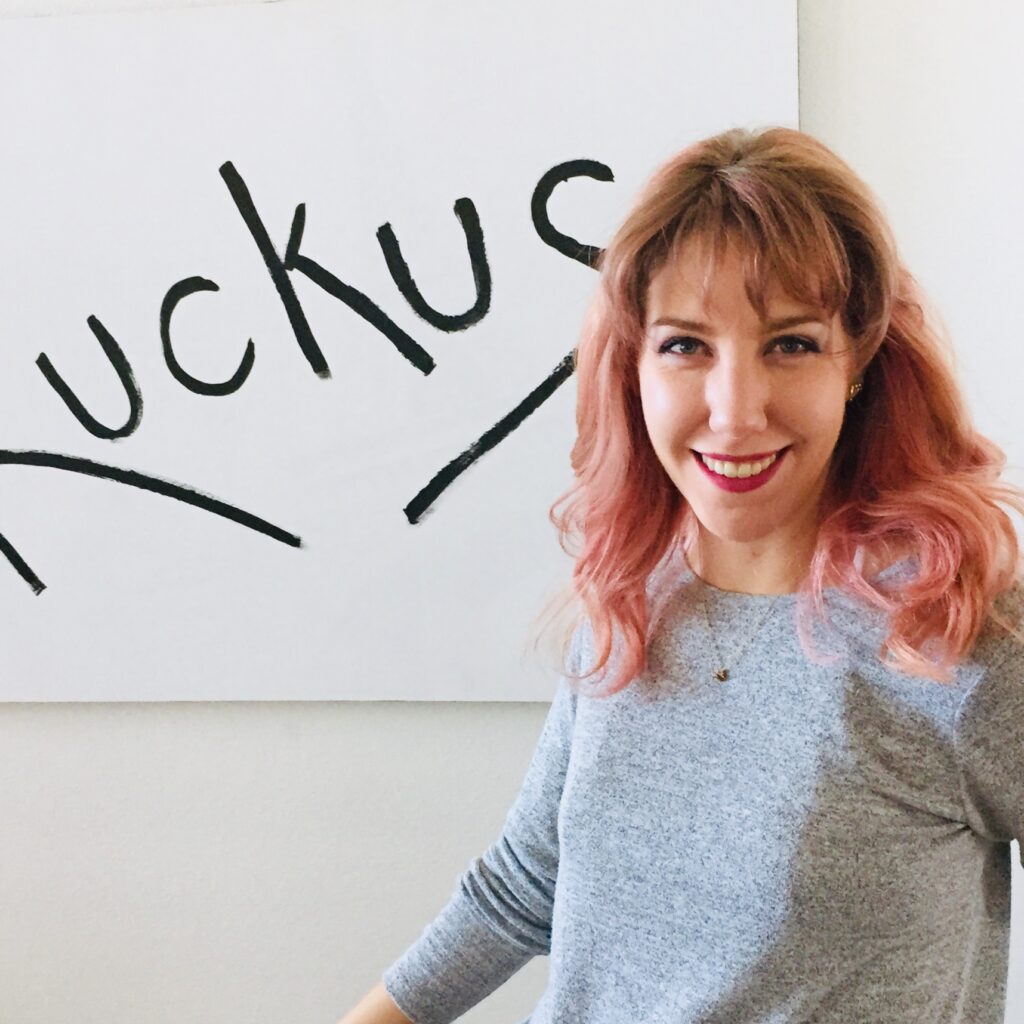 rin+RUCKUS is a handcrafted party garland store. Our goal is to deliver quality, kid-friendly decorations right to your door. From felt floral garlands to flower walls, you will find the perfect decorations for your party or holiday that you can use year after year.
Rin is a former management consultant turned maker. She is the creative machine behind the shop and blog. When she's not planning the next party, Rin is probably daydreaming about the next family vacation.
Super nerd/husband/dad/side-hustler, Ruckus is the man behind the lens and the website. When he's not working, he loves a good cocktail and playing board games.
Tell us a little bit about yourself and your background.
Rin and Ruckus both started their professional careers in consulting. They started up rin+RUCKUS, LLC in October 2018 as a way to have a creative outlet together. Ruckus is still a consultant, but Rin is full time with rin+RUCKUS. The company started selling ornaments and garlands based on felt pom poms, and expanded to creating flower walls and petal garlands in winter 2019.
What inspired you to become an artist?
Rin has always been a creative at heart. After a few years of the corporate grind, the desire to start a family company based on creativity took root. Even though Ruckus is just beginning to flex his creative muscles, he feels that this new venture has been an interesting way for him to express his thoughts and associations with holiday celebrations and what it means to be Jewish today. He loves the chance to collaborate with his wife and see her creative energy blossom.
What is your specialty?
Our specialty is garlands! We make pom pom garlands and petal garlands. One of our larger garland products, the flower wall, is a collection of petal garlands that can be draped from a dowel, curtain rod, or attached to a chuppah.
How and where do you work?
We are fortunate to have office space in our house where we can work (and leave our mess, if we need to!). In true entrepreneurial fashion, we work on rin+RUCKUS whenever we can: weekends, weeknights, and toddler nap times!
What is the most indispensable item in your studio?
Hands down, the key to our success is a tool called a rotary cutter. It allows us to cut perfect felt circles over and over again in a fraction of the time it would take to cut them out by hand. Just think: one yard of felt gets us somewhere between 100-200 felt circles. Multiply that by our color offering, which keeps expanding with each additional season, and it really becomes a lifesaver!
Where do you take your inspiration?
We take our inspiration from everywhere. We're still feeling our way through which holidays and events we want to create garlands for. Sometimes a color combination just feels right, and sometimes creating a garland takes a little more thought.
Just recently, we started planning our High Holiday color schemes. It led to a really interesting discussion about why we associate certain colors with certain holidays. These conversations help us bond and grow together, and then inspires us to try new things. It also made us realize we still didn't have all the felt colors in our collection to really express ourselves. Luckily we have a great provider who has a broad variety of high quality felts that they can get to us quickly.
What projects are you currently working on?
Even though summer is just kicking off here in Colorado, we're already thinking about fall and the High Holidays. While we are Jewish, we also recognize that many of our customers are not, so we've also been working on some garlands for holidays like Halloween and Thanksgiving.
What are your favourite items in your current collection?
Rin's favorite garlands so far are the "Modern Passover" garlands, which are Turquoise, Magenta, and Royal Blue. The color scheme was based on their family seder plate, a wedding gift from Ruckus' mother.
Ruckus really loves the flower walls because they remind him of the paper crane strands that decorated the chuppah at Rin and Ruckus's wedding. Our paper cranes were all sorts of colors, so he really likes mixing and matching the ombre color walls to create a cascading color effect for photo shoots.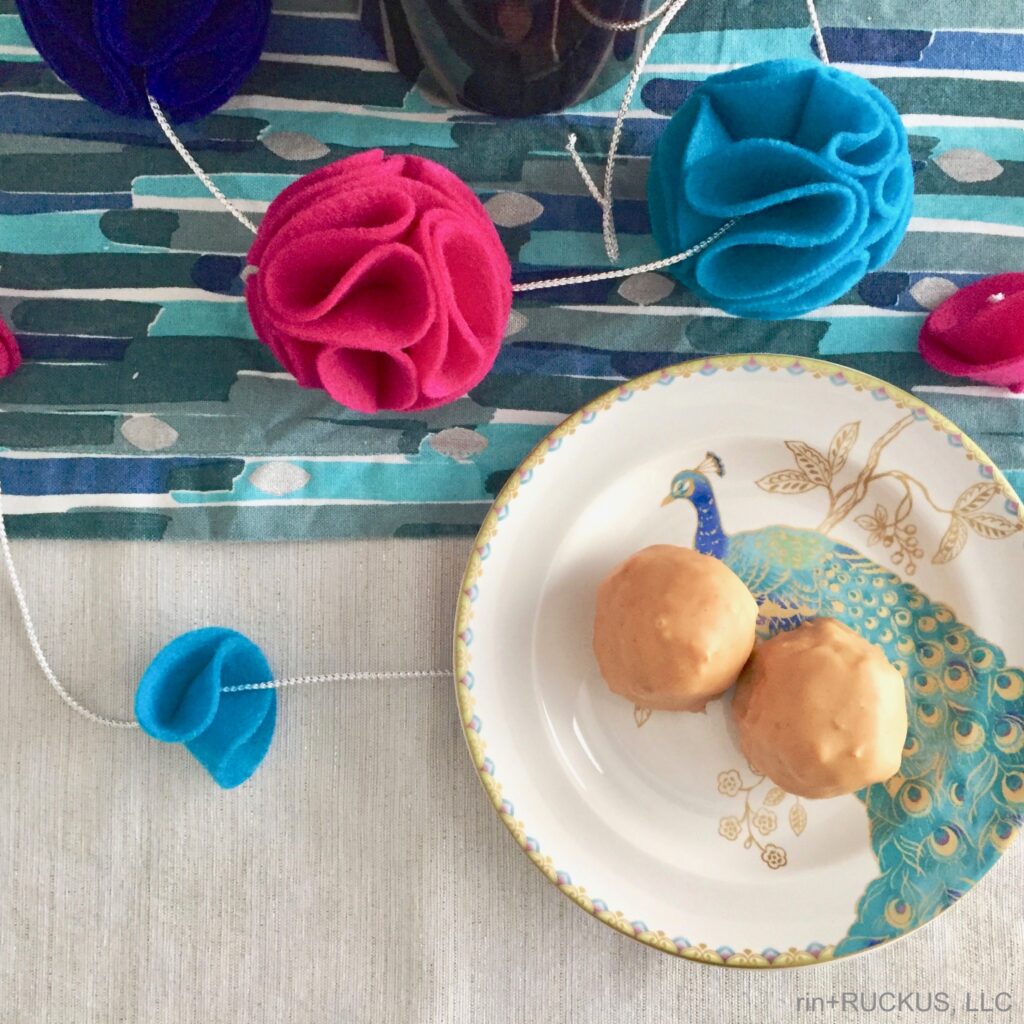 Do you do bespoke work?
Not only do we do bespoke work, but we feel that it's one of the best ways to interact with customers. We get to hear more about what they're celebrating or decorating for and the story behind their color choices. Rin's favourite bespoke project was a wall hanging for a good friend. It was made with purple and yellow petals (the customer's favourite colors) and used to decorate the customer hula hoop space. Not only did we get to learn something new about our friends, but we also learned that hula hooping isn't just for kids!
What was the first artwork/item you ever sold?
The first art work Rin ever sold was a popsicle stick photo frame in Middle School! But for rin+RUCKUS, the first item we sold was a blue and white garland.
Which project have you enjoyed working on the most so far?
We've really just enjoyed the whole process. Not only do we sell garlands, but we also run a party/holiday blog to help us showcase our products. Doing the photo shoots is truly a collaborative effort for the whole family, which can be stressful, but also very rewarding. In a way, it makes us "play" together as a family, and we get really special and fun photos out of the process (Ruckus takes most of our photographs, and he loves it).
What do you want to achieve with your work and what are your wishes for the future?
Both of us feel very strongly about growing our Judaica collection. It seems that here in the States, the holiday supplies are limited by color scheme and theme. There's a lot of beautiful Judaica in Israel, but for some families the cost of shipping alone can be prohibitive. We really wish to grow the Jewish celebration identity beyond blue and white into a more colourful rainbow of expression. In this process, we also hope to have conversations with our friends, families, and customers about Jewish tradition and bring a fresh spin to it. Jewish traditions are beautiful and important, but we feel that everyone should have a personal connection to their practice. Sometimes new and different art can initiate that fresh take.
Where can we find your work?
Our main online presence is through our website, www.rinandruckus.com. From there, you can get connected to our Etsy shop, Instagram, Facebook, and Pinterest pages.